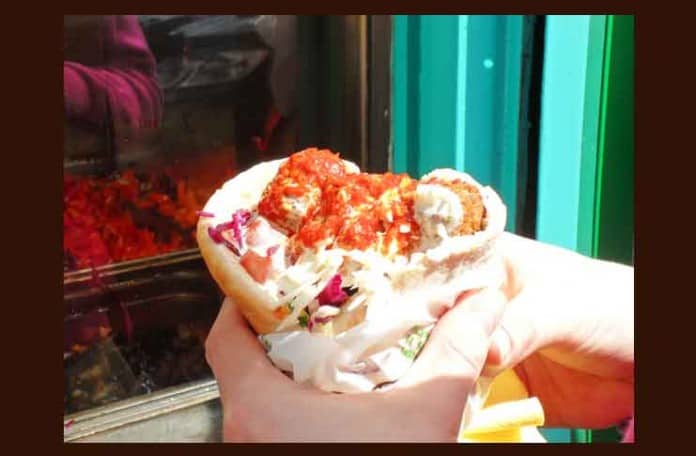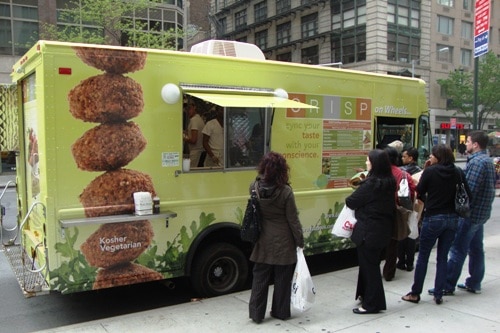 We had a NYSF First Look at Crisp on Wheels in early May and enjoyed a Crisp Africa sandwich that day.  It was time to try another dish from Crisp On Wheels.
Today's Lunch is a Crisp Mexican Salad ($7.75), which comes with falafel and a choice of white or whole wheat pita bread.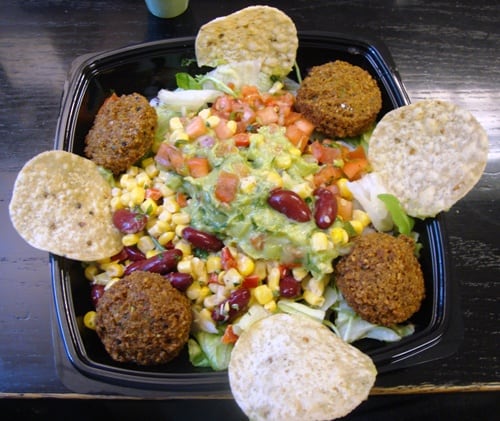 The Crisp Mexican consisted of lettuce topped with tomatoes, corn, guacamole and red beans, 4 pieces of falafel and tortilla chips.  I also got a white pita bread.
There was a lot of corn, tomatoes and red bell pepper, and everything was nice and cold, which was refreshing on a hot day like today.  I'm not a big salad eater, but with falafel, guacamole, tortilla chips and pita bread, I can do just fine.
The falafel were crispy on the outside, soft on the inside, and pretty tasty.  They added some heft to a salad that might not have been enough for lunch otherwise – but with the falafel and pita, there was plenty for lunch.
The pita bread was fairly thick, but it had a lightness that belied it's thickness.
Lunch also came with a green jalapeno dressing that was quite herby tasting, and it went well with the falafel and the rest of the salad.
Today's Lunch from Crisp On Wheels was very nice.  It was not as heavy as their falafel sandwiches, which makes it a good candidate for a summer lunch in hot weather.