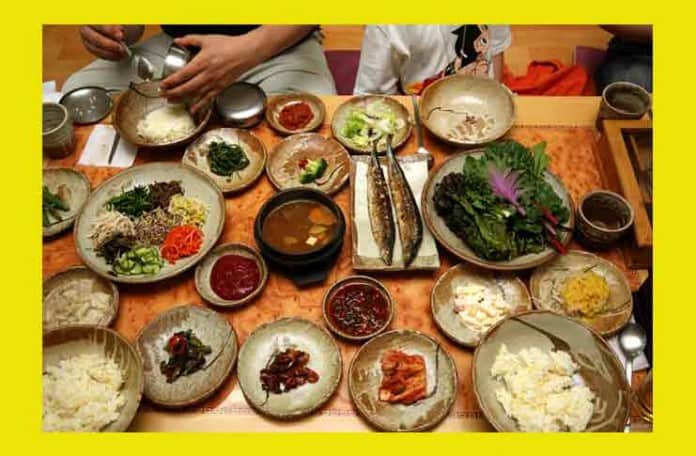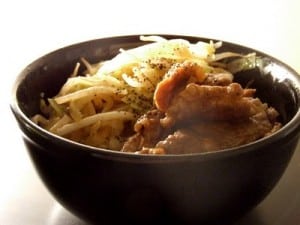 We've decided to start a new feature by printing a new recipe every Friday.  A few recipes have been posted previously, and the response has been positive.  A lot of our readers enjoy cooking, and Friday's recipe gives people a chance to try a new recipe over the weekend.  We definitely cook for fun in our house, and hope you do, too.  (If you cook professionally, then you're probably too busy on the weekend, and these recipes are more for amateur chefs, anyway.)
This Friday's Recipe is bip bim bap, a Korean dish of thinly sliced meat, assorted veggies, chili peppers and different kinds of pickled vegetables mixed together.  In many Korean restaurants, they place a sunny-side up egg on top; you break the yolk and continue mixing all the ingredients.  I had this dish a few months ago at Choga (145 Bleecker Street) and it was delicious.
This Friday's Recipe was posted by Khoa Nguyen in Frugal World Cuisines, and it looks awesome.  Here it is:
It's been years since I had this wonderful dish, so what better time to make it than this week? Staying true to my budget and now …a healthy diet (with great foods come great responsibilities, or something like that), I set out to make my own version of Bip Bim Bap. In this version, I will make Korean style BBQ to go with vegetable sauté. Simple and delicious. Notice that I left out the fried egg and Kimchi; I'm cutting back on those.
Below are a list of stuff that you'll need, how much of it will depends on how many servings you intend to have:
beef
green onions
cabbage (sliced)
garlic (chopped)
hoisin sauce (pho sauce for my American friends)
chili pepper or sriracha sauce
sugar
black pepper
rice wine vinegar
bean sprout
soy sauce
rice (I won't go over how to make rice)
sesame oil
Although this is technically one dish, there are multiple components, so first thing first.
Directions to make Korean BBQ
slice beef into very thin slices (the thinner the better) and set that aside
using a large bowl, add hoisin sauce, sugar (the ratio of sugar to hoisin sauce should be 1 ½ to 1), black pepper, sriracha sauce, garlic, a little bit of rice vinegar, green onions, and a bit of sesame oil. You might want to add a little bit of hot water to help dissolve everything as you mix all ingredients until they are uniform in texture. It should taste sweet, spicy, and tangy, with a bit of saltiness.
On a very hot grill or flat pan place the sliced beef and cook evenly or until you think it's done (for me, 2 mins on each side)
Add the BBQ sauce that you've just made to the meat while it's still hot so that it could soak up all the flavors
Directions for vegetable sauté
with a hot wok, add oil and cook the garlic until golden brown
add sliced cabbage and cook for about 4-5 mins (you want to make sure that it's still crunchy)
add the bean sprouts
add a little bit of sugar and soy sauce to taste
finish off with some black peppers
To serve:
With a large bowl of rice, add the sauté veggies and BBQ to it. Mix everything up and you're ready to enjoy! This is a very simple dish and there are tons of ways that you can make it your own by incorporating different vegetables and sides. The trick is to experiment and figure out if one dish will complement the next and so on.