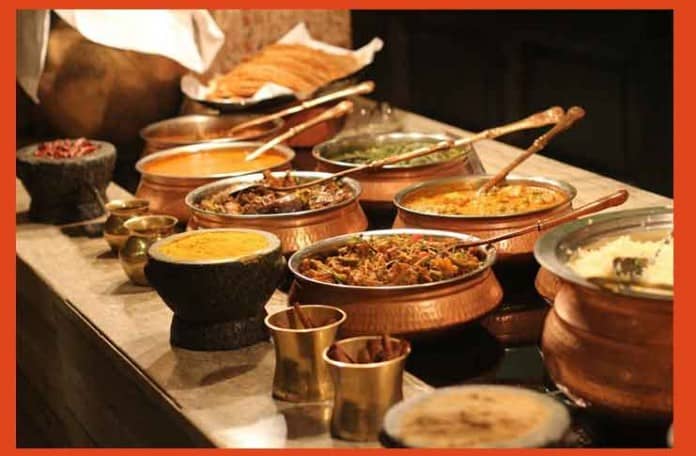 As promised, Friday's Recipe this week is from Chef Rati Lohtia, a former instructor at ICE who taught a bunch of us neophytes how to cook Indian street food at the Miette Culinary Studio class that I wrote about last week.  If you have trouble finding some of the ingredients, there are plenty of stores with these ingredients around Lexington Ave and 28th St (Curry Hill) or Jackson Heights, Queens by Roosevelt Ave in the 70's.
Chef Rati graciously granted us permission to reprint her chicken tikka kathi roll recipe, and it was wonderful.
Chicken Tikka Kathi Rolls by Chef Rati Lohtia
Phase 1 – Chicken Tikka
1/2 cup Greek yogurt (not non-fat or low-fat)
2 lbs chicken breast (you can use dark meat if you prefer). Should be at room temperature.
1 tbsp ginger paste
1 tbsp garlic paste
1 tsp red chili powder
1 tsp garam masala powder
1 tbsp lime juice
salt to taste
Wash and cut boneless chicken into 1-inch cubes.
Now prepare the marinade. Add the ginger and garlic paste, red chili and garam masala powders, lime juice and salt to the yogurt and mix well.
Pour the yogurt mixture over the chicken and rub the chicken with the marinade.  Set aside and refrigerate for 1-24 hours or as time permits.
Set oven to broil. Spread marinated chicken chunks on baking tray lined with aluminum foil. Broil until tender and browned in spots.
Phase 2
1 tsp cooking oil (not olive oil)
chicken tikkas from above recipe
2 cups red onions, finely sliced
1 tsp lime juice
1/2 tsp chat masala powder (we used MDH chunky chat)
8 pieces Indian bread/paratha (we used Kawan Plain Flaky Paratha Roti). Chef Rati said if you can't find the Indian bread, plain whole wheat or flour tortillas work just as well.
1 egg beaten
8 tbsp coriander/cilantro chutney (Laxmi, Deep or Swad brands)
Chop the chicken a little.  Heat oil in large saucepan.  Saute chicken tikka and onions until onions are translucent, about 2 minutes.
Add lime juice and chat masala powder, then remove from heat.  Divide chicken tikka mixture into 8 portions and set aside.
Heat a flat non-stick pan over medium heat.  Prepare one roti at a time by following the instructions on the package (heat until it lifts off the pan, then flip over and heat some more).
Once the roti/paratha bread is cooked, spread 1 tbsp of egg on the bread and turn over.  When the egg is cooked, remove from pan and set aside.
Smear each piece of bread (the side with egg) with 1 tbsp green chutney and place a portion of the chicken tikka mixture on top.  Roll bread tightly.  Wrap each roll in foil, tucking in the ends.
ENJOY!