A new fresh Review by Faith Rein
While hoards of NYers flee the hot humid summer weekend to any shore. I was left to my city to discover new adventures and hidden finds.
Last Saturday I braved the heat and crowds of Canal Street to make my way to Regina's Grocery on Orchard Street.
As I turned the corner on Orchard it was as if time turned back. The empty street and deafening quiet reminded me of old New York. Like in my Dad's era a piece of the old neighborhood. You could picture kids playing stick ball in the street. I spot Regina's Grocery written across the big picture window with the welcoming red framed door and picture window's dressed in lace café curtains like my grandmother had in Brooklyn.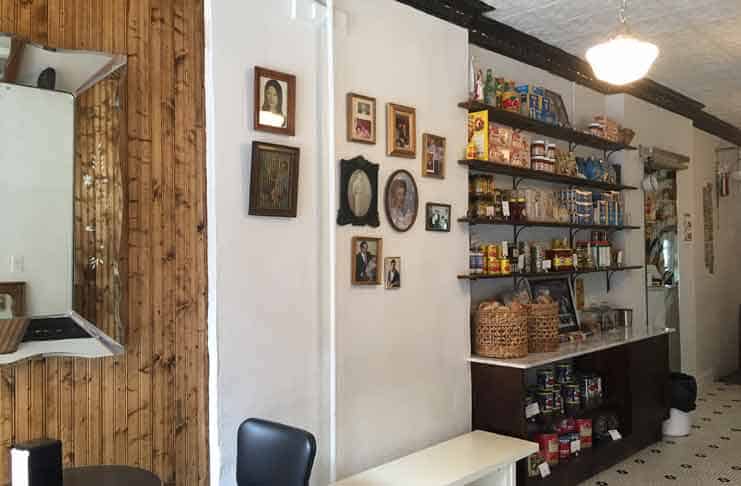 Regina grew up in Bedsty and brought her home cooking to the Lower East side. The place itself is charming as you enter listening to Frankie Valli and a perfect mix of any other Italian artist you can think of from the 50's and 60's. Black and white tile floor and tin ceiling to match.
Roman the owner and son of Regina greeted me with a warm hello and handshake. While Regina stood behind the counter. Not your typical Nonna but a classic beauty with style and a bit of sass.
The relationships between a mother and son are always special. This one took it a step further to form a business of love and talent.
Regina's recipes and Roman's idea's.
The menu is inspired from family member's. They're also pictured on the wall. Uncle Jimmy has tattoo's..he's a neighborhood kid. Hot and spicy which is how the inspiration came for his sandwich.
They brought out a pasta and pea salad (not on the menu) it was a nice start. A bit heavy on the pea's but the sauce was perfect for a hot summer day. Regina makes it fresh every day. I was disappointed that the pasta is not made in house but as Roman explained fresh pasta is made to be served immediately. Right now Regina is focusing their summer menu of amazing sandwiches and side dishes. Hot items will be coming including Sunday Gravy, meatballs and a few other surprises.
I had to try The Uncle Jimmy.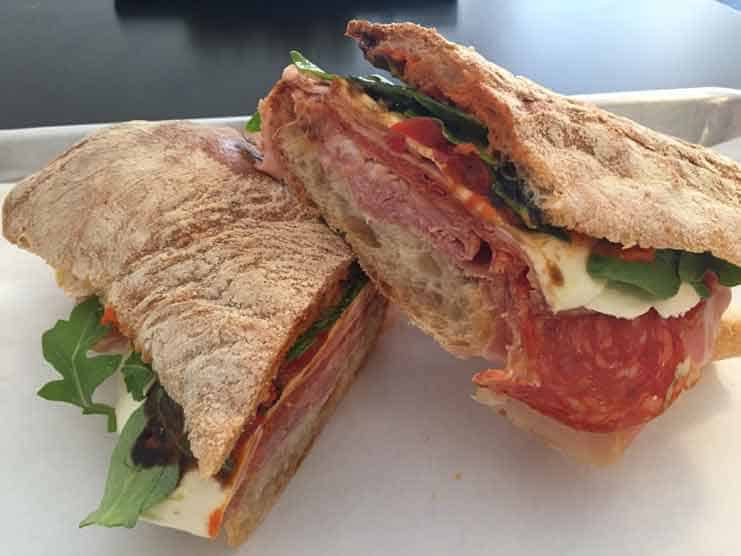 UNCLE JIMMY
Prosciutto, Fresh Mozz, Hot Sopressata, Smoked Ham, Arugula, Regina's Hot Pepper Spread, EVOO, Balsamic & Roasted Reds on Striato Bread
I loved Uncle Jimmy. He said it was hot and spicy and that it was. Perhaps a bit too hot for some but the meat choices were very balanced and I adored Regina's hot pepper spread. The bread was a good choice but perhaps it was the early afternoon situation where it sat for a while and got a little too crispy crusty. Somehow I did manage to get through it.
I can't say enough about the Hot red pepper spread. It has the right balance of heat and spice and a bit of sweetness. I would spread this on everything.
More of that genuine home cooking Regina…please.
Sauces and spreads are available for purchase.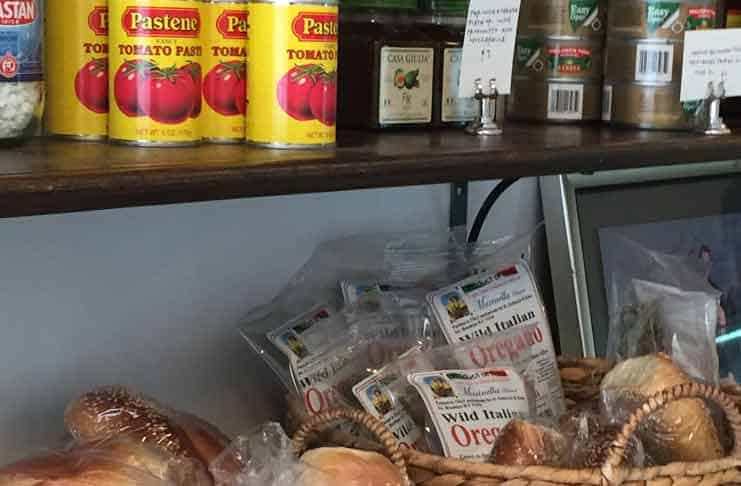 As discovery's go this was a good one.
The charm of Regina's is worth stopping by.
The food is worth staying and the people are worth coming back for.
Regina's Grocery
27 Orchard St. (Between Hester St. and Canal St.)
P. 347 680 4361 | Hours: 10AM-6PM
For more information please visit: www.reginasgrocery.com
Instagram @reginasgrocery | Facebook /Reginas-Grocery
Living and loving in NYC, food has been a passion of hers. East Coast to West, Faith's goal is to explore and learn with the contribution of other like-minded foodies. Faith Rein has written for 2Girlsfromabar@blogspot.com. Youtube channel – faith.rein, love food love faith. You can find her @: Faith.rein/facebook (always looking to add friends) / faith rein@twitter / faith.rein@instagram / faith.rein@gmail.com