Spring is finally here. Rainy days on a Saturday make for a perfect Ramen day. 
Although any day is a perfect Ramen day.
If you have been to Ichiran in Manhattan then you know it's perhaps the best Ramen ever. 
My Experience at Ichiran
My experience at Ichiran was a feeling of a true Ramen house. Individual privacy booths along with the best bone broth and noodles I ever had.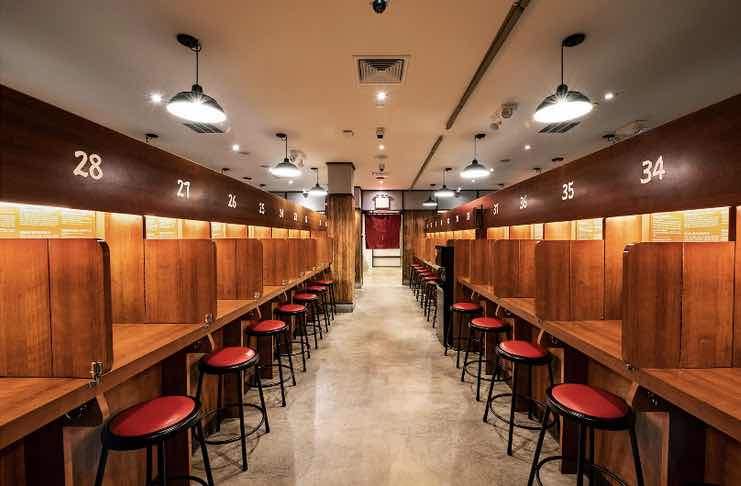 Like most Americans, I love instant ramen. The best cheapest easiest meal in a bowl. 
Memories of my struggling artist years when all I could afford was 25-cent packs or 5 for $1. 
Of course, I zussh it up a bit. 
Adding my favorites. Even embellishing my own spices and not relying on the little seasoning packet.
Ichiran's Take Home Ramen Kits
Ichiran has challenged home Ramen by offering Ichiran Take Home Ramen kits. 
These amazing kits are now available nationwide via their website. 
What you get: Each kit has 3 servings of individually packed noodles, a dried broth and original spicy red seasoning. 
ICHIRAN's Brooklyn factory has created all the ingredients. The Hakata-style homemade thin noodles are prepared daily factoring in the humidity and temperature that day.
The star of the show is the classic Tonkotsu pork bone broth my food memory that can be recreated at home by adding water to the dried broth base. 
The broth is rich in natural collagen. 
The First To Use Trans Fat-free Natural Oil
ICHIRAN is the first ramen company to use Trans Fat-free natural oil. 
The Original Spicy Red Sauce (Hiden no Tare) is ICHIRAN's greatest secret and only four people have access to the recipe.
This is a MUST-have. 
When I opened my Ramen Kit I understood this is not my grocery store instant Ramen. 
Remembering how my Ichiran experience was, I tried to recreate it as much as possible.
The kit could not have been easier. I began boiling my water. Added in the soup broth packet and the aroma transported me to that food memory. 
It's pork so I made a pork tenderloin earlier in the day and sliced it thin just for this soup.
My H Mart order never made it so I improvised.
I added Green Onions, Bean Sprouts, and a few more… 
I also added green onions, bean sprouts, mushrooms, and cilantro while I added in my noodles. 
Cooking time was about 5 min. Perhaps less. I added the sprinkling of red seasoning…do not forget this step, It's my personal favorite part.
The broth is perfect even though I didn't even do a perfect measurement of water. The noodles are the best ramen noodles. Just a few minutes and they were cooked perfectly. 
All the added veggies and pork were great but nothing is needed to this broth. 
I did a big pot of this. The next day we reheated and I may have enjoyed it, even more, the second day. The noodles stood up. Always a little weary they would be overcooked. Not even close. 
It was still slurpable. 
Next time I will do the Asian egg—another little challenge.
Knowing I can order this kit at any time I accept the challenge happily. 
Order your kit now or go visit Ichiran in person. Or do both !!!
152 West 49th Street
132 West 31St Street
374 Johnson Ave., Brooklyn
Don't know Ichiran yet? Watch this video:
Living and loving in NYC, food has been a passion of hers. East Coast to West, Faith's goal is to explore and learn with the contribution of other like-minded foodies. Faith Rein has written for 2Girlsfromabar@blogspot.com. Youtube channel – faith.rein, love food love faith. You can find her @: Faith.rein/facebook (always looking to add friends) / faith rein@twitter / faith.rein@instagram / faith.rein@gmail.com