Indian food is in a league of its own. From the right spices to the process of creating an ingredient from scratch to plating and serving the dish. Sapphire Cuisines of India on the Upper West Side offers an element of flavor that is rooted in owner Darshan Shah's immense passion for cuisine with an entirely organic, gastronomical experience. 
Sapphire Cuisines of India: The New Location
Relocating to 2014 Broadway, Shah brought his expertise from his previous restaurant Adӓ, receiving a two-star review from New York Times critic William Grimes. From 2003-2007 Adӓ was awarded the Five Star Diamond Review by the American Academy of Hospitality Sciences. Shah now joins partners Satish Arora and Steve Chopey to cultivate a unique experience of Indian Cuisine. 
During the Pandemic
When entering Sapphire I got the pleasure to sit at the bar with Darshan who told me his story of Adӓ, as well as the opening of Sapphire. As I listened, I sipped a cocktail served in a tall champagne glass with a mint garnish, hanging over the edge of my glass. This was Sapphire's version of a mojito with Malibu Rum. After one sip I insisted on the recipe as this might have been the most refreshing alcoholic beverage I have sipped.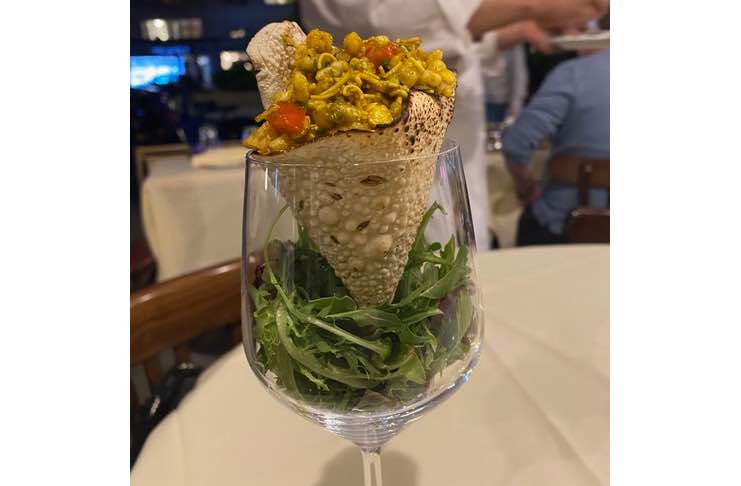 During the pandemic, Darshan was truly a heroic figure. "From April to September, I served 125 meals a day." A friend came to visit Sapphire and they had nowhere to eat. "The block consisted of a police station, a hospital, and a fire department."
Darshan decided that day he would cook meals for the hospital, police station, and the fire department. Serving six days a week for three to four months, a total of 5,200 meals were given. I asked if they were only preparing Indian meals. "We changed the cuisines we served daily. I do not think anyone wants Indian food daily." Darshan continues, "It was the right thing to do, that was the fun part." 
Not only did Darshan serve meals during the pandemic but during his time at Adӓ he was of service to the devastating event, 9/11. "I served 300 meals a day for 75 days. I personally drove down to deliver these meals." 
The Ambiance 
Located on Broadway, this classic Upper Westside gem offers a beautiful, calm ambiance. High arched ceilings, chandeliers, and banquet seating for indoor diners. I asked if they had any plans as we are soon getting into the cold winter months. "I hope to get a designer canopy outdoors with french doors." With heaters inside the canopy, diners can comfortably enjoy outdoor patio seating.
The Spices
Spice is the soul of Indian cooking. What makes Sapphire so special is they do not play the store-bought game. "Everything is organic. We use farm-fresh spices that we blend ourselves weekly. It is like night and day." I can tell as I devour the Garam Masala Qual; a semi-boneless tandoor fired dish with a side of pistachio date rice. "The power of spices die," Darshan continues explaining, "there are chefs that slap stuff together but if you cook with your heart, you can always taste it." 
Prix Fixe Menu 
Offering a prix fixe menu for $95, diners can choose from 15 items and you can not beat this deal. Morel Mushroom Biryani, executed to perfection with spiced Saffron rice and truffle oil. Little did I know a Morel mushroom is $250 a pound! The texture, consistency, earthy yet powerful taste, this dish was phenomenal.
Filet Mignon, tender cut of house marinated black Angus beef served with cumin tempered fingerling potatoes. Dahi Kebab, pain-seared strained yogurt mixed with spices served over raw mango slaw. This dynamic dish executes a kick of spice yet subtle refresh from the slaw. Not to forget dessert; Masala Chai Panna Cotta, a cookie crumble served with a blueberry compote finishes off this prix fixe meal excellently.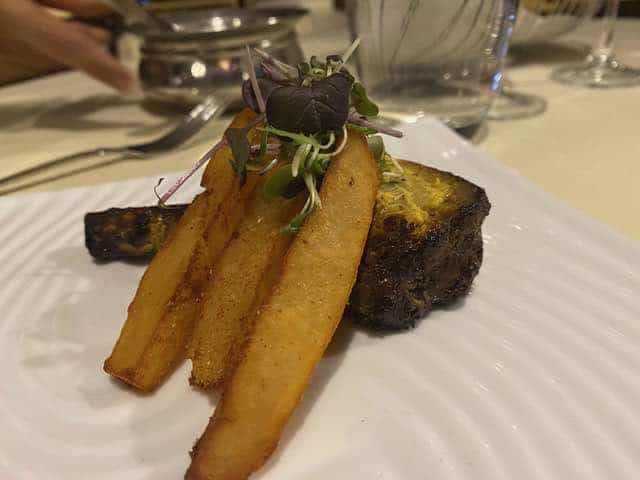 Dinner Menu
If you decide to skip on the prix fixe meal, the dinner menu offers a variety of appetizers, salads and soups, vegetarian entrees, meats, and seafood. You can experience this gastronomical experience either way you choose. Appetizers include Lasuni Gobi; fried cauliflower florets with garlic sauce.
Shrimp Balchao; pan-fried shrimp with onion chili masala. Bread is limitless here. With over five different choices to choose from, this is key for dipping the extra sauce from your plate. Baingan Bharta; a vegetarian eggplant entree consisting of mixed vegetables and spices. A section specifically for the tandoor clay oven, choose from lamb, chicken, vegetables, and my favorite, the filet mignon. 
Culinary Excellence 
Sapphire is an experience of its own. With fresh spices made in-house, refreshing cocktails, and limitless options to indulge, the tastes reflect how versatile Indian cuisine can be. Sapphire Cuisines of India thrives in all aspects of culinary excellence.
Want to read more of our latest reviews? Check out these unique Indian Dishes at Madam Ji in Greenwich Village.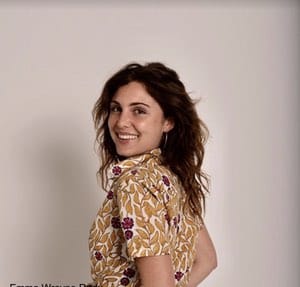 Emma Wrayne Rudy is a food connoisseur ready to indulge in every chance she gets to explore the beauty of New York City's endless food scene. Emma's writing style focuses on local hidden gems, food carts, food trucks, ma and pa joints, and eats that are affordable for everyone to try. With the diverse culture New York offers, she wants to emphasize on the foods that are less talked about and create a story behind each one. Growing up in Los Angeles at the age of seventeen Emma's curiosity for food started as she went to every restaurant she could and wrote reviews on her experience, the ambiance, and her meals. Moving to New York a year ago she is ready to take on the immense food culture New York City has to offer, and continues to dedicate her days to writing as much as she can to pursue her dream as a food writer and storyteller.