On a hot summer's day or any time of year, people all over America, especially New Yorkers think of one ice cream, Van Leeuwen. Not just because it is so delicious, but because the company uses very little dairy in their products. 
Just like any major food company, Van Leeuwen started small. At first, they started to sell their ice cream from a truck that was located in SoHo 13 years ago. Now, their ice cream can be found in over three thousand grocery stores all over America. Since their products entered the marketplace, it has been a huge success. 
Although the name is Dutch, the company was started by an Australian lady named Laura O'Neill and two brothers from the United States named Pete and Ben Leeuwen. The two brothers grew up in America but their father was from Holland, hence the Dutch name. 
What Makes The Van Leeuwen Ice Cream Different?
If you get a chance to try an ice cream from their store located in Greenpoint, Brooklyn, you will notice that the employees make all the ice cream from scratch. They have a wide range of vegan and classic scoops, so you are bound to find one that you like. Van Leeuwen don't use any artificial flavors in any of their ice creams. They use cream, fresh milk, egg yolks, and cane sugar when creating their classic ice cream. 
They make their vegan scoops with ingredients such as coconut milk, coconut oil, and cocoa butter. Many people who are not vegan are surprised by how great some of the vegan scoops taste. 
There is a lot of demand for Van Leeuwen ice creams, especially in New York and Las Angeles so it is no wonder you can find trucks selling the ice cream throughout both cities. In 2015 the owners of the company published a recipe book that included 100 of their classic and vegan recipes.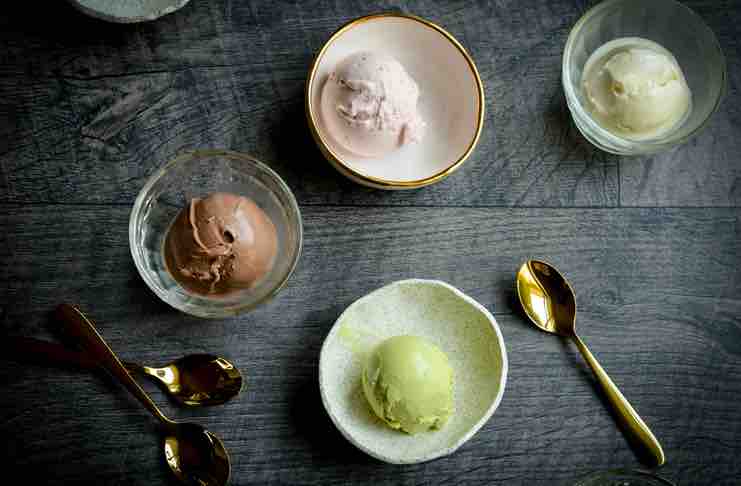 Brown Sugar Honeycomb (Vegan)
One of the most popular Van Leeuwen ice creams available is the Brown Sugar Honeycomb. It is made from brown sugar ice cream, and it is extremely popular among vegans. There are lots of pieces of faux honeycomb inside the tasty frozen desert. If you are into dark chocolate, you'll enjoy it because it is covered in it. There are two hundred and forty calories in 89 grams of the Brown Sugar Honeycomb ice cream. 
Pros of Eating Van Leeuwen Ice Cream
With people of all ages indulging in their favorite ice creams now and again, let's take a closer look at the benefits of eating the popular dessert:
Energy-boosting dessert: If you are looking for instant energy, ice cream might do the trick. Because most Van Leeuwen ice cream is rich in protein, fat, and carbohydrates, many people consume it when looking for extra energy.

Vitamins: Van Leeuwen ice cream is a substantial source of vitamins. Some of the ice creams have a lot of vitamin K, which has nutrients that can help thin your blood and can also help you avoid blood clotting. Other vitamins found in their ice cream are vitamin B6, vitamin E, D, and C. A lot of nutrients found in their ice cream can play an important role in making sure your immune system stays strong. It can help improve your organ and nerve functions too. 

Minerals: Most Van Leeuwen ice creams are rich in minerals. Many of their products are packed with calcium and phosphorus. Experts believe that ice cream can benefit your bones and teeth, especially ice cream with no added sugar or artificial flavoring. 

Ice Cream can help lower stress: Eating Van Leeuwen products can help lower cortisol levels, which is known to reduce stress. The next time you are feeling down or stressed, just get a scoop of ice cream. 
Just because there are some benefits to Van Leeuwen ice cream, doesn't mean you should eat it every day. For those who are concerned about how many calories they take in, eating Van Leeuwen ice cream has fewer calories than most of the other ice creams available on the market. However, you can eat the dessert and maintain a healthy weight by burning off the calories. If you want to understand how many calories you must burn in a day, check out FitTrack.
Conclusion
When it comes to desserts, the healthiest option is rarely the tastiest one. However, people all over America, especially New Yorkers, believe that they have finally found a dessert that tastes great and is a lot healthier than most other desserts readily available. 
Younger people nowadays are even more concerned about maintaining a healthy diet, so many avoid eating desserts entirely. A lot of vegans can't eat ice cream because most ice cream products use cow's milk. These are just two of the reasons why many believe that Van Leeuwen ice cream is going to continue growing in popularity.