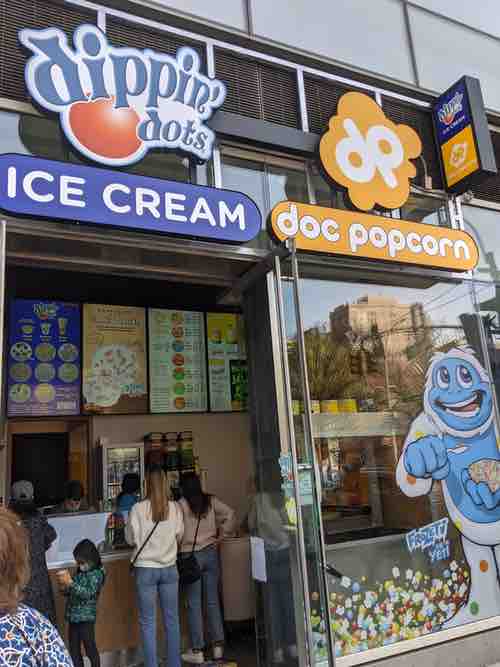 By Ron Rossi
Ice cream is ice cream in New York City. We are used to having it around the corner all the time. It's there when you need it in the summer or the winter. That was until now. In the time we now live something new actually came by and opened in New York City. It had been in other locations in other cities or states, but this is a first for it to open in the big apple. And this time it picked a classic and historic area to open in the City.
Welcome to the first NYC Dippin' Dots store.
AN OLD PLACE WITH A NEW DESTINATION.
Dippin' Dots decided not to open just anywhere in the City. Instead, the owners did their research and considered what would be the best place for the consumer to visit when in the mood for some new ice cream. They did their research and found the corner of 24 East 23rd Street and Madison Avenue. This was the first spot on a historic street.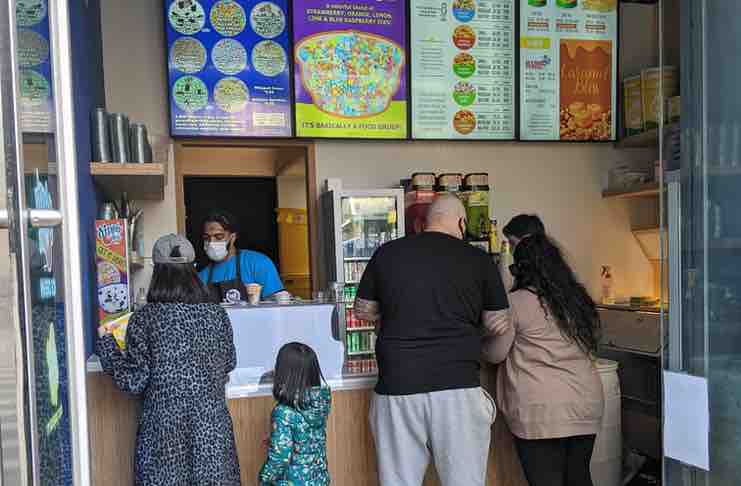 On the corner, you find Madison Square Park. It was there before the 1800s. In the early 1900s was the opening of two large and historic corporate buildings. These are Metropolitan Life. They had actually replaced two other historic buildings. One was the New York Opera. The other was Barnum's Circus. This area had wonderful buildings open, and people to visit. Even the famous Flatiron Building is on the central corner that crosses Fifth Avenue and Broadway.
So, for Dippin' Dot to move in they picked the right location. It is an area with residents who live in the area. Students who attend schools and college. There are corporations and famous stores for food and fashion. It is near parks and libraries. An ideal location for people to work, live, and get ice cream when they need it.
DIPPIN DOTS IS EXCITING
Time changes, so the Dippin Dots store found the right move. Their ice cream is exciting. It is specially made since it is new and different. It is not creamy and melting. Instead, this is cold, tasty, fresh and something to enjoy. It is also not plain. Instead, you find tastes like Double Cookies 'N Cream, Coconut Caramel Cookie, Root Beer Float, Frozen Banana Pudding, Gingerbread Trifle, Strawberry Milkshake, and even a Cotton Candy Craze. And this is just to start.
Every day there is a new and fresh concept to make. 
Dippin' Dots is a special way to create the look and flavor. They have to quickly freeze balls of ice cream which is an extra step in creating it. The ice cream itself is being mixed into the liquid forms small spheres to create a look and feel we have come to enjoy. It is different from traditional ice cream that is cold and will melt. With a Dippin' Dots cup, it will remain solid over time.
One thing you will notice is that the Dippin Dots are not in a plain flavor like White, Chocolate, or Strawberry. Instead, it is mixed with other flavors to create a taste that is different than plain ice cream. Also, it is in small circular spheres. It is not a scoop of ice cream in a cup or on an ice cream cone. That does not happen. In the case of Dippin' Dots, you will find them in a cup of small, medium, or large. Products are made to keep it frozen.
You Can Have POPCORN!
You can always find space for popcorn. And here at the NYC Dippin Dots store, you can always have an order of Doc Popcorn. 
This is what you expect but a bit more. Here the popcorn is fresh and tasty. It is not plain. Instead, this is popcorn that has a twist. It has a flavor and a style you come to expect the more you take a bite of it. It is also not something you find at home or in a store. Here the popcorn is fresh with every bite you take. And the more you have the better it will be.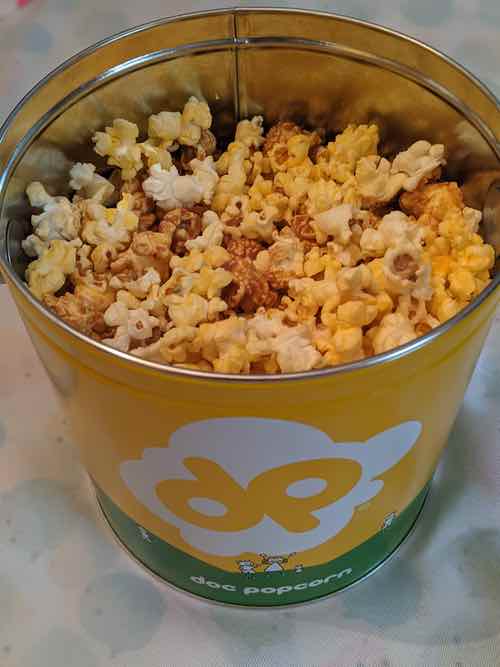 You can start with Apple Crisp, then Better Butter or Caramel Bliss. Maybe it is Denver Mix or Cheese N' Caramel. Yes, they do have Simple Pop, but some of us will want to try something new. For that, we can go with Hoppin' Jalapeno! That is a new selection to have. Of course, you can try the ultimate and take a big sample of a variety of all the popcorn in one bucket. That is special to try and enjoy.
Flavors are light, crisp, and satisfying. Whether it is Better Butter, Cheesy Cheddar, and Hoppin' Jalapeño, Doc Popcorn has something for everyone. Apart from being the most amazing, crunchy, gourmet treat, Doc Popcorn's blends are made with high-quality products including 100% corn oil, select cheeses, natural spices, and pure corn. That is all you need.
This is the popcorn you order and enjoy with every bite you take.  
DIPPIN' DOTS FOR THE TIME
Dippin' Dots is always a good taste to have whenever you feel for it. It's great with adults and with young children. It's not as creamy as a traditional ice cream cup, but it's healthy to enjoy as you're sitting in the park across the street or walking along Broadway.
The shop here at 24 East 23rd Street and Madison Avenue is a small shop. It seems now more than 350 square feet. The store is small and the ceiling is high. The team is friendly and will answer your questions as you come inside and try to decide. 
The owner, Neil Hershman, is ready to help. He has ideas for why they opened up in this location, and what they hope to provide. The area is historic and the first to bring new ideas to New York City. There are a few in the city in other buildings, but this Dippin' Dots was the first to have their own spot ready for the customers. The variety is extensive as long as you are open to new ideas. The price is not exactly inexpensive, especially for ice cream. But it is different from what else you might find a block or two away.
This store just opened this past weekend (April 9 – 10, 2021) but has plans for the future ahead. Neil said it was here to bring a new opportunity for the people in the area. With family and friends in the area, or across the town, Dippin' Dots is more than you expected when you wanted a cone, or even popcorn before you go by.
Dippin Dots Store Location
You can find the first NYC store here:
Dippin' Dots
24 East 23rd Street and 1 Madison Avenue
New York City, New York 10010
Phone: (646) 669-7989
Hours: 10am until 10pm.
Website: www.dippindots.com
Want to read more of our latest posts? Check out our review of the Bronx Night Market, or our post about the most popular UK foods.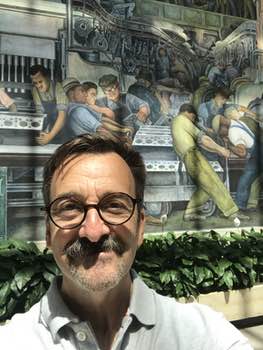 "The Jaded Traveler". Ron Rossi was born and raised in New York. A globalist at heart, Ron is a marketing director by trade, and has lived and worked around the world including Asia, Europe, Africa, and South America. Food is one of the best ways to learn about a country, a people and a culture. So, Ron is always looking for the best in mid-range to budget and street food. He is always on the hunt for a good meal anyone can afford. It is the food of the average citizen that excites him. And with having visited close to 100 countries on 6 continents so far, there have been some pretty good meals.