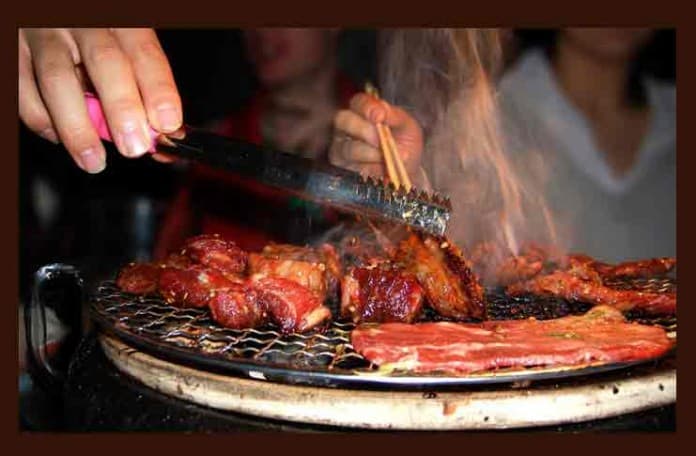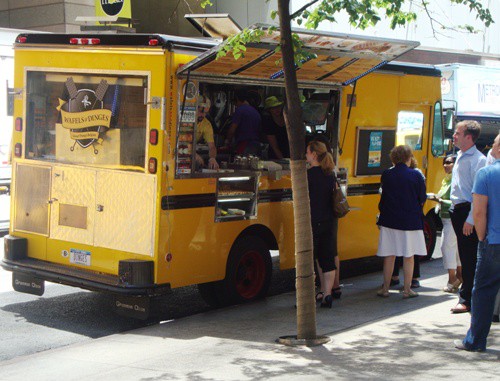 The Wafels & Dinges truck featured bbq pulled pork on a wafel some time ago as a special item, then took it off the menu for a while.  This dish has now re-appeared as a regular menu item, and I had to try it.  I love bbq and I love wafels.  What could be better?
Today's Lunch is the bbq pulled pork wafel with cole slaw and a coolickle (more about that later) for $8.50.  As the menu says, "Where Brussels meets Biloxi".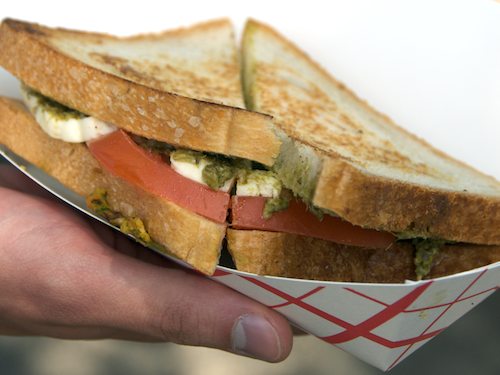 They asked if I wanted it spicy.  Of course!  There was about a 5 minute wait while it was being prepared – not bad.
The wafels had pulled pork piled on one side, with cole slaw topped by a coolickle on the other side.  A coolickle is a pickle that has been marinated in Kool-Aid overnight.  BBQ sauce was also put over the pork and wafel.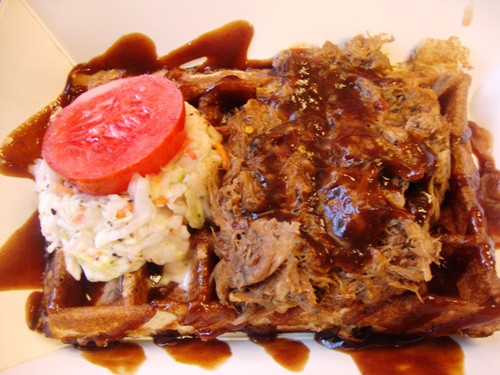 There was plenty of pork, which was obviously cooked with some bbq sauce in it too, in addition to the sauce on top.  The pork was shredded, dense and delicious.  This pulled pork was as good as most other ones I've tried in NYC.  It was not a light meal, but very tasty.
The bbq sauce was sweet and tangy.  Very nice!  Just how I like bbq sauce – and it wasn't too vinegary.
The cole slaw however was a little too vinegary for my taste.  I prefer a creamy cole slaw, although there are parts of the country where a vinegary cole slaw is the norm.  It wasn't bad – just not my preferred type of cole slaw.
The coolickle was a little weird, but ultimately tasty.  Pickles and Kool-Aid are not a combination I would have thought of – but by the time my mouth was able to process these two disparate tastes, my mind was already liking it.
Today's Lunch was a definite 9 out of 10.  The bbq pulled pork would have been great on a bun, but somehow it worked well on a wafel.  I would have preferred a creamier cole slaw, but that's my personal taste.  If chicken and waffles can exist, so can bbq pulled pork on a wafel.  Now there is a a lunch item at Wafels & Dinges that will keep you satisfied until dinner!