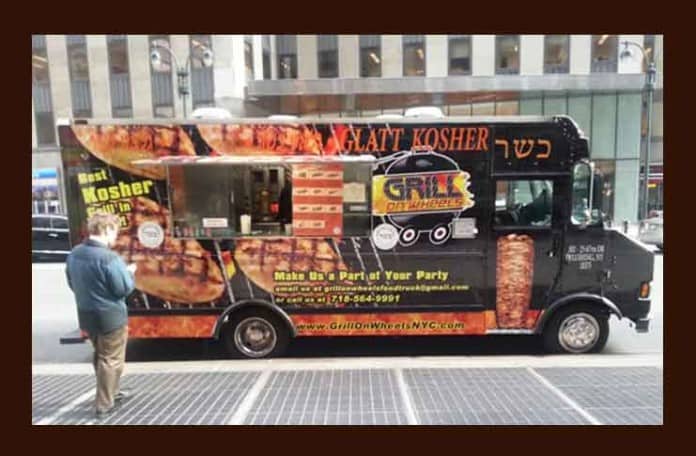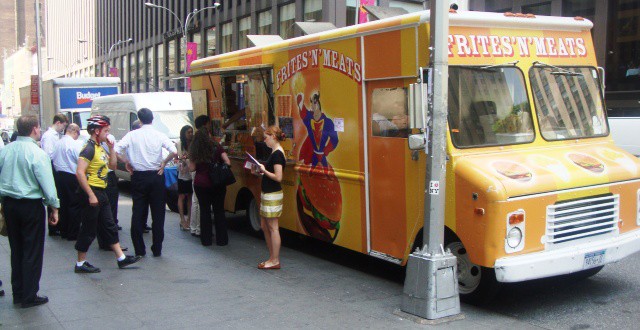 Hope everyone had a great holiday weekend.  It's a hot one out there…but it must be even hotter in the trucks.  If a street food vendor is working today, give them your support.  Most of us can take lunch back to an air-conditioned office.
As always, check our pink Moblie Munchies twitter feed before heading out.  The food trucks sometimes have to move on a moment's notice – plus we had to get this out a little early today, and not everyone has checked in so far.
fritesnmeats – Howdy Midtown! Happy Post 4th! Were on 48th & 6th today. Burger of the Week is The Italian Job! Check out htttp://fritesnmeats.blogspot.com
schnitzeltruck – Hi 46th b/w 5th & 6th? Hot out there huh? Imagine what it's like in the truck:) come support. No min preorders if u don't want 2 wait. To preorder call 347-772-7341
GOBurger – Good morning today were under FDR AT SOUTH SEAPORT. Today special VEGGIE BURGER,BLT Burger and CHILLI CHEESE FRIES yummy!!!!!!!
EddiesPizzaNY – Today (tues 7/6) we r on 40th and 5th. Come get a pizza skins pie (gouda/cheddar cheese, broccoli, bacon, sour cream). Call ahead 9174397522
CupcakeStop – Original Truck on 5th and 23rd, Newest truck on Madison and 99th and shoppe inside the Limelight (6th and 20th, 1st fl.) Red Velv,Van Strawberry,Oreo,Van Latte,Nutella,Lemon,Choc PB Swirl,Banana Blueberry w Orange Frosting,Choc PB Cup,Funfetti & Choc Raspberry!
BistroTruck – Soup of day: watermelon mint soup; Dessert: blueberry panna cotta; Special: fish tacos -Special of the day: Mix grill (lamb, chicken, merguez & steak over basmati rice and salad). To preorder: 800-290-4924
LCBBurgerTruck– Happy Tuesday! We're located at 111 Wall Street today. Come on down and bring a friend!
waffletruck – Happy hot Tuesday to 52nd btw 3rd & lex. Tell us where your favorite public pool is in NYC, for 1 free dinges.
biggayicecream – Woot! Back to work! Schedule is odd, as I'm catering something until 4ish. I'll see you at Union Square by dinner time.
CalexicoCart – Sorry guys, Calexico is busy renewing the permit for the Broome St cart. So Broome St is temporarily closed. Come see us @ Wooster St.
PapaPerrone – We will not be on 55th today. We will see you on Wednesday with our Eggplant Parm. Come and cool down with our Gourmet Italian Ices
Hoboken/Jersey City
laspicetruck – hudson & york 11:45-2:00. come try the new burritos!
TheTacoTruck – Here's the last Can You Guess It? image, which means we're one day closer to opening the store on Friday! http://fb.me/DUDK3MvF