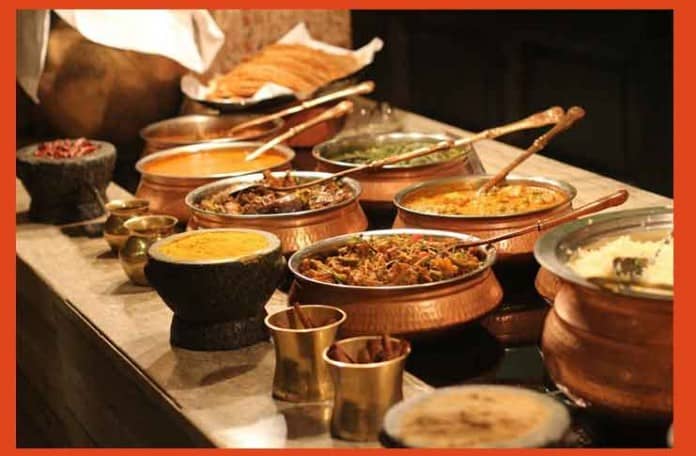 You may have read about the chicken tikka masala battle last week in the Village Voice's Fork In The Road column.  This battle pitted the Famous Dal Cart on 32nd & Park against the Desi Truck on 27th & 5th.  (Spoiler alert: the Famous Dal Cart won.)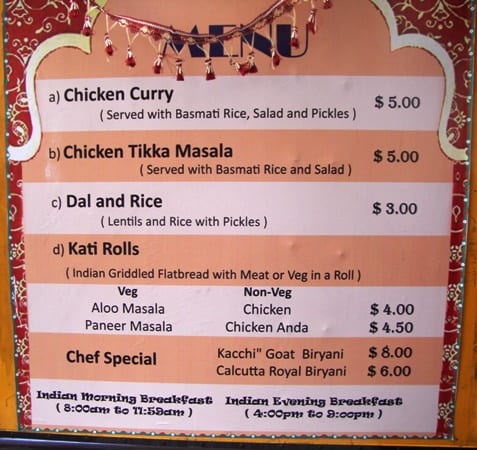 However, we were more interested in the Desi Truck's kati rolls.  (We were told recently that kati means "stick".)  They have 4 types: aloo (potato), paneer (cheese), chicken and chicken anda (with egg).  Today's Lunch is two kati rolls –  aloo ($4) and chicken anda ($4.50).  Is this a better option at the Desi Truck than chicken tikka masala?  Find out after the jump.
The kati rolls from Desi Truck are significantly larger than those from the Biryani Cart, which charges $6 for two.  These are $4-$4.50 each, but two is probably too much food for most people at lunch – unless you want to be in a food-induced stupor at your desk an hour later. I bought 2 kati rolls for lunch, but these were for research, so it was ok.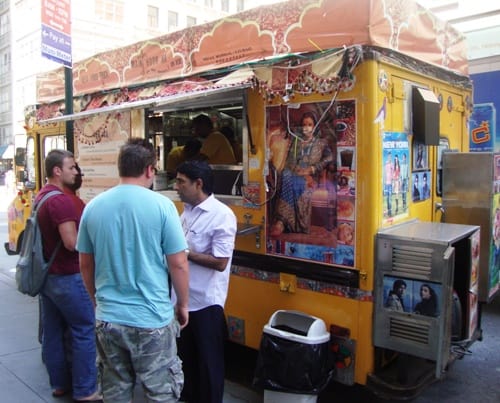 When I ordered, the owner Al (short for something, but I didn't catch his much longer given name) said it would take a little bit for the kati rolls to be made, as they make the fillings from scratch.  I could see some skewers of chicken being grilled, and they fried the egg and potato at that point, too.  It took about 10-12 minutes for lunch, but I don't mind when the waiting is from food being cooked fresh rather than it being from incompetence.  Al also told me they have only been in operation since July 4th.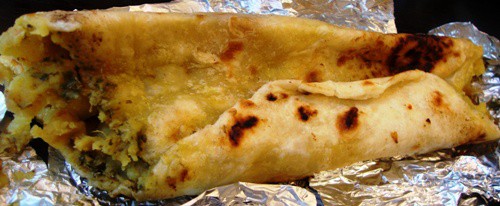 First up was the aloo kati roll.  The flatbread was filled with potato, some onion, and a nice amount of green herbs and spices.  It had only a mild curry kick, but the spices gave it a nice flavor.  The flatbread was nicely grilled and a little bit spongy and chewy.  This kati roll is perfect for vegetarians.  In a baseball game, this would be a clean single, possibly even a double.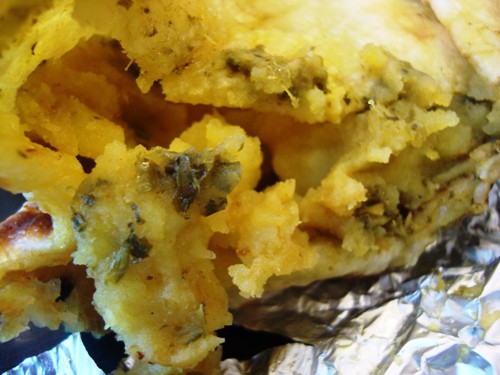 But the chicken anda kati roll was a home run!  Fried egg layered on Indian flatbread, topped with chunks of grilled chicken, carmelized onions, green chili peppers, hot red peppers flakes and green herbs and spices.  This dish was pretty spicy, and I loved it.  Who cares which came first – chicken and egg are a great combo.  The flatbread was less done on this kati roll – it was a little chewier – but the fillings more than stood up to it.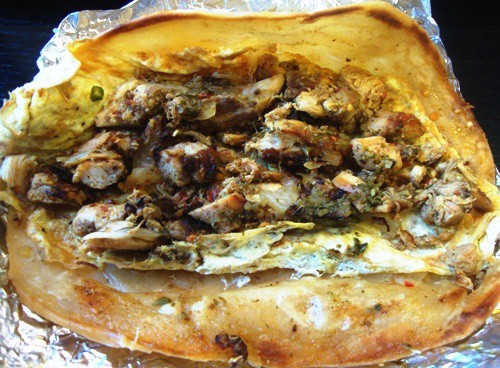 Today's Lunch gets two scores, since each kati roll was large enough to be it's own lunch.  We give the aloo kati roll a 7.5 out of 10 and the chicken anda kati roll a solid 9 out of 10.  The Desi Truck may have lost the chicken tikka masala battle, but in our opinion, the Desi Truck's chicken anda kati roll won the war.