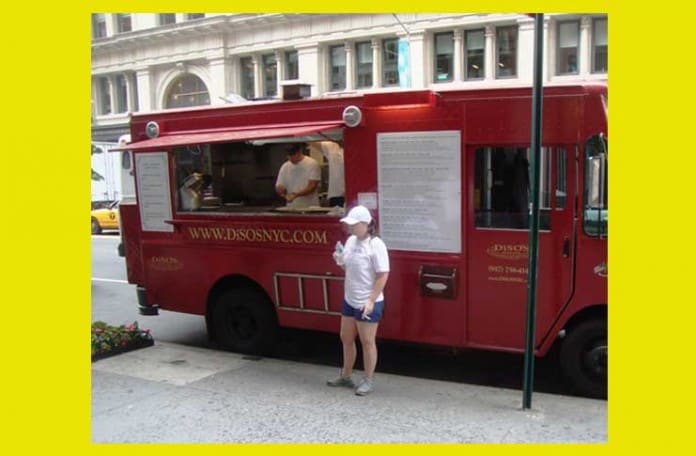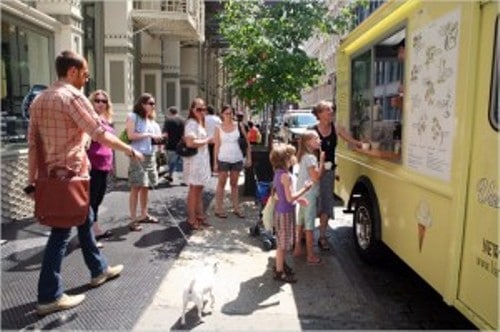 Yes, it's another gorgeous day today in our lovely city.  A perfect day for enjoying some great New York Street Food from the vendors on the right and the trucks below.
Looks like Jersey City is becoming hostile territory for food trucks according to this tweet from the LA Spice Truck- "No lunch in JC today; police harassment. councilman Steve Fulop made it clear he doesn't like food trucks and would like us to disappear!"  Councilman Fulop doesn't list a phone # on his website, but does have email, twitter and facebook contacts there.  Please send him a message that we want food trucks in JC.
We had to get this out a little early today, so please check the pink Mobile Munchies twitter feed on our homepage for the trucks that haven't checked in yet or in case anyone else had to move recently.
VLAIC – Coffee trucks today: Kangaroo on 5th & 15th until 5:30; Panda on 23rd & 5th from 10am-4pm, then 5th & 22nd til 6.
EddiesPizzaNY – Happy Tuesday (7/27) EPT is on Water and Broad until 3pm then off to W4th St and 6th Avenue in the West Village…Make sure you call ahead your order 917.439.7522
RickshawTruck – LADIES AND GENTLEMEN! Tuesday is the perfect day for dumplings! 52nd + Lex and 11th btwn 46th/47th! 11am to 3pm.
CupcakeStop – Trucks on 99th and Madison, 57th and 8th, inside the Limelight (6th and 20th, 1st fl) and in Montclair NJ, 1 Greenwood Avenue.
schnitzeltruck – Mornin 46th b/w 5th & 6th. How goes it? It'll go really well when tha schnitz monster is in yer belly:) b there @ 11:30. C u soon schnombies
StreetSweets – Today Street Sweets is mixing it up, we r at our Monday location 46th & 6th All day today, stop by for an amazing cup of coffee, iced or hot
waffletruck – Holy Dinges Batman, it's Tuesday! We're on 52 btwn 3rd & Lex til 4:26pm. Give us a Boy Wonder exclamation=1 free dinges.
1 new tweet.
pizzatrucknyc – 28th and BROADWAY !! COME GET IT !!!
joyridetruck – Midtown East, are you ready for a Joyride? Come by 52nd & Lex, for a cup of @Stumptown and some froyo. Why not try our buzzed version?
steaktruck – we r today on 47 st & park ave.
Hoboken/Jersey City
TheKrave – 7/27 – 12:00-2:00, Hudson & Harborside Pl. 5:30-9:30, Columbus and Marin Blvd http://tumblr.com/xl1ebi1w6