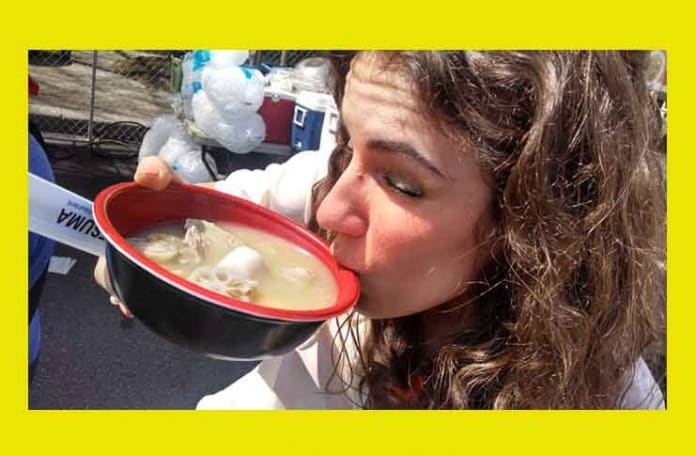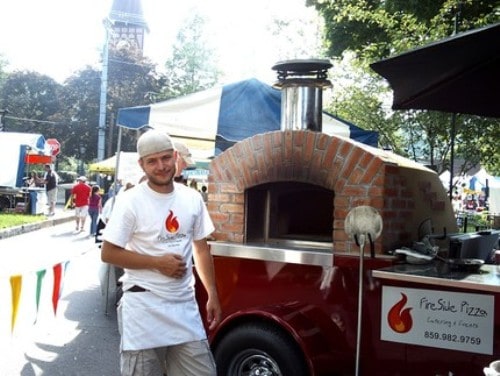 Last week we told you about a mobile wood-fired pizza cart in Calgary.  Looks like there's another one in Cincinnati (pictured above) – along with a bunch of other interesting new food trucks.
Cincinnati is the latest city to join the food truck revolution.  Last month the City Council approved a pilot program giving food trucks designated places to park.  The city gave space to the first 20 vendors to sign up.
Here are some of the top food trucks in Cincinnati:
Cafe de Wheels: This big black truck serves burgers, fries, Cuban sandwiches and made-to-order veggie burgers. It usually sets up at lunchtime on weekdays near the courthouse. It is cash only, and most items are less than $9.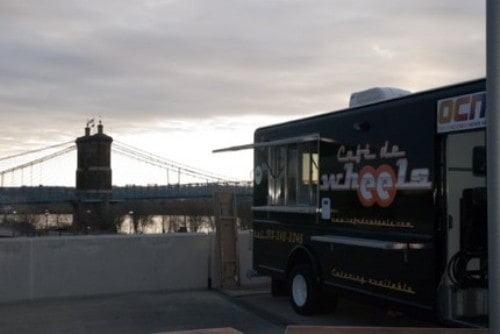 Señor Roy's Taco Patrol: Fresh Mex from a truck rolls your way in this red and black "shell on wheels." Tacos (flank steak, grilled chicken or Al Pastor slow-roasted pork shoulder) are two for $5 or three for $6. Burritos or quesadillas are $6 each, and everything else on the menu is $5 or less.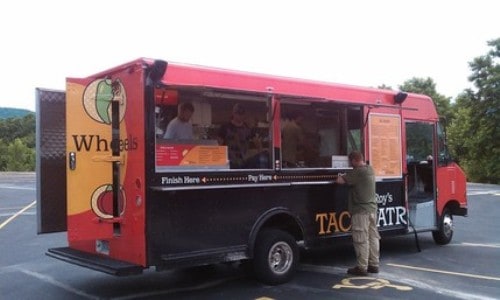 Taco Azul: This truck calls itself the "Authentic L.A. Taco Truck," run by a Cincinnatian who worked in L.A. and wanted to bring the West Coast flavor here. Tacos are $2 or three for $5; burritos are $7; and most menu items are $5 or less.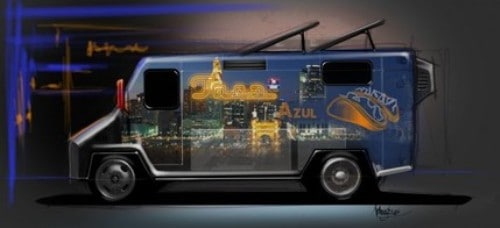 The Chilimobile: Gold Star Chili offers cheese coneys for $2 at its rolling Chilimobile. Look for it in the city parking lot at 5th and Race across from Macy's.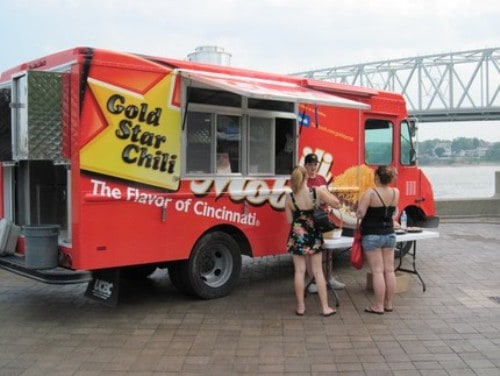 Other vendors include New Orleans to Go on the Geaux, Dojo Gelato, Hey Ice Cream Man, M&B Distributors, and Butler Inc.
Since late June, the food trucks have been operating at Sawyer Point (just east of the Purple People Bridge), Court Street Market (on the south side of Court Street at Vine) and on 5th & Race Street (on the southeast end of the parking lot along Race Street, across from Macy's). [Examiner.com]