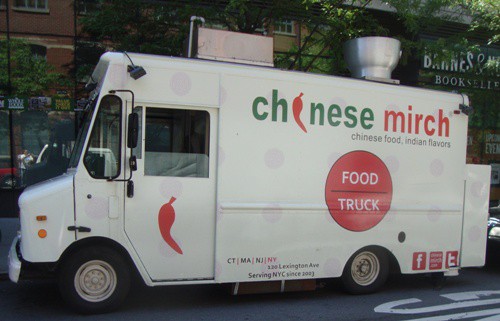 Chinese Mirch is one of the food trucks working with the Mayor's Fund To Advance NYC, helping to feed those most affected by Hurricane Sandy.
A few days before the storm, we stopped by Chinese Mirch. This is our report.
While there are new food trucks and carts coming out on a regular basis, we still need to keep up on all the menu changes in the existing street food world.
Chinese Mirch, a Rookie of the Year Vendy Award nominee last month, teased us a while back when they experimented with keema dumplings and spinach dumplings. We couldn't make it to the truck at the time, but the experiment must have gone well, because keema and spinach momos are now on the regular menu.
An order of 5 keema or spinach momos is $6, and they were nice enough to let us split the order. No, not 2½ dumplings each. We got 2 spinach and 3 keema momos.
We don't often get dessert with lunch, but dumplings are usually not filling enough to hold us until dinner. To top things off, we got a mango mousse dessert for $3.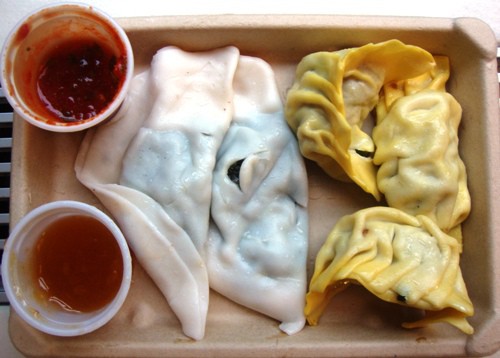 We started with a keema momos. Keema is ground meat, usually beef or a beef and lamb mixture. This one was minced beef.
Mixed in with the beef were peas and small pieces of scallions and onions. The filling was well spiced, and the momo wrapper was good too.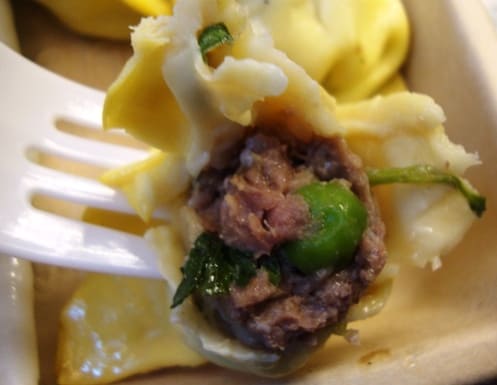 The spinach momos were decent, but we preferred the keema momos. The wrappers of the spinach momos were a little on the gummy side on the top, although the spinach filling was tasty.
The momos came with two sauces. One was a hot chili sauce, which had plenty of heat and went well with the keema momos. The other was a sweet chutney-type sauce that was a good match for the spinach momos.
What you can't see from the top photo is that the spinach momos were actually fried on the underside, which added a little firmness and crunch.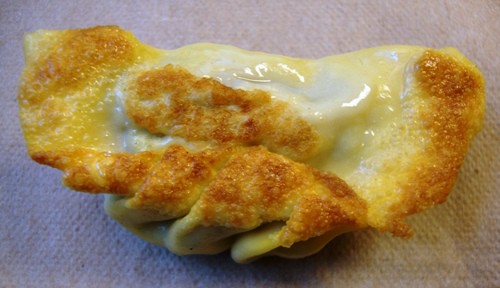 We were right to get the mango mousse dessert. Five momos were not that filling.
The mango mousse was sweet and a bit tangy. It wasn't particularly light for a mousse, but we liked the sweet and tangy mango flavor.
Only the top half of the dessert was mousse. The bottom half of the cup was filled with cake, and a fruity syrup was drizzled around the edge.  Not bad for a lunchtime dessert.
The Chinese Mirch truck can be found on Twitter here or on our Mobile Munchies twitter feed.
Chinese Mirch also has a restaurant at 120 Lexington Ave (28th St), two in NJ and one each in CT and MA. You can see the locations here on their website.