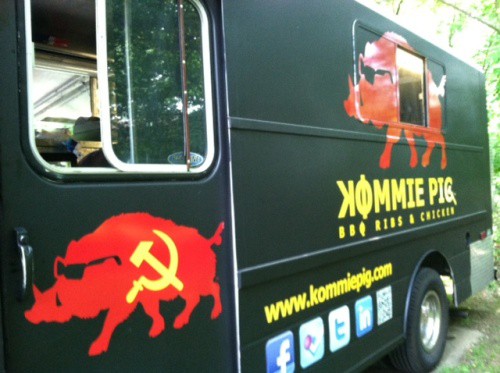 On Saturday (11/10), Baltimore's fleet of food trucks will rally in Towson to benefit the storm-ravaged New Jersey towns of Bayville, Westfield and Toms River.
Clothing and supplies collected at the rally will be transported to the towns damaged by the Oct. 29 storm. Requested items include first aid supplies, clothing, diapers, wipes, general toiletries and charcoal grills.
The Hurricane Relief Gathering, which is being organized by the Maryland Mobile Food Vending Association and the
Towson Chamber of Commerce, will take place on Saturday, from 1-5 p.m. on Washington Street, between Chesapeake and Pennsylvania Avenues.  Attendees can also enjoy beer, wine, and live music.
According to a post on The Gathering's Facebook page announcing the event, participating food trucks include Kooper's Chowhound Burger Wagon, Woody's Taco Island, Cruisin' Cafe, The Jolly Pig, Noodlerolla Food Truck, GrrChe – Gourmet Grilled Cheese Truck, icedgemsbaking, and Kommie Pig.
Damian Bohager of the MMFVA said once the weather turned, the association believed it was done with its regular food truck gatherings, which were held throughout the summer around Baltimore City and typically held with a local charity in mind.
When a friend of Bohager who has been going back and forth between Baltimore and relatives in New Jersey related the devastation to him up north, he recognized it as an opportunity to rally the food truck community
"We're all excited about doing this one," Bohager said. "(The trucks) all came back and said 'Count us in.' "
Event organizers aim to collect first-aid supplies, clothing, winter coats, diapers, toiletries, blankets, and pillows, all of which will be boxed up and sent to affected areas in New Jersey.
Towson Chamber of Commerce Executive Director Nancy Hafford said Bohager called her last night and asked about the possibility of setting up such a large undertaking in the 11th hour.
"It's really hard to pull something like this together this quickly, but the County Executive, Kevin Kamenetz, really cleared the path for allowing this to happen because he understands the magnitude of devastation they've had up north," Hafford said
In addition to the dozen food trucks, local restaurants such as Charles Village Pub, 7West Bistro, Souris' Saloon, and the Rec Room are collaborating by accepting donations throughout the week.
Hafford said the Towson University Marriott is donating pillows and bed linens, all of which will be shipped to firehouses accepting donations in the affected areas and distributed to those in need. [Baltimore Sun]