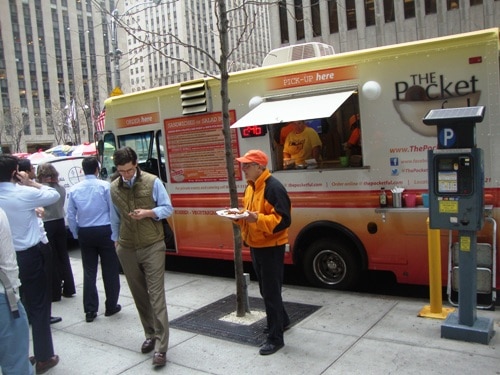 Ever tried a Moroccan Sandwich? As we previously mentioned, Crisp On Wheels is no longer affiliated with the Crisp chain of falafel restaurants. The severing of these ties forced the owners of the truck to change their name, menu and look.
While the name and look of the truck changed, the menu is basically the same, but with different names for the dishes. The question is would the food suffer since they were no longer working with Crisp.
To find out, we got a Moroccan sandwich, which used to be called Crisp Africa. The sandwich cost $9.50 after tax, which is on the high side for a falafel sandwich.
The packaging was similar, but without the "zipper" in the middle of the box that simplified the eating process. Now we had to lift the sandwich out of the top of box to eat, which got a bit messy.
The downside was a bunch of corn kernels ended up falling out (but luckily missed our pants). The upside was the Moroccan was jam-packed with corn, tomatoes, sweet potatoes, falafel and a Moroccan peanut sauce.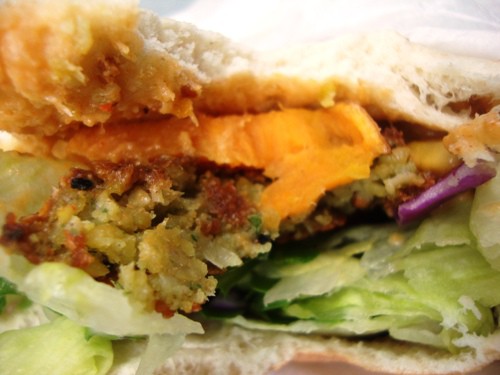 The combination of falafel, sweet potatoes and peanut sauce was very tasty. We love sweet potatoes, and they were even better with a little kick from the spicy peanut sauce.
You have a choice of white or whole wheat pita bread at The Pocketful, and they are served soft and warm.
We didn't notice any discernible difference between the Moroccan sandwich from The Pocketful and the Crisp Africa from Crisp On Wheels. The fillings were plentiful and the ingredients were fresh and…crisp.
The biggest problem we have with The Pocketful is their prices. You can get very good falafel sandwiches is this town for $4-6. It's your choice whether to pay a few extra bucks for the variety of large, full sandwiches at The Pocketful.
You can find The Pocketful on twitter here or on our Mobile Munchies twitter feed.