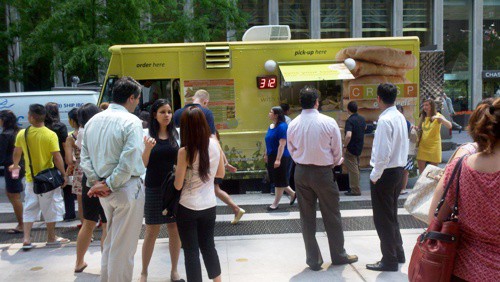 Ever eaten at Crisp On Wheels Truck? well, one of the reasons people often cite for liking food trucks is the value proposition.  Food trucks are supposed to serve great food at less than brick-and-mortar prices because they have lower fixed costs.  That doesn't always seem to be the case though.
We've been to Crisp On Wheels Truck before and enjoyed The African, which had a spicy peanut sauce.  This time we went in a totally different direction and ordered The Parisian, but it cost $9.53 after tax, which is quite a bit for a falafel sandwich.  Let's see if it's worth the money.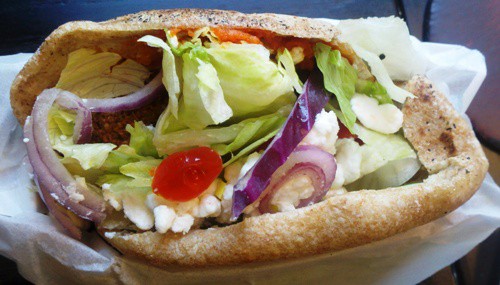 Judging from the number of people waiting at the truck for pickup, plenty of people think it is worth the money.  When I ordered, the pickup number was 305 and I was order 329. Uh-oh! Was this a mistake with 23 people ahead of me?
I was pleasantly surprised.  My lunch was picked up in about 12 minutes, which is 2 orders served per minute.  That was better than expected.
Taking the sandwich out of the bag, it's immediately apparent where some of the money goes – packaging.  In addition to a branded lunch bag, the sandwiches come in a printed cardboard "handbag".  This keeps the sandwich upright on the way back to the office, and a perforated "zipper" that removes the top of the box makes it easy to take out and eat.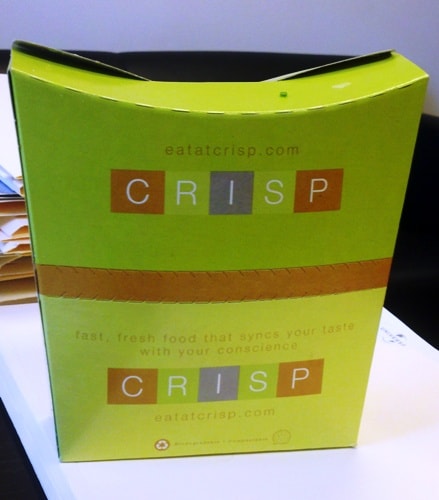 The Parisian of Crisp On Wheels Truck was served with your choice of white or whole wheat pita.  Inside were about 4 large falafel balls, lettuce, red onions, tiny tomatoes, goat cheese, red cabbage, roasted peppers and a tomato spread.  Ooh la la, the Parisian was big, fully-stuffed falafel sandwich.
Goat cheese and tomato spread were the initial tastes I got, with falafel a close second.  They went together quite well.  The pita was soft, but sturdy enough to hold everything together without breaking.  Towards the bottom of the sandwich were a few pieces of roasted pepper, which was a nice surprise.
What about the falafel itself?  They were large and made a good base for all the fillings, but weren't really distinctive by themselves.  I would have liked more herbiness in the falafel.
Overall, this was a large, satisfying falafel sandwich, but was it worth $9.50?  Like everything else in life, it's all relative.
If every dollar is important, there are good options for a falafel sandwich like Mamoun's or Moshe's that are several dollars less.  If $10 is your standard lunch, Crisp On Wheels is a solid choice.  And with their packaging, lunch should be a neater affair than just a wax paper wrapper.
You can find the Crisp On Wheels Truck on twitter here or on our Mobile Munchies twitter feed with many other vendors.  You can also see their truck menu here.