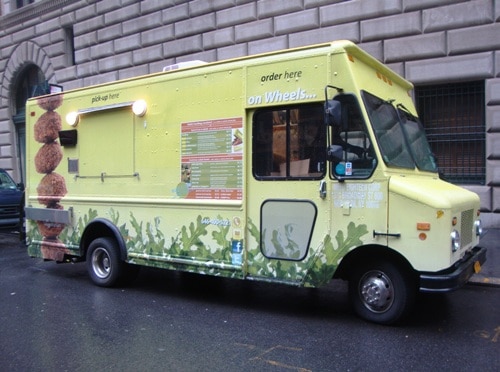 In the past few days, there has been a lot of press about how the Mediterranean diet can ward off heart attacks and strokes. Let's put that to the test. We haven't been to Crisp On Wheels in a while, and they have a Mediterranean falafel sandwich, so we headed there for lunch.
Guess it has been a while since we've been to the Crisp On Wheels truck. It still looks pretty much the same, but all references to "Crisp" are removed from the truck and the menu.
We spoke with someone at the truck, and they said there was a falling out with the Crisp stores, and they are no longer affiliated. We got a few more pieces of info at the truck, including the name they hope to change to soon.
We don't care about who owns what or who's fighting with who. The only question we care about is if the food is good.
We were a bit surprised to see Crisp On Wheels right across 53rd Street from the King of Falafel & Shawarma. The King's falafel is among the best around, as evidenced by their domination of the 2010 Vendy Awards.
It was a cold, rainy day so neither vendor was particularly busy, and Crisp On Wheels had a guy on the sidewalk handing out free falafel to passers-by. Looks like they picked up another trick from the King.
The Mediterranean sandwich had several thick disc-shaped falafel in your choice of a white or whole wheat pita. Stuffed into the pita was lettuce, tomato, sun-dried tomato spread and parmesan flakes.
The pita was nice and soft, and held everything together just fine.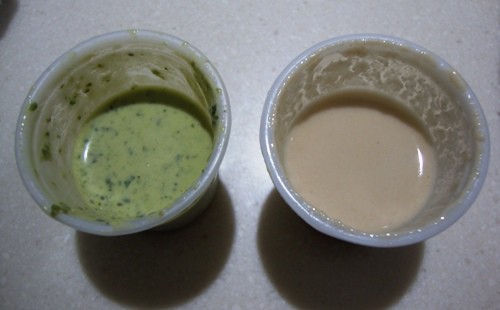 Included with the sandwich were 2 sauces. One was a green, herby sauce made with parsley, cilantro and other herbs. The other one was a sesame tahini sauce. Both were pretty thin in consistency, but tasted good when poured into the sandwich.
This was a pretty substantial sandwich, with plenty of fresh falafel and veggies. Our only complaint was cost $8.75 ($9.53 after tax). That's too high for a falafel sandwich. Right across the street, you can get a great falafel sandwich for $4 from the King. There's no reason there should be such a discrepancy in price, especially now that they don't have to pay franchise fees to Crisp.
You can find Crisp On Wheels on twitter here (they got to keep the @CrispOnWheels twitter account) or on our Mobile Munchies twitter feed.  You can also see their truck menu here.
BTW, the name they are thinking of using is Pocketful, so keep your eye out for that one. We'll let you know if we see it first.
Oh, and the Mediterranean diet. It's been 6 hours since lunch, and no heart attack or stroke yet. Guess they're on to something here 🙂