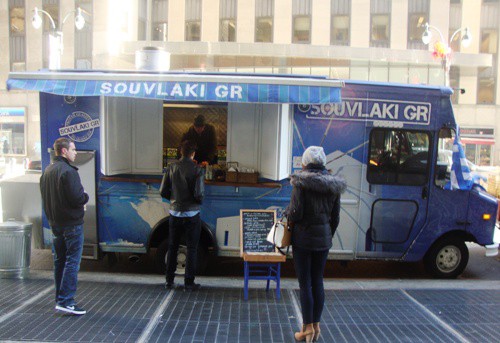 It wasn't too long ago that we went back to Souvlaki GR for the first time in a while. During that visit, we saw they expanded the menu slightly, by adding Greek spinach pies and cheese pies. That meant a quick return trip.
The cheese pies are 3 for $8, and the spinach pies are 3 for $9. We asked about trying both, and they nicely gave us 2 cheese and 1 spinach for $8.
Fearing 3 triangles would not be enough for lunch, we added an order of Greek fries for $5.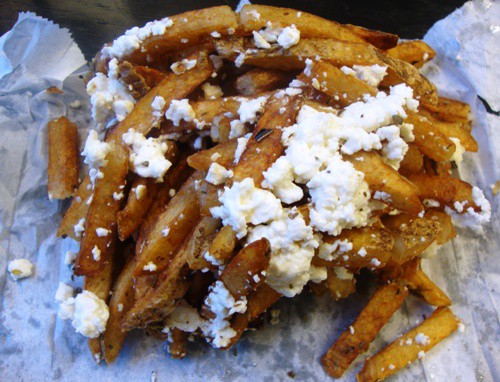 Opening the box of pies, we were right to order the Greek fries. While the cheese and spinach pies looked great, three triangles were not exactly enough for lunch.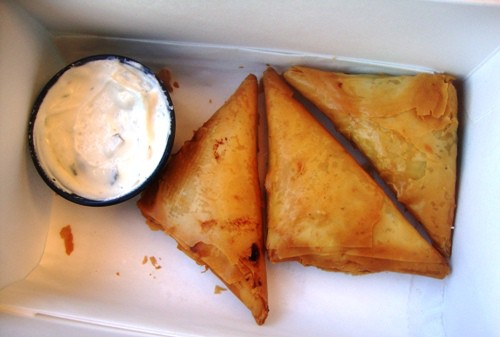 We love phyllo dough, and this was exactly why. The phyllo dough on the Greek pies was very light and flaky.
The spanikopita (spinach pie) was filled with a lemony feta cheese, more lemony than the feta cheese that was on the Greek fries.
There was plenty of spinach in the pie, as well as onions, in that warm, flaky, crispy crust.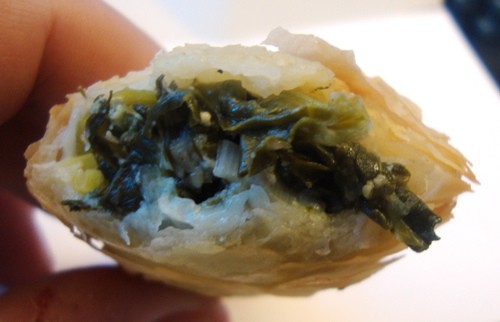 The cheese pie was even better. It was filled with cheese, and was studded with a couple of herbs to round out the flavor.
A small container of real tzaziki sauce was served with the pies. It was quite thick, and was made with yogurt, lots of garlic and cucumbers.
The Greek pies and tzaziki sauce were great, but overpriced.
Getting back to the Greek fries, they are some of the best around. For $5, the hand cut, irregular fries were topped with feta cheese, thyme, oregano and salt. Delicious!
Souvlaki GR serves regular fries for $4, but we heartily recommend spending the extra $1 for the Greek fries. There's more than enough to share, if you want to split them with someone.
It's easy to see how Souvlaki GR won the 2010 Vendy Award for Rookie of the Year, and then won the Vendy's People's Choice Award the following year. We're glad they recently decided to start coming up to our neighborhood.
You can find Souvlaki GR on twitter here or on our Mobile Munchies twitter feed.
If you're on the Lower East Side, definitely check out their restaurant at 116 Stanton St. It's a wonderful little slice of Greece in the heart of NYC, and a great way to escape the NYC winter for a little while.