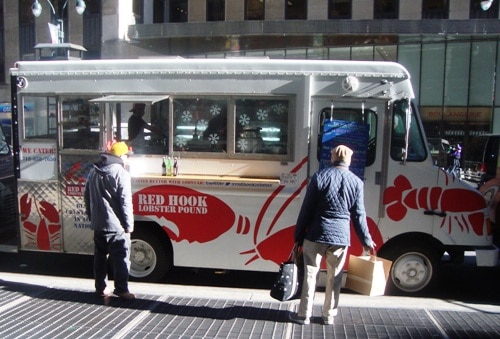 Thanksgiving was more than 2 weeks ago, but heading out into the 27 degree weather at lunch, we were thankful the Red Hook Lobster Truck was parked near our office.
In an unusually busy day, there were 7 different food trucks or carts parked on Broadway between 55th & 56th St. It was the first time we recall seeing Big Red (Red Hook Lobster's food truck) in this area.
With 2 diferent soups to choose from, we got one of each. Always going for the well-rounded lunch. The Downeaster Bisque was $7 and the Classic New England Clam Chowder was $6.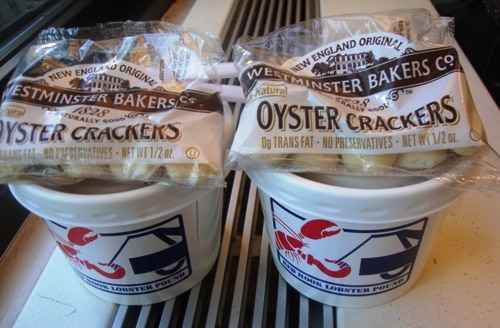 Both soups came with oyster crackers, a required part of bisque & chowder cuisine, in our opinion.
The Downeaster Bisque was medium-thick, not quite as thick as the clam chowder.
In the soup, there were shrimp, clams, some haddock, and a little lobster, as well as celery, potatoes, and a few greens.
There must have been a nice amount of cayenne in the bisque, because the broth was spicy!  We could taste the sherry in the recipe, too.
Even though it tasted ok, you could see the soup had curdled a little. This didn't affect the flavor, but it did affect the texture. It wasn't creamy like you expect a bisque to be.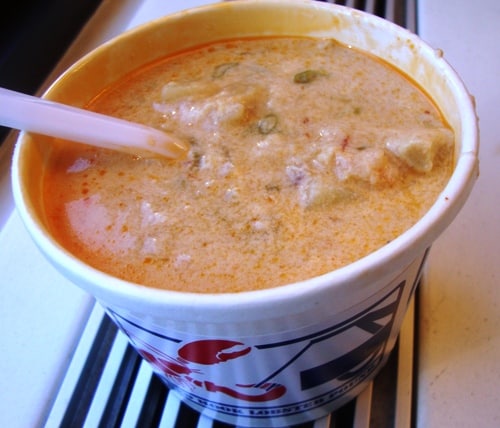 The Classic New England Clam Chowder was exactly as advertised. It was a thick, creamy soup with plenty of clams, potatoes and celery.
One thing that did suprise us was the amount of thyme in the chowder. While we enjoyed it, we don't recall past clam chowders being quite so herby.
The other nice thing about soup is you don't have to wait in the cold for it to be prepared. All they had to do was scoop it into a container, put it in a bag, and we were on our way.
You can find the Red Hook Lobster Truck on twitter here or our Mobile Munchies twitter Feed.
If you're in the neighborhood, their restaurant in Red Hook, Brooklyn (natch) is back in action, after getting slammed by Hurricane Sandy last year.