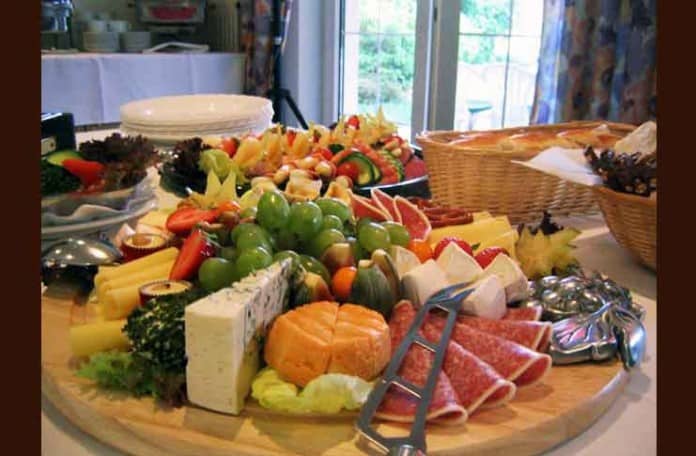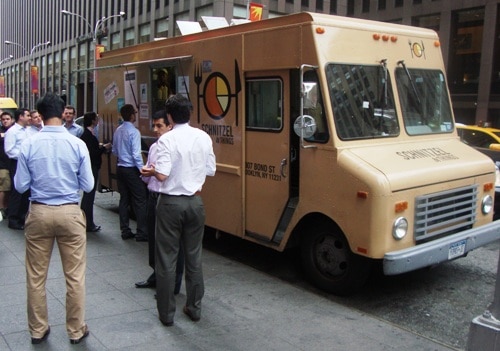 You never forget your first love – and in the New York Street Food scene, Schnitzel & Things (S&T) will always have a special place in my heart.  It's not because of how Oleg uses those tongs (although he does wield them nicely).  It's because S&T was the first street food vendor that seduced me into the street food world.  After S&T, I found Wafels & Dinges, nyccravings and others, and I haven't been the same since.
Today was the first opportunity I had to visit S&T since they were honored as a 2010 Vendy Award finalist earlier this week – and they had cod!  They also had a line about 20 minutes long, but that's how it goes when you want lunch from one of the best street food vendors in New York.
Today's Lunch is a cod schnitzel platter ($10) with cucumber salad and beet/feta salad as side dishes.  You can also get it without side dishes for $8.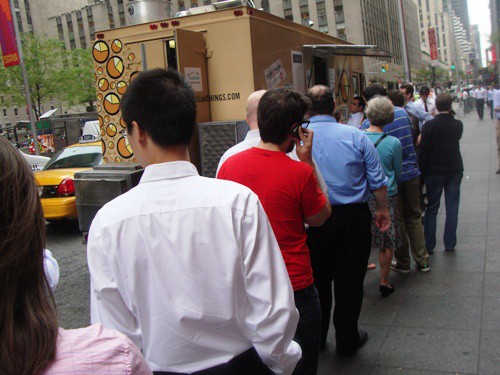 I love fish, but don't get it too often at home because I'm the only one who likes it, so I try to eat fish for lunch whenever possible.  Kim's Aunt Kitchen is pretty good, but to use a baseball analogy, they are in the minors and S&T is in the majors.  S&T costs more, but they are worth it.  Just take a look at the platter below.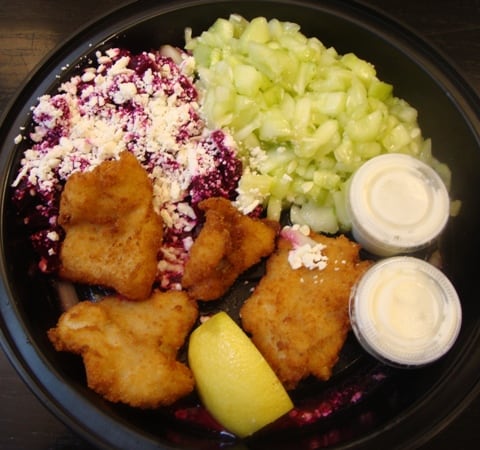 There were four pieces of lightly-breaded cod.  I squeezed on some fresh lemon, opened the tartar sauce, and went to town.  Delicious!  Soft and perfectly fried, and not greasy at all.  In fact, after the first bite or two, I dispensed with the tartar sauce and just had the fish with fresh lemon.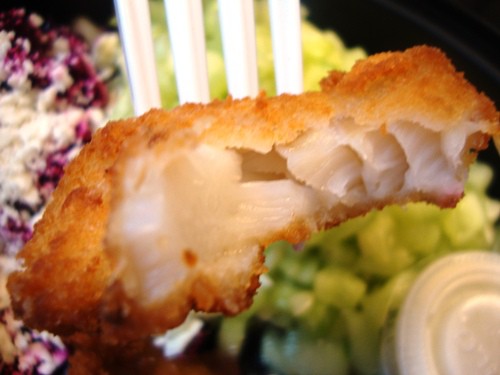 The side dishes were good – no, let me correct that.  The cucumber salad was good.  The beet and feta salad was exceptional.  The beets were firm but not hard, and feta cheese was the perfect complement to top the beets.  It gave the beets a slight edge they wouldn't have had without the feta.  I never used to like beets, but I can't say that any more.
Today's Lunch gets a 9 out of 10.  To be fair, $10 is a bit on the high side for lunch, but the ingredients are all high quality, and fish isn't cheap.
I can't wait for the Vendy Awards on Sept 25th – and I'm sure S&T can't wait either.  Below is the video produced by Food Curated for the Vendy Award website.
Schnitzel & Things