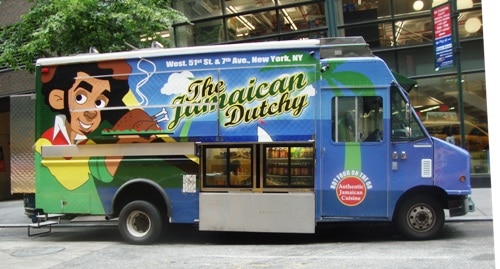 Ever tasted the Jamaican Dutchy Truck? Well, we were in the Grand Central area recently for lunch, and for some reason, had a hankering for fried chicken. You may wonder where to get fried chicken on the street, but we know a few places, such as Okadaman and Jerk Pan.
So this time we went to the Jamaican Dutchy Truck, the 2009 Vendy Cup Finalist who parks on 43rd St & 3rd Ave every day. While their side dishes may be Jamaican, the fried chicken is fairly similar to the Southern fried chicken we all know and love.
The Jamaican Dutchy Truck has a $5 fried chicken meal that you can get with white or dark meat. The choices are either 1 breast and 2 wings or 1 thigh and 2 legs. We opted for the breast and wings. If you wanted it mixed up, they would probably do that for you too. In fact, we ended up with a mixed platter, even though we didn't order it.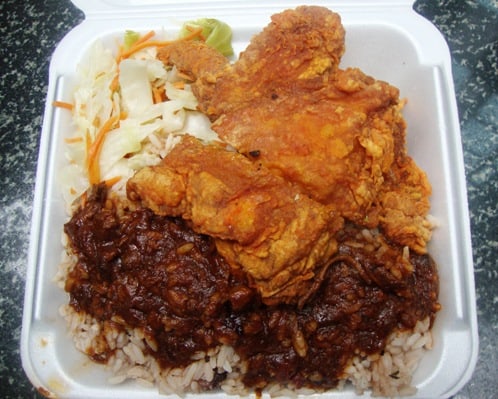 The sign says it comes with fries, but they didn't have fries this day. No problem mon (as they say in Jamaica), the rice here is very good.
Opening the container, there was a wing and a large thigh cut into two. There was also a huge portion of rice and gravy, and a small cabbage salad on the side. Even though it was a little disappointing not getting a breast, lunch looked and smelled great.
The chicken breading was good. Like we said, it was not much different than Southern fried chicken. The breading was somewhat crispy, and under the breading, the chicken was very moist and tender. We're not usually one for thighs, but this was tasty, and the wing was good too.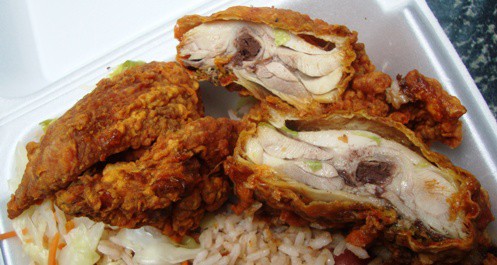 The Dutchy's rice and brown gravy is very flavorful. There are a few scattered beans in the rice, but what makes it so good are the spices. O'Neill hasn't told us his secret recipe, but there was certainly allspice, cinnamon and cloves in there. The brown gravy may not look beautiful, but it tasted great.
While we would have preferred a chicken breast to the thigh, lunch was still very good. It was also a great value. Where else can you get freshly fried chicken, homemade rice and gravy for $5?
The Jamaican Dutchy's website is here and their twitter is here, but O'Neill doesn't tweet much.  Just head over to 43rd & 3rd pretty much all day, as they serve breakfast, lunch and dinner. You can see their entire menu here.