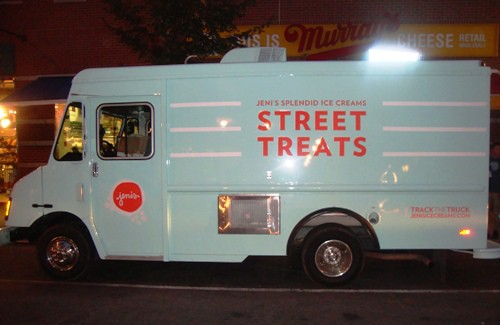 Lots of people have been talking about the Jeni's Splendid Ice Creams truck that's in town giving out freebies through Saturday. Well, we stopped by last night on our way home to give you the inside scoop (yeah, we pulled out that old pun again).
Jeni's truck was parked in front of Murray's Cheese on Bleecker St, where they were giving out free ice cream before a private event at Murray's. Perfect, only 2 blocks from where we live.
Jeni was outside the truck talking to people, so we asked her some questions about what makes Jeni's Splendid Ice Creams so…splendid.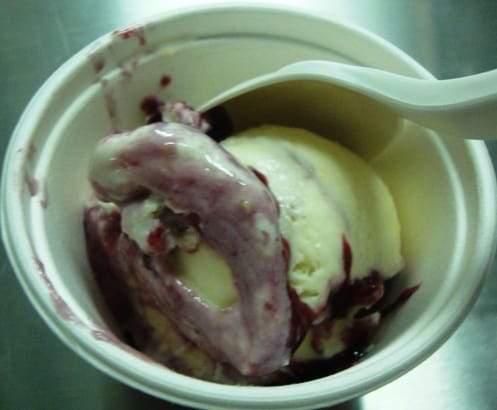 Before getting into that, let's give you a little background.
At this point, Jeni's has 10 stores in Columbus, Ohio, and this trip to NYC is to let everyone know that Jeni's Splendid Ice Creams will be sold in Murray's, Dean & Deluca, and about 20 other small markets around town. No big chains will be carrying Jeni's (by their choice). Jeni's is all about working with small farmers and purveyors.
In fact, Jeni told us that's one of the guiding principles of the company. They try to buy local, but even more important is only buying from, and working with, people, not big companies. Nearly all of their suppliers of milk, cream, honey, corn, blackberries, walnuts, etc are small farmers.
You may not know this, but Jeni was also a James Beard Award Winner this year for her cookbook, Jeni's Splendid Ice Creams At Home.
Jeni's has 21 signature flavors, plus additional seasonal flavors, of which 4 were available at the truck last night. Did we mention it was free?
The options were salted caramel, lemon & blueberries frozen yogurt, roasted strawberry buttermilk and sweet corn & black raspberries. Those are some pretty awesome flavors.
We asked nicely, so we were able to try 2 different ice creams – salted caramel on a sugar cone and sweet corn & black raspberries in a cup.
The salted caramel had that almost, but not quite, burnt caramel flavor. It wasn't sweet, but there was no mistaking this was dessert. A sugar cone was the right way to go with the salted caramel ice cream.
The other ice cream was infused with sweet corn. To alleviate your concern, there weren't kernels of corn in the ice cream.
We're big on raspberries to begin with, and fresh black raspberries are even better.
This ice cream was creamy and fruity at the same time, but a deep, intense fruitiness, not a sharp, tart raspberry taste.
To answer your question, yes these ice creams were splendid.
If you want to try a nice serving of Jeni's Splendid Ice Creams (for free), you have to go to Brooklyn. The two Manhattan stops are already done.
6:00 p.m. – 8:00 p.m.
Valley Shepard Creamery, 211 7th Avenue, Brooklyn
Thursday
12:30 p.m. – 2:30 p.m.
Forager's, 56 Adams Street, Brooklyn
6:00 p.m. – 8:00 p.m.
Green Grape, 753 Fulton Street, Brooklyn
Friday
12:30 p.m. – 2:30 p.m.
Brooklyn Fare, 200 Schermerhorn Street, Brooklyn
6:00 p.m. – 8:00 p.m.
Stinky Brooklyn, 215 Smith Street, Brooklyn
Saturday
12:30 p.m. – 2:30 p.m.
Gourmet Fresh, 437 Court Street, Brooklyn
You can also get updates on their Facebook and Twitter pages.