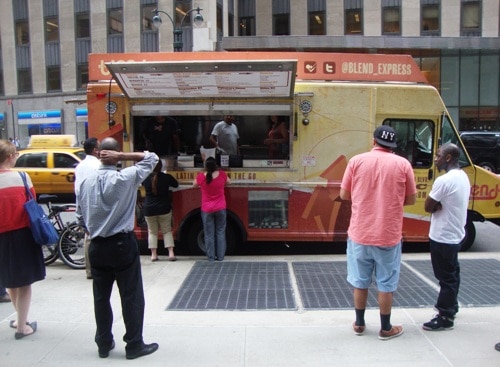 Things have been pretty crazy at work, so we haven't had a lot of time for lunch recently. Luckily, Broadway between 55th & 56th St has been a friendly location for food trucks, and it's around the corner from our office.
A few days ago Blend Express was one of the trucks parked there. We enjoyed their Latin beef bowl, but walking by we noticed something new on the menu – a Cuban Sandwich for $7. Sold!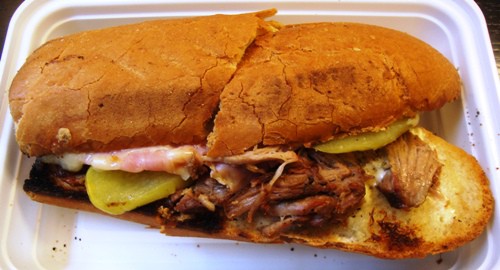 There's something we've always liked about Cuban sandwiches. The variety of flavors is pretty unique, and it's also pressed and served warm. What's not to like?
Roasted pork is the main ingredient, but the sandwich also includes one slice each of ham and Swiss cheese as an accent, plus pickles and mustard for some vinegary bite.
It doesn't sound like these foods would go well together, but they do. Just ask millions of Cubans.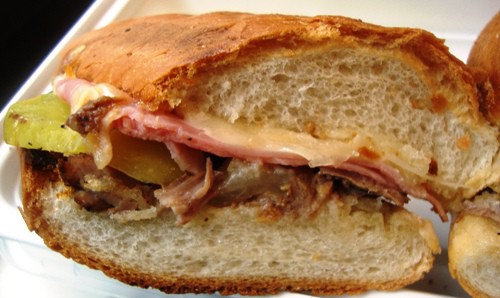 Blend Express uses a baguette, which is a little unusual, but it's toasted nicely and lightly pressed. After being pressed, the bread had the right ratio of crunchiness to softness. And it was warm. Mmm!
The roast pork was delicious, if a little sparse, and everything else fell into place well. We can recommend the Cuban Sandwich from Blend Express. The $7 price tag is easy on the wallet too.
You can find Blend Express on twitter here or on our Mobile Munchies twitter feed.