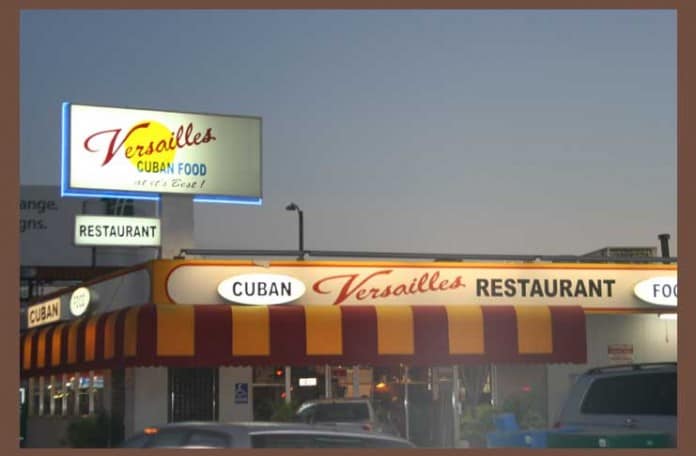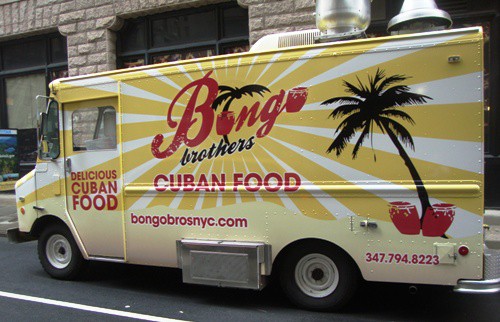 The Flatiron District is really becoming a food truck haven.  Last week we had a NYSF First Look at Gorilla Cheese NYC, and on the way to check out the new Bongo Brothers truck, we ran across Valducci's Pizza, another truck new to midtown that we will be writing about later.
This is only the 2nd week Bongo Brothers has been on the street, but they had a steady stream of people coming up to the truck, so word must be traveling in the neighborhood.
They parked on 20th St just west of 5th Ave, and Danny told us they expect to be parked there every day, barring unforeseen circumstances like complaints from building owners or police harassment.
For my first meal at Bongo Brothers Cuban Food, I had to try a cubano sandwich ($7).  Several people also got ropa vieja, and I got a report from one of them, which I'll tell you about later.
You can view their full menu here.
Danny & Albert are the actual brothers behind Bongo Brothers.  Albert has worked at a number of good NYC restaurants, and they are hoping to expand if all goes well with the truck.  Much of that will depend on the food, so let's get to the main course (pun intended).
From the bottom of the sandwich up, the cubano had lots of tender, juicy roast pork, several slices of Virginia ham, a little Swiss cheese, mustard and homemade pickles.
In some cubano sandwiches, one ingredient often stands out, whether it's vinegary pork or strong mustard, but in the Bongo Brothers cubano, everything blended really well together.
In my opinion, the roast pork was the star of the show, with a lightly marinated flavor that was nice and tasty – but the other ingredients were tasted in each bite too.
I'm not the only one who was impressed.  While waiting for our food, I spoke with Addo, who got the ropa vieja.  He emailed me later on and said "Wow! The Bongo Brothers food is amazing! It's a Smack in the Face with flavor. Went back to work on the same block of 20th St, and everyone is about to run down for this amazing food! The ropa vieja is what I got. So great tasting!"
Guess I'll have to try the ropa vieja next, but there are several other dishes that looked great too. Such tough decisions!