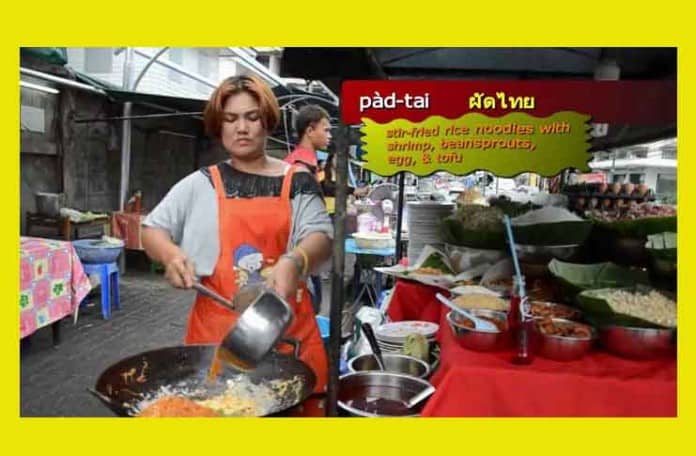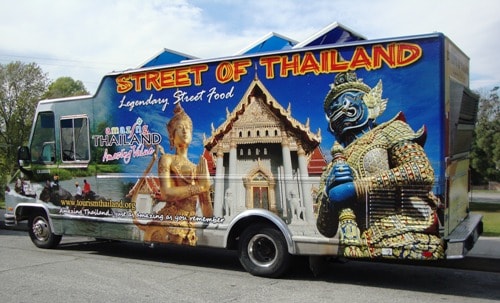 I went over to the Universal Gate 2 spot on Valleyheart again for lunch, and this time, there were 2 trucks to choose from – Knockout Tacos and Streets Of Thailand.  Since I've already had tacos on this trip from Don Chow Tacos and Lee's Philly, I decided to go for the Streets of Thailand truck.  It is certainly one of the more visually striking trucks around.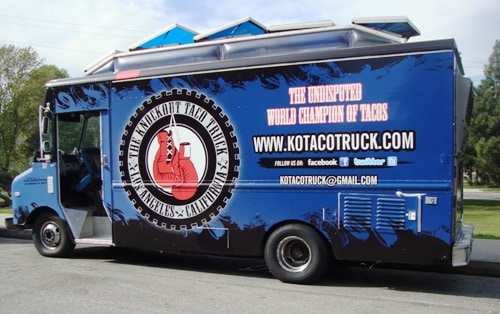 There were a lot of good looking dishes to choose from, but I ended up getting the basil beef over jasmine rice ($7), a chicken bbq stick ($2 or 3 for $5) and Thai iced tea ($3).
Most Asian places give you soy sauce to take away, but Streets Of Thailand also gave me 2 packets of sriracha chili sauce.  That's something the NY trucks might want to look into.
The first thing I tried was the bbq chicken stick.  It was nicely grilled and had some marinade on it, but they also included a Thai dipping sauce that was like a spicy duck sauce.  Good call.  The chicken was a little boring without the sauce, but with the dipping sauce it was very tasty.
The truck had a special today where they gave you a free veggie spring roll with at least a $5 purchase, so I got one of those too without even asking for it.  I forgot to take a picture before biting the spring roll, but this gives you an idea of what's inside (like you don't already know what's in a spring roll).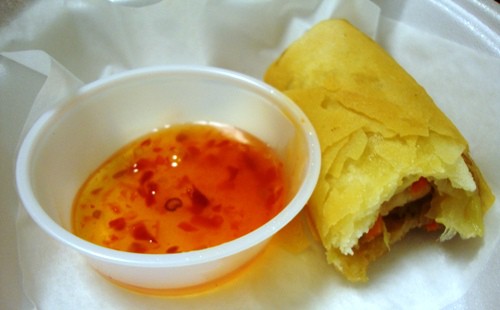 When I opened the basil beef, the aroma was wonderful.  There were 3 or 4 fresh basil leaves on top, as well as a couple of red chili peppers.  I was a little surprised the beef was ground, not sliced, but looking again at the picture on the menu, it was apparent.  I just didn't look closely.  There were red bell peppers, scallions and basil also mixed in with the meat.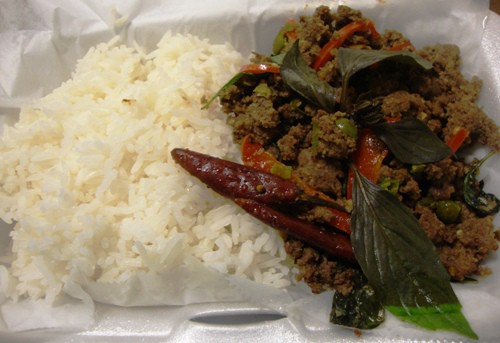 I asked for spicy and they did not disappoint.  This was the hottest dish I've had so far this week, probably so far this year!  The jasmine rice helped keep the heat in check a little, but my mouth was definitely on fire for a while with this dish.  They also offer it mild and medium, but I got what I asked for – and enjoyed every bite.
Thai iced tea was the perfect drink for today's lunch (duh!), and they even had a little plastic strap that made it easy to carry back to work.  President Obama talked about innovation in the State of the Union address the other night.  This little piece of plastic to carry the drink with one finger was certainly innovative.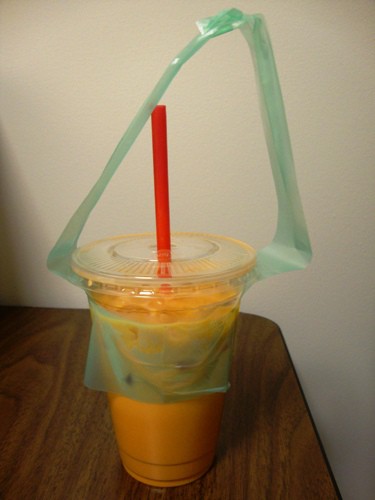 The Streets Of Thailand was one of the first Asian trucks I've tried in LA, and it was pretty good.  I'm not an expert on Thai food, but I know what I like, and I liked today's lunch.