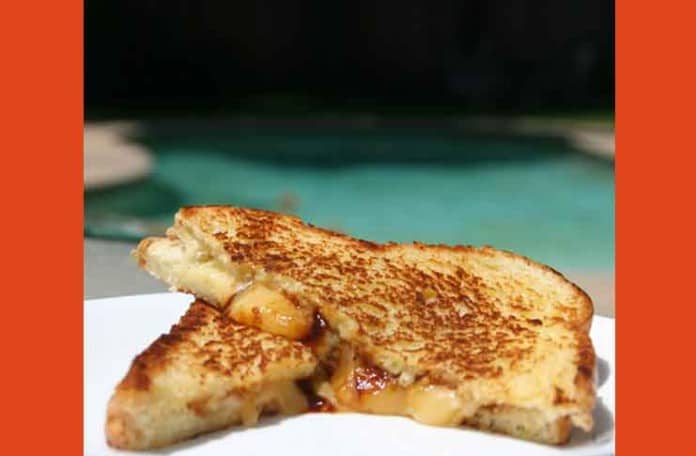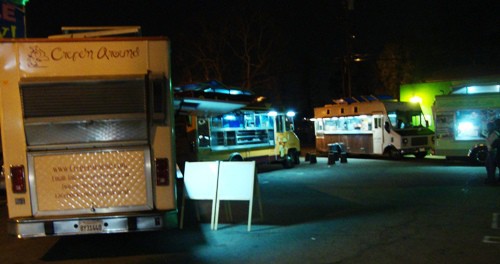 I definitely wanted to check out the Canter's Deli Truck on this trip, and I saw they were going to be in the parking lot of The Other Door bar in North Hollywood with 3 other trucks.  Unfortunately, my strategy of trying samplers and small items wouldn't work tonight because Canter's specializes in big deli sandwiches – and they don't serve halves.
I've been coming to L.A. for many years but hadn't been to Canter's Deli on Fairfax Ave in quite some time.   The Canter's Deli Truck was the perfect alignment for this trip – deli food and food trucks.
One time around 10 years ago I was in L.A. on business and got food poisoning from a pretty high-end restaurant.  When I was starting to feel a little better the next day and wanted some food, I went to Canter's Deli for their matzoh ball soup.  It was delicious, and really helped me get back on my feet.
Since Canter's specializes in big sandwiches, I went for the biggest one – a Reuben ($10.50).  It comes with a pickle and either cole slaw or potato salad.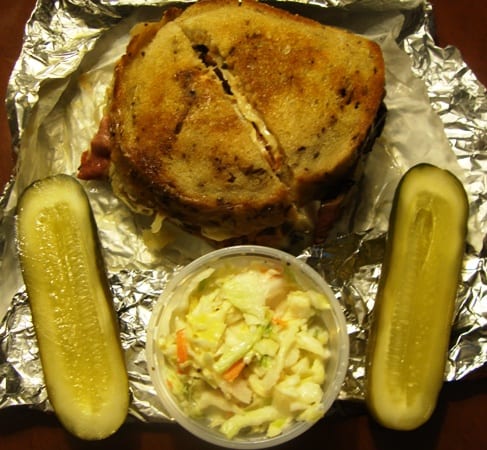 While I was waiting for my sandwich, I started talking to Bonnie, who is part of the Canter's family.  She grew up working in the restaurant, but moved to New York a number of years ago.  In New York, she worked at the Endless Summer Taco Truck in Williamsburg and wanted to open a Canter's Deli truck in NY, but since the restaurant was in L.A., it wasn't feasible.  She moved back to L.A. a couple of years ago and opened the Canter's Deli Truck.  Oh well, New York's loss is L.A.'s gain.
Well, that's some history.  Now for the food!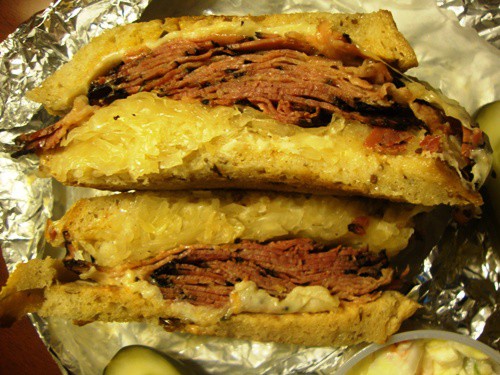 For those who don't know, a Reuben sandwich is pastrami (or corned beef), sauerkraut, Swiss cheese and Russian dressing on rye bread, which is then grilled.
I've always loved Reubens, but they are very dependent upon the quality of the meat.  Pastrami is one of those New York things that is pretty difficult to find outside of New York – but Canter's pastrami fits the bill.
Their pastrami was moist and juicy, lean but not too lean, with a nice peppery edge.  I've always loved the pastrami at Katz's Deli, and Canter's pastrami is in the same ballpark.  I won't say it's better, but it can certainly be mentioned in the same sentence as Katz's, the quintessential New York pastrami sandwich.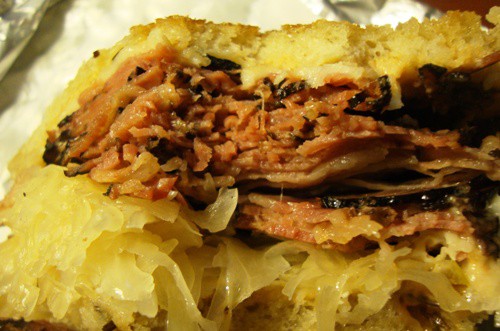 Given the choice of cole slaw, potato salad or macaroni salad (which the Canter's Truck didn't offer), I will go for cole slaw every time.  And Canter's cole slaw is just how I like it – more green than white with some carrot, not much mayo, and no vinegar taste to speak of.  In fact, I would guess they add honey to the cole slaw to sweeten it a little.  The pickles were good too.
If there was one downside, it was that you couldn't get soup and half a sandwich.  If they offered that, I would have definitely gotten it.  I love matzoh ball soup, but there's no way I can eat matzoh ball soup and a full pastrami sandwich in the same meal.
There are very few places outside New York that have great deli, but the Canter's Deli Truck is one of them.  Canter's Deli has been an L.A. institution since 1931, and they are deservedly celebrating their 80th year this year.  You have to believe with this food, they will be around in another 80 years.