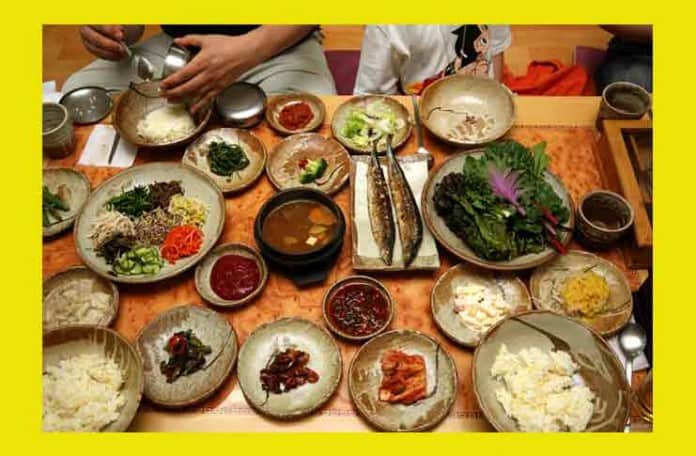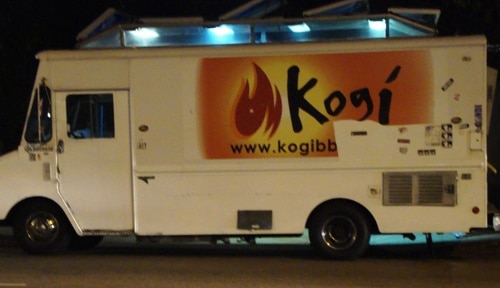 Nearly everyone who follows food trucks has heard of the Kogi BBQ truck.  It was one of the first "gourmet" food trucks in the country, and a visionary in the Korean BBQ taco movement.  They are so successful, there are now 4 Kogi BBQ trucks serving food around the LA/Orange County area, and I believe they have a storefront now too.
Kogi BBQ was on the "must try" list for this trip, and I had a chance to try them last night when they were parked by the Amoeba Music store in Hollywood.  I found parking a couple of spaces behind the truck, and walked up to check things out.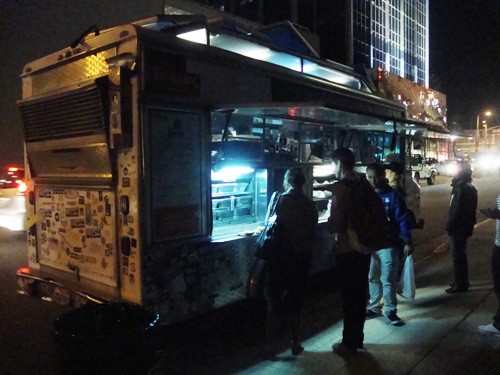 Kogi BBQ is best known for their Korean BBQ tacos, so that was my focus, with a small detour for a Kogi dog.
The first thing on the menu to catch my eye was a calamari taco ($3).  I like calamari a lot, but it has to be done right or it can be too chewy.  That was my main concern.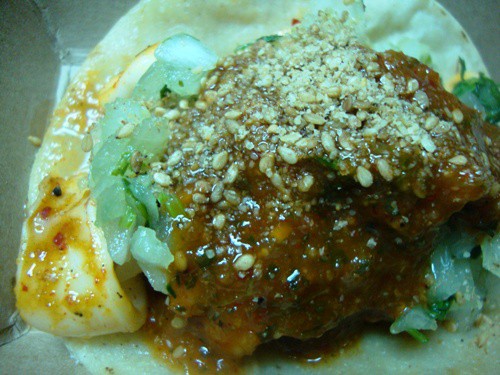 The calamari was put over some greens on top of 2 tortillas, and was topped with a sweet chili sauce.  Crushed peanuts and sesame seeds were sprinkled over the top.  Wow, this looked so good I almost didn't want to eat it – but I came to my senses and took a bite.
The calamari taco tasted as good as it looked.  The calamari were "naked", not breaded, and they were as tender as they should be.  The sweet chili sauce played off the calamari perfectly, although a decent amount of liquid came out the back end when I took a bite.  Good thing there were plenty of napkins available.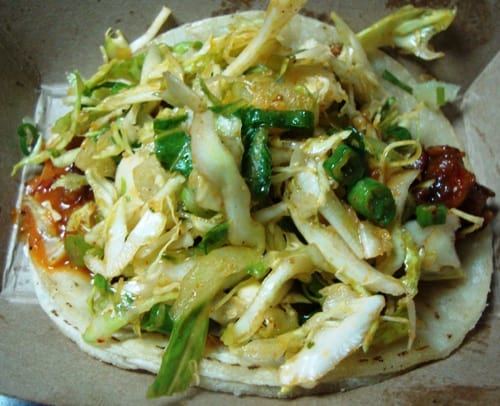 The next thing I tried was the spicy pork taco ($2.10).  This taco had pieces of pork in a nice BBQ sauce, and it was covered with Kogi's kimchi salad (kimchi, lettuce and scallions).  Neither the "spicy pork" nor the kimchi salad was particularly spicy, but that could have been because my taste buds were nearly demolished by the very spicy basil beef I had for lunch.  This taco was pretty good, but I didn't think it was amazing like the calamari taco.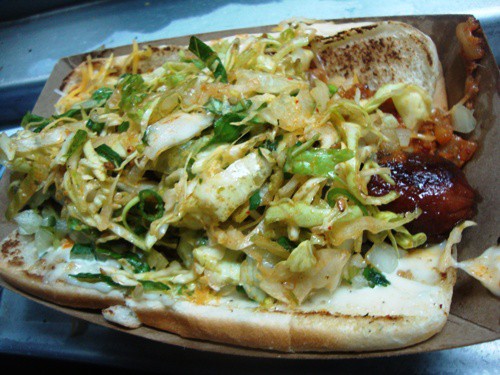 After seeing the Kogi dog on the menu ($5), that was my next selection.  It consisted of a grilled hot dog with cheese, sesame mayo and kimchi salad on a toasted bun.  The Kogi dog was really big and wide, which made it a bit tough to eat – but I managed.  These toppings went really well with the hot dog, but once again, it was not spicy at all.  The kimchi was mixed with lettuce and scallions, but had no heat at all.  Next time I would put some sriracha sauce on top (which was available at the truck).
The Kogi dog filled me up pretty good, but there was one more thing I wanted to try – a short rib taco ($2.10), which is Kogi's single most famous dish.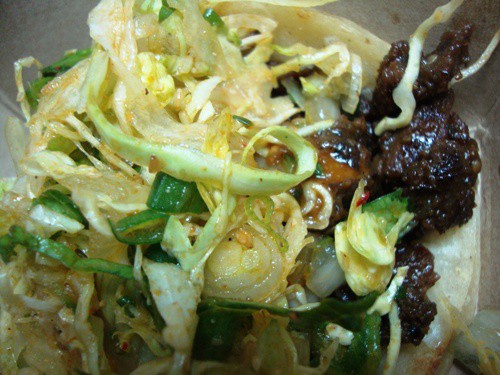 Now this was more like it!  The short ribs were barbecued with a tangy BBQ sauce, and this taco was also topped with kimchi salad.  The meat was tender and really tasty, and the kimchi salad was a good supporting player in this taco.  I can see why it's their most popular dish.
Was Kogi BBQ as amazing as the press makes them out to be?  I thought the calamari taco and short rib taco were, and the spicy pork taco and Kogi dog were good, but not quite at the same level.
If I get a chance to try Kogi again, I would probably try a short rib burrito, although they had some interesting quesadillas too.   Choosing what to get next from Kogi BBQ is a problem I would like to have 🙂