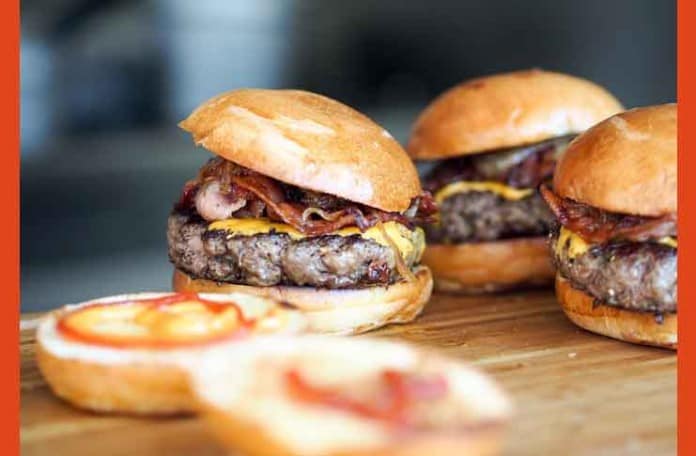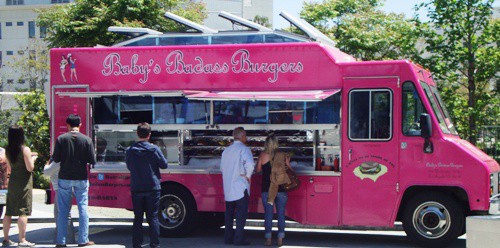 On this trip to LA, I'm working in Burbank right across from the Warner Bros lot.  By asking around, I found out there's a place on Alameda near Bob Hope Drive where 2 trucks usually park each day.  It's about a 10 minute walk each way, which is fine for a New Yorker who walks everywhere.
Today there were 2 food trucks parked there – Baby's Badass Burgers and the Hungry Nomad.  This was a tough choice.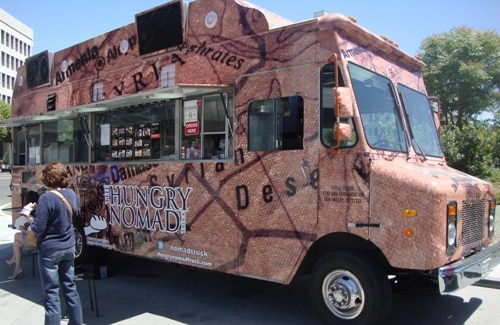 The Hungry Nomad is a mobile spin-off of the Sasoun Bakery, a family owned Armenian/Lebanese bakery with six locations in the LA area and two in Lebanon.  They serve wraps and boureks , and it looked pretty good – but not quite as good as the beautiful women parked right next to them.
Baby's Badass Burgers is a hot pink truck with hot women cooking up and serving burgers and fries.  I know looks will only get them so far if the food sucks, but yes, I am a male of the species, and I chose Baby's for lunch.  There did seem to be an even number of men and women at the truck, so that was a good omen for the food.
I noticed their burgers had options for either a ½ pound burger or 2 sliders for a few bucks less.  I wasn't that hungry, so I decided to try an Original Beauty ($5) and curly fries ($2) from Baby's Badass Burgers.
Sliders don't usually appeal to me because I would rather eat meat than bread, but for some reason, sliders seemed like the right option today.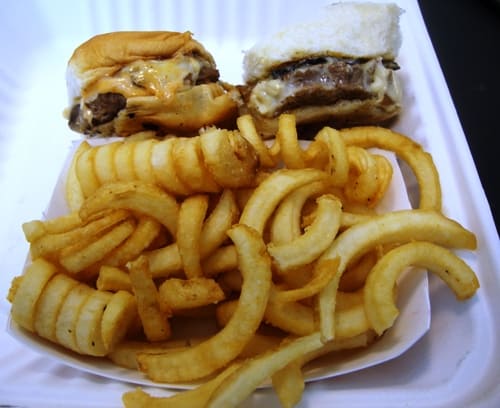 The Original Beauty has grilled onions, mushrooms, Swiss cheese and their "secret sauce".
The sliders were pretty tasty. They were meatier than I expected, but the mushrooms, onions and Swiss cheese came through just fine.  The slider roll was really soft and good too.
The special sauce was a slightly spicy mayo-based sauce, kind of like the sriracha mayo at Schnitzel & Things, but not spicy.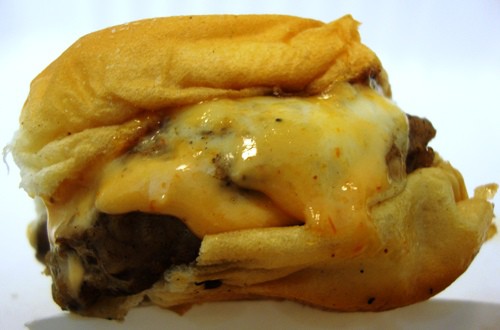 The curly fries were good, with a nice springiness and the right amount of salt.  They also have sweet potato fries, but I just had sweet potato fries a few days ago, so I went for the curly ones.
Today's Lunch was pretty tasty.  While the look of the truck and the servers is designed to attract your attention, the food delivers as well.
They also have a sense of humor in playing off the sex appeal angle. Check out the picture below that's on the side of the truck.
I guess food is the new sex after all.