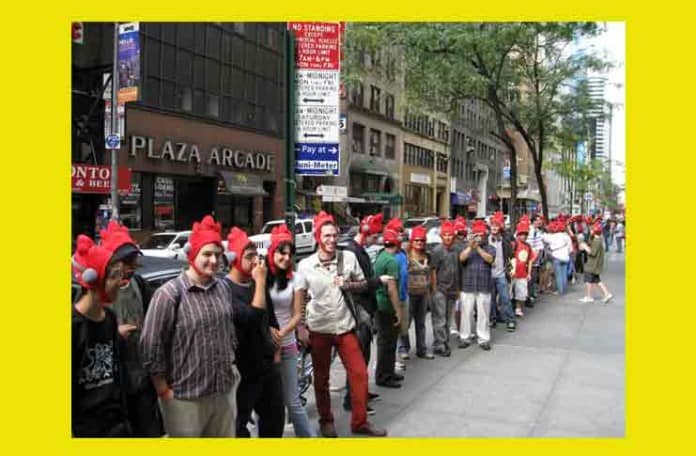 The free food truck promotions keep on rolling – and getting more funky!
If you're looking for an interesting savory to eat before heading over to the free ice cream sandwich giveaway from Coolhaus later this week, how about some ostrich, veal brains or grasshoppers?
Dos Equis is unveiling the Feast of the Brave this week – a food truck with exotic taco fillings, including the items mentioned above.  The truck is still being wrapped, but we received the above picture from the Dos Equis people of what the truck will look like.
In celebration of Cinco de Mayo, the "Feast of the Brave" taco truck – featuring chef Domingo Garza – hits the New York City streets this Thursday (April 28) and runs through next week (May 7).
The truck will visit various areas of Manhattan, including SoHo, East Village, Meatpacking District, Union Square, Lower East Side, Bryant Park and more.
The twitter account is not live yet, but you can find where they will be here when it goes live.  Should be soon, considering the truck's first day out is Thursday.
I had a quick peek at the schedule, but since it's not totally confirmed yet, I'll just say they will be covering a lot of neighborhoods, both business and residential.  The Feast of the Brave truck will be serving lunch, early dinner, and even nights on Fri & Sat.
As they say in the Dos Equis ads – stay thirsty, my friends.  Too bad they aren't allowed to give away any Dos Equis with the food.  I love their amber beer!