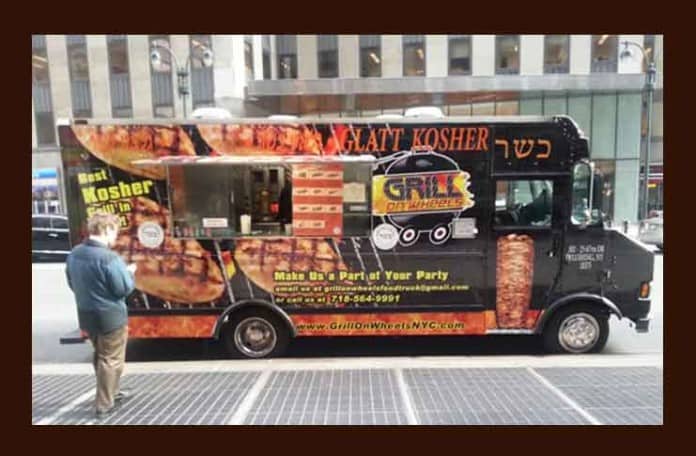 Sounds like a beautiful day in NYC.  I'm in LA right now, and it's beautiful here too.
Apologies for the technical difficulties yesterday. Everything should be ok now. I still have some work to do on the Mobile Munchies list on twitter though, so don't follow it quite yet.
feedyourhole
We parked in the shade!! 30th and Park. Fresh steak burgers! Fresh Cut Fries! Fresh Pickles! Fresh Jalapeno's! Fresh Cheesy Melt on yo'fries
KorillaBBQ We are now open for lunch at Varick & Vandam! Come out & enjoy sum Korilla on this beautiful day!
BistroTruck
Nice day calls for a nice special. Specials: Fish & Chips; Old bay Fish sandwich w/ cheese, harrissa mayo & Fries… Coming to regular menu near you soon; Soup: Celery chickpea soup; Dessert: Rasberry panacotta. 5Ave-16St (11.30A-4P) see y'all
schnitznthings
Morning everyone! Weather is Schnitztastic! And so is the Schnitz 😉 truck is on 46th b/w 5th & 6th from 11:30-2 and store from 11:30-8:00
Chefsamirtruck
is on 38th St @ Broadway today! Limoncello Mascarpone cake! Moroccan Mint Iced Tea & Mango Iced Tea!
KimchiTruck
It's a beautiful Tuesday morning! Leave your jackets behind and meet us for lunch 24th & 5th/Broadway 11:30-3pm. Dinner – NYU (location tba)
CupcakeStop
we are on 6th ave and 50th street…Todays delicious flavors are Vanilla Chocolate, Red Velvet, Oreo, French Toast, Cookie Dough, Chocolate Peanut Butter, Funfetti
RickshawTruck
Duck on the truck duck on the truck. Soho: Hudson+Houston, Midtown East: 52+Lex and also Central Park: Tav on Green. Woohoo!
Mexicue
Mexicue will be servicing the Goldman Sachs Campus all week long, back to the regular schedule next week!
waffletruck
The WafelTruc is @ 52nd btw 3rd&Lex till 4:26 Vedette Cart @ 60th&5th til 5:01 Goesting @ 76th&Colum til 6:07 Bierbeek @ 31st&Park til 6:12. FREE DINGES for telling us which US city and state The Onion is published in! Wafels go great with sunshine. DE Especial DINGES. 1st. De Crunchy P.B. Cup. 2nd. De Chili Con Corn (veg/beef) 3rd. Rumor has it we have Spekuloos Ice Cream too…
Cevaptruck Cevap Truck is at FiDi today!!! Located on Water Street and Old Slip!!! Open at 9am!!!
SweeteryNYC
Sweetery will b making an appearance on @
MLBFanCave
btw 4-7p on B'way & 4th St, come be a part of this action & grab urself a sweet
cakeandshake
Shake? got it. Cake? got it? Iced Coffee? got it! We got you covered on this gorgeous Day!
bigdsgrub
4/26 (Tues) We're at Hanover Sq. btwn Water St & Pearl St from 1130 to 230pm…tacos, grinders and dumplings oh my!!
New Jersey
TheKrave Tuesday – 12:00-2:00 Hudson and Harborside Pl. 5:30-9:00 Columbus and Marin http://tumblr.com/xl129yl01m