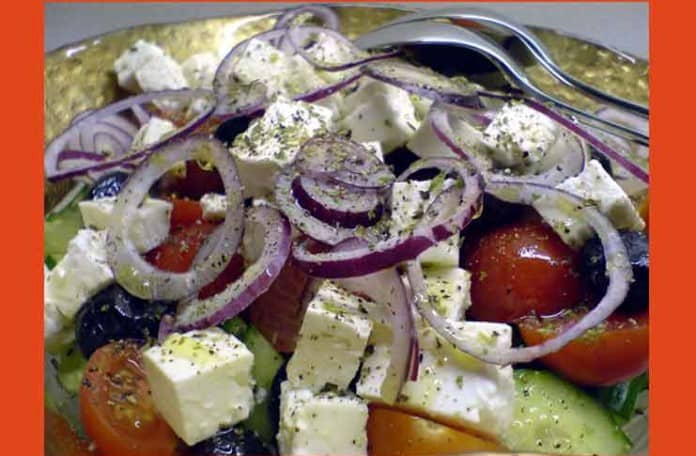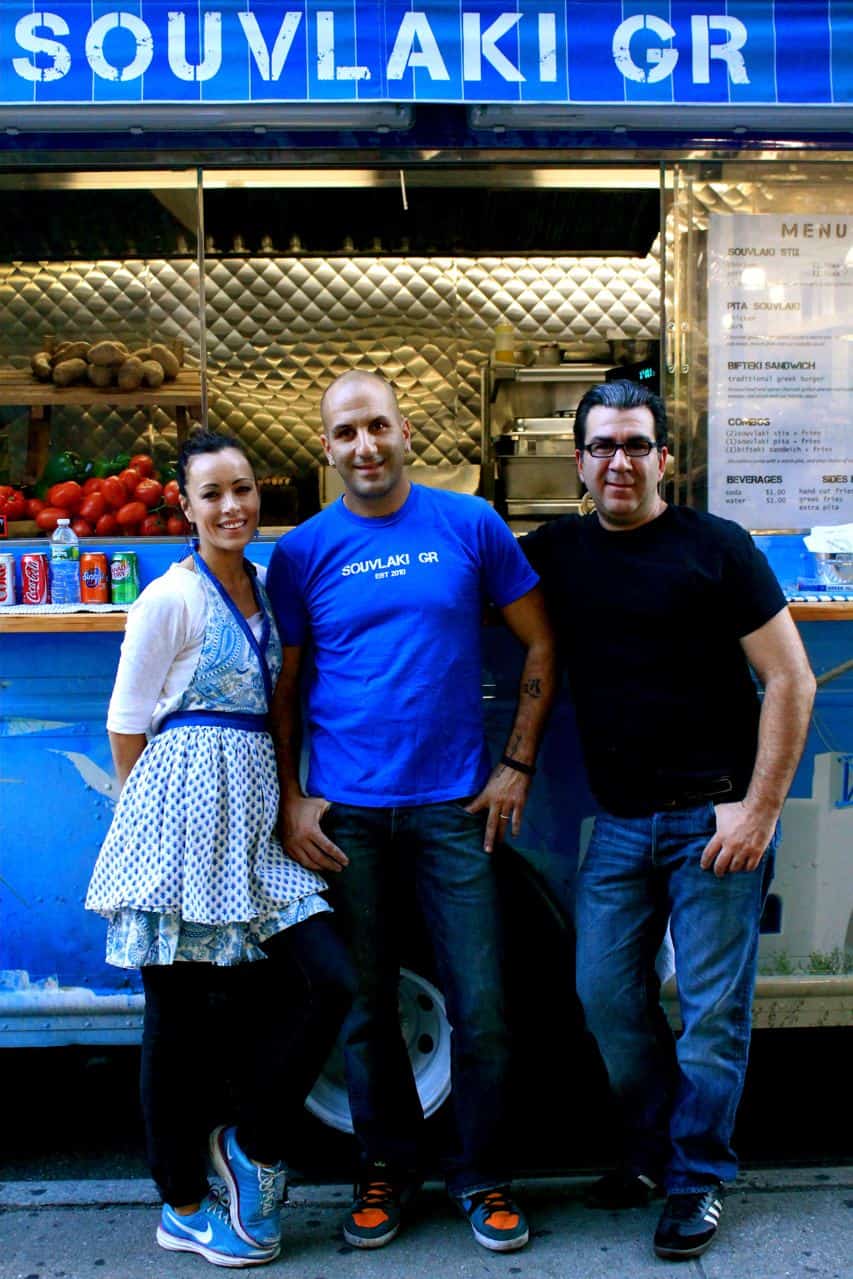 We have a new NYSF Featured Vendor interview for you to enjoy, and it's one of our personal favorites – Souvlaki GR.  They haven't been around the New York Street Food scene very long, but have had a pretty big impact already, quickly gaining a loyal following, and then winning the 2010 Vendy Award for Rookie of the Year.
Souvlaki GR will readily tell you that New York Street Food was the very first one to write about them, and we have been in touch with them since the day they passed their initial inspection.
Since we are still out of town for a few more days, we conducted this interview via email – which is pretty funny because we live only a few blocks away from each other, and have even run into them on the street outside of work.
Here is the latest NYSF Featured Vendor interview with Souvlaki GR:
NYSF: When did Souvlaki GR first hit the street?
SGR: August 22, 2010 – Our first day was on Houston & MacDougal.
NYSF:When Souvlaki GR first came out, the story of how you came up with the idea was written about a couple of times.  For people who didn't see that, please tell us how the idea for Souvlaki GR was born.
SGR: As hardcore soccer fans and in honor of this year's tournament, Pavlos and Kostas had the idea of doing a "World Cup truck" – one that would sell souvlaki, but also broadcast the games.  The truck took longer than expected to build and at that time we realized….we don't even need the soccer, the souvlaki will sell itself.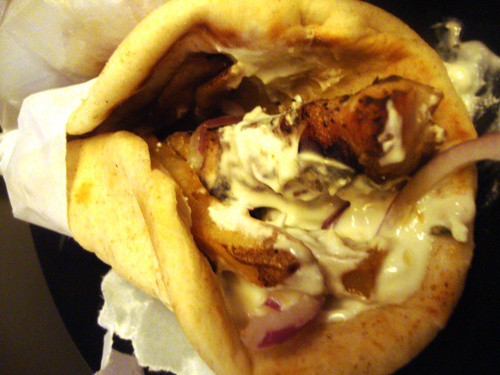 NYSF: What prior food or restaurant experience did people on the Souvlaki GR team have?
SGR: Pavlos & Kostas owned and operated a restaurant in Chelsea from 2005 through 2007, and Abby has worked every position there is in bars and restaurants since she was a teenager.
NYSF: How long did it take from the initial idea to actually serving people, and what was the toughest part?
SGR: About 3 months total from conception to the first day on the street.  The toughest part of that period was preparing ourselves for something which we'd never done.  We knew what we needed to bulld, but the assembly and delivery is SO MUCH DIFFERENT when you're doing it, to when you're imagining it.
NYSF: Where did you get the truck from, and how long did it take to get it into the look and working shape that you wanted?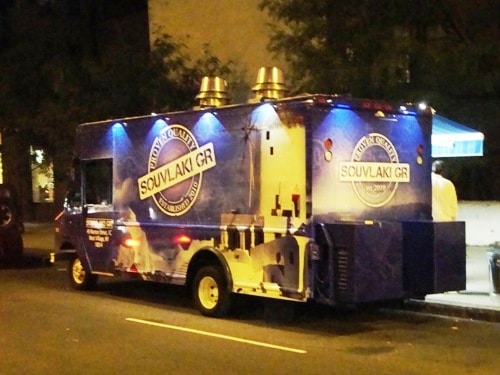 SGR: We bought the truck from Dris Labadi at A&A Metal.  His shop is one of only a few in the New York area whose business is primarily food trucks.  He worked day and night on our truck to get it done, and his experience was instrumental in how we decided upon our layout.  It took about 3 months total from purchase to working order.
NYSF: You've had a lot of success fairly quickly.  To what do you attribute your success?
SGR: Hard work.  Plain and simple.  Each of us have poured our heart and soul into this truck – from the initial idea, to the truck design, the packaging, the website, the recipes…even the charcoal grill was designed by Pavlos and built in a shop , custom for our truck.  Everything we have done has been created by our own hands and continues to be.  To this day, we have not hired outside help and continue to do all of the grunt work, as well as the "front" and "back" office work, ourselves.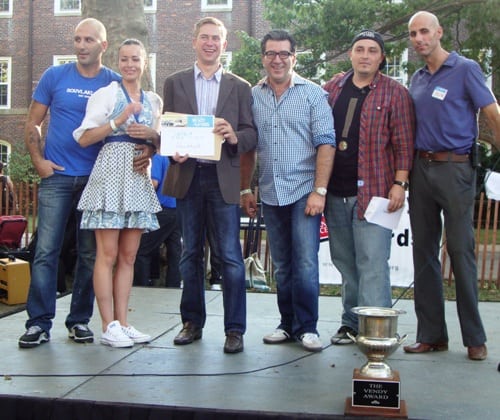 NYSF: You were nominated (and won) in the Vendy Award Rookie category this year. How did you find out about the Vendy Award nomination, and what was the reaction of your team? What was the funniest or strangest reaction from someone on your team?
SGR: We were working one night during our second week on the street, when we were approached by a representative from the Vendy's.  We were flabbergasted and totally psyched.  I think the funniest thing one of us said was "Rookie of the Year? – We're like the ROOKIEST ROOKIE!".  And then we thought…."holy shit…we have to feed 1500 people in one day?!"  Now we do that every day, but at the time it was a monumental idea.
NYSF:  It's pretty obvious what your reaction was to winning the Vendy Award for Rookie of the Year, but what were you thinking when all the finalists were on the stage, before the winner was announced?
SGR: We knew we deserved it, but we couldn't believe that we were there….tears in our eyes for sure, because when you work so hard for something and it is acknowledged, the feelings are super close to the surface. We were a mess of emotions standing up there.
NYSF: As the winner of the 2009 Vendy Award for Rookie of the Year, your food is obviously awesome, but we already knew that. Any ideas for new menu items?
SGR: No, we are a souvlaki truck…that's what we do, and we don't want to dilute it.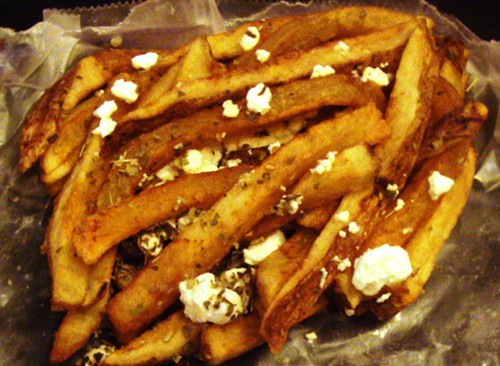 NYSF:  Some people are surprised when they don't see lamb souvlaki on the menu. Why is lamb, which some people think of as the quintessential Greek dish, not on the menu?
SGR: Lamb WAS, originally, a meat that one prepared (and possibly raised) at home.  It was not normally served in restaurants but was an important part of the menu at family feasts and holidays.  It is traditionally roasted on a spit and served on Easter.  Souvlaki, which is the Greek word for "little spit" —- the Greek word for spit being "souvla" and "aki" being an appendage which makes it small, has never been made with lamb.  In fact, only recently has chicken been an offering. When a true Greek orders a souvlaki pita, one assumes that he means pork, as that's always been the meat in the pita sandwich. Lamb can be found in Greece, on skewers, but with much larger pieces, and always on a stainless steel stick.
NYSF:  On a personal note, what other types of food do you enjoy besides Greek food?
SGR: Pavlos and Kostas would eat souvlaki every day of their life if they could…and I guess since they can now, there's no question there.  Abby is a pasta girl —- if I could stay slim and eat angel hair pasta with fresh tomatoes, garlic and a little shaved parmesan and basil every day, I would.  LOVE PASTA!!!
NYSF: I know this is all still fairly new, but have there been any thoughts or conversations about future plans?
SGR: Yes, look for a Souvlaki GR Beeraria very soon.  Souvlakis and Beer!!! (NYSF: I can't tell if they are serious or kidding.)
NYSF: Is there anything else you would like to say to New York Street Food readers?
SGR: YES. There's a certain kind of relationship we have with New Yorkers who are interested and willing to try something from a truck.  We're amazed by their curiosity and proud that they continue to return to us, day after day.  We love the informal and personal interaction we have with our customers and feel that once they've been to the window, a friendship is sealed.  It's the best job we've ever had and it feels so good to be a part of the streets of New York.
NYSF: Thank you for your time, and best of luck in the future, not that you need it.
SGR: Thank you.