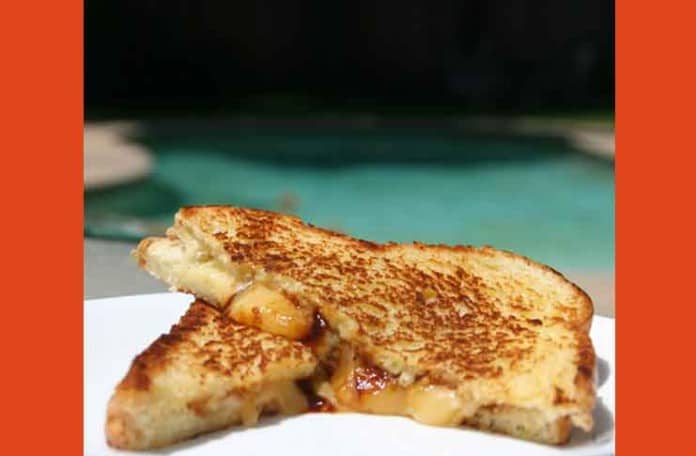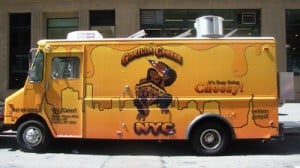 I had to talk to James from Gorilla Cheese NYC about the Amazing New York Food Trucks 2012 Calendar, and he had a new special this week – a cheesesteak melt – which gave me a perfect excuse to head over there.
While I was waiting for the sandwich to be cooked, James asked me to try a new version of his mac & cheese, so that was Today's Lunch: a grilled cheesesteak melt ($7) and a side order of macaroni & cheese ($3.75).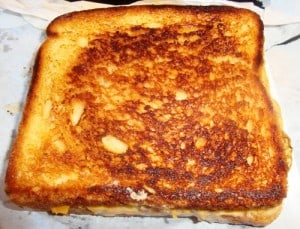 The sandwich was sliced rib-eye steak with sauteed onions, American cheese and a little ketchup on French bread.
The first few bites had that great combination of grilled steak and gooey cheese.  A couple of bites in, I started getting sauteed onions in the mix, and a touch of ketchup.
With such tasty sauces at the truck, I was surprised to see ketchup on the sandwich. I'm not a big fan of ketchup on meat, but a little bit on this sandwich rounded out the overall taste.  I'm glad they used it sparingly, because too much ketchup would have been a disaster.
A special shout-out has to go out to the American cheese, which was a good choice to go with the steak.  The American cheese was strong enough to stand up to the steak, bit not too strong to overpower it.  Kraft singles are so ubiquitous, a good American cheese is almost a revelation.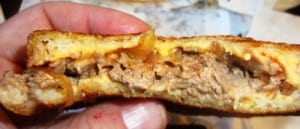 After eating some of the sandwich, I opened the macaroni & cheese container.  The mac & cheese was made with gruyere, fontina and cheddar cheese.  Gruyere, like Swiss cheese, can have a bite, but the mac & cheese was smooth. I bit into it, but it didn't bite back.
There was some black pepper in the mac & cheese, and something that mellowed it out.  I think it was nutmeg, but don't quote me on that.  Whatever it was, it added a nice flavor.
Today's Lunch from Gorilla Cheese was very tasty, but what would someone from Philly think about it?  I guess that depends on how open-minded they are.
The cheesesteak melt from Gorilla Cheese was not your classic Philly cheese steak sandwich, but it was meaty, gooey, grilled and enjoyable. That's good enough for me.