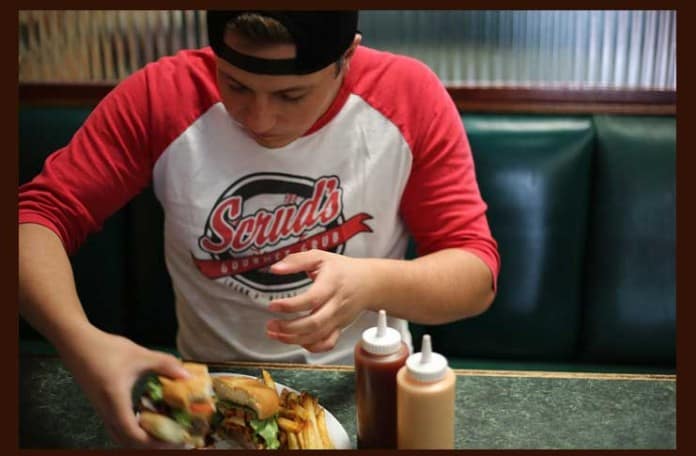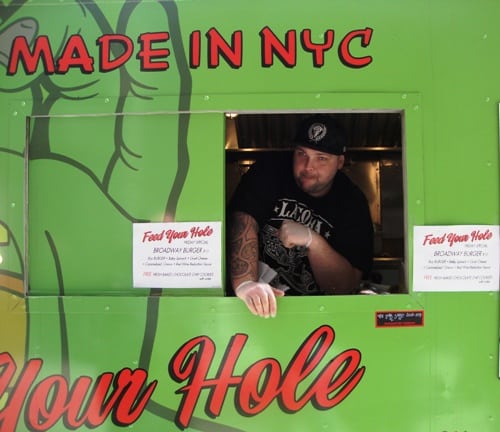 If you've been in the vicinity of Park Ave and 29th St over the past couple of weeks, you might have seen a big green truck with eyes and teeth painted on the front and a scary looking hand on the back gobbling a hot dog.
The Feed Your Hole truck is the brainchild of Sean Sullivan, a native New Yorker who built the truck himself, and created an interesting menu with burger and hot dog dishes served "The Old NY Way".  Sean also makes his own condiments like sweet relish, sauerkraut, roasted peppers and baked habaneros. Everything on the truck is top-quality and fresh, with many of the raw ingredients (beef, rolls, etc) coming from old-style purveyors on Arthur Avenue in the Bronx.
We recently caught up with Sean, who agreed to sit down with us for this exclusive New York Street Food Featured Vendor Profile.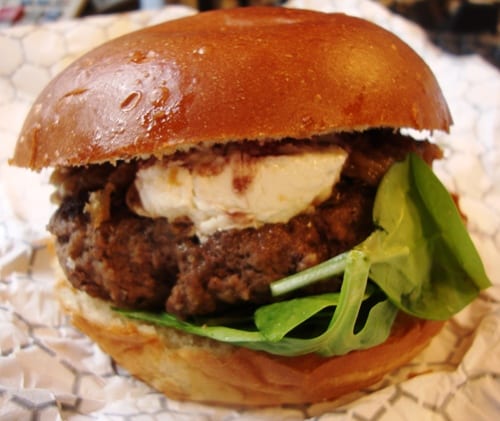 NYSF: When was your 1st day on the street?
SS: I tried to get out on the street a few times during the worst weather. Snow one day, rain the next and snow plows the next. It was a awful launch week. The fear of going on the street for the first time during weather madness made it all worse. But I say the last week of January was our lucky week.
NYSF: Is there a story behind the truck's name?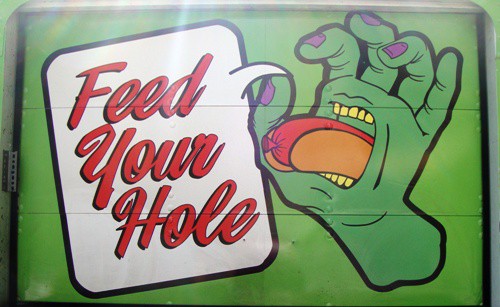 SS: There's always a story behind brilliant names! I was driving with my buddy Mark Deming who is an Army Ranger who went into Iraq during the first invasion, a real hero and a real maniac. Him and I were bouncing names off each other. Most were raunchy and racy. I wanted to fill everything together. Feed Your Hole is described as your mouth and a hole for hunger. Feed is what you do to both. It was a perfect name.
NYSF: Did you have any prior food or business experience?  What's your background?
SS: Yes, I worked at a restaurant in Manhattan during my last year in high school, which is when I decided to go to culinary school. I was too chicken shit to go to C.I.A. and a high school teacher, Eric Wisotsky, talked me into going to his former college SUNY Delhi. He helped me get personal interviews with the heads of the culinary department and I got in. A few months later I was a brother in their fraternity, Delta Theta Gamma. We used to have huge BBQ's and huge dinners. Cooking for a lot of people is something I always wanted to do.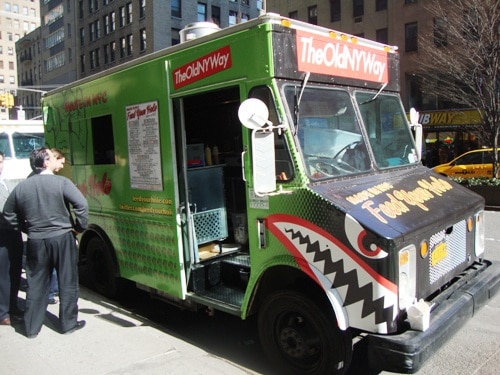 NYSF: What made you decide to open a food truck, and how long did it take from that point until you were on the street?
SS: I love street food. I've done some traveling and I always look for street food. My Porkys Dog came from a trip to Mazatlan, Mexico where this old lady was deep frying bacon wrapped hotdogs in a tiny cart in front of my hotel. They were 50 cents and wrapped in white bread. They were so amazing! My best friends and I would stuff our holes every night to soak up all the tequila we drank that night.
I built the truck with my own two hands. My good buddy and excellent electrician Matt Marroney was there with me every day building it. It was an experience. I had called companies who did it as a business but they wanted 80-100k for a finished truck. There was no way I was spending that. I went to the kitchen supply warehouses, home depot, plumbers supply places myself, and did it with my own two hands. It took months to prepare but only a few weeks to finish from start to finish.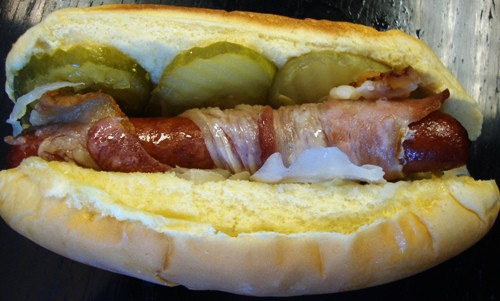 NYSF: You're obviously a New Yorker. What area are you from, and what are some of your favorite NYC food memories?
SS: I was born in the Bronx, raised in Manhattan, then migrated back to the Bronx. My family has been in New York City for over 100 years. We're real New Yorkers.
I really love Grays Papayas. The street fairs during the summer months. The pickles guys downtown. Chinatown's soup dumplings at Joe's Shanghai. The SweeteryNYC truck, those guys make the best quiche in the United States of America. Mike's Deli at Arthur Avenue in the Bronx, run by David Greco and his family. He's a real mentor to me and his company www.arthuravenue.com is insane. You might have seen him all over the Food Network. He beat Bobby Flay on his Throwdown show. Their eggplant is to die for.
NYSF: There are some pretty interesting hot dog and burger combinations on the menu. We really enjoyed the Broadway Burger (goat cheese, caramelized onions, baby spinach) last week. How do you come up with the menu ideas?  I guess we don't need to ask how you came up with the Charlie Sheen Burger (two beef patties with cheese and a hot dog in the middle). You might need Tiger Blood to eat that one.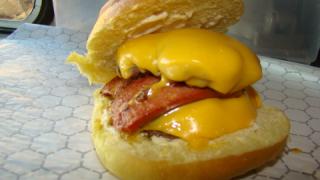 SS: The Porkys dog came from the old lady with the hot dog stand in Mexico. The French Fried Dog came for my love of gyros at Pita Pan in Astoria, Queens who my friend Matt owns.  He shoves the most delicious french fries in his gyros. So amazing. My beautiful girlfriend told me to call the chili dog a sloppy wiener, because she said people will feel uncomfortable asking for a sloppy wiener (which they do).  The Bronx Bomber is one of our hottest selling items. Its the Bomb and I'm from the Bronx. Real NY type stuff. The Old NY Burger was designed by David Greco. He told me it would be a hit and he was right, I just added the fries. We're gonna add some healthy salads to the menu for the summer. We have the Charlie Sheen burger, which we call The Lizard King on the menu.
NYSF: The Charlie Sheen Burger was pretty popular from what we heard.  At times, people on the sidewalk were chanting "Charlie! Charlie!"
SS: Yeah, that was fun.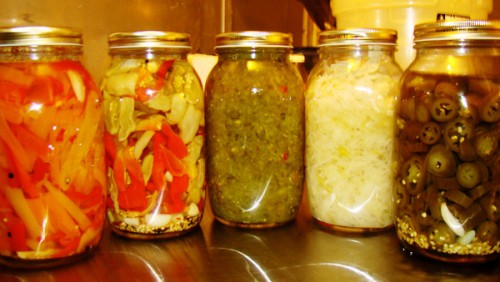 NYSF: Your website says that you make all your own toppings and condiments. What made you decide to do that?
SS: I came from a home where nothing was out of the can. Everything was always freshly made. If you want red onions from a huge vat that gets shipped around the country and stored in boxes for months, then go to a dirty water dog cart. They call it dirty water dogs because those guys wash their hands in that water!!! I just think its better to have fresh made stuff than the same stuff everyone else has.
NYSF: Making all your own toppings and condiments sounds like a very time-consuming job. How long does it take?
SS: It takes forever, but I want people to have fresh stuff. I want to put good stuff in their bodies. We use organic vegetables to make our stuff. We pay attention to how everything is made. Hot dogs aren't the healthiest of items, but there soooo good!
NYSF: This may be premature, but do you have any plans for the future?
SS: Yes. I'm working on putting a truck on the road in L.A. now with my partner Bucky Bakes, and in a year or two, I wanna open a spot in the city with my best friend Eamon and my girlfriend Erin. She's an awesome baker. She's responsible for the cookies we give away with the daily specials. They're so good!
NYSF:  We loved the cookies too. Tons of chocolate. Do you have any advice for someone who wants to start a food truck?
SS: Yeah, do your research. Build it yourself if you can. Get your permits first and be unique, or you will get torn apart by bloggers and foodies. I didn't get much help or a warm welcome from the other trucks except for SweeteryNYC, but I've had a few people asking me for advice. I am so forthcoming with information because I didn't get it when I needed it. With this city going posh, its hard to be on the street. But I want to see more!!!
NYSF: Besides hot dogs and burgers, what are some of your favorite foods?
SS: Steak Pizioli from Dominicks in Arthur Ave, Korean BBQ in k-town Manhattan, burritos in LA, BBQ food and whatever my boy Will Shear makes. He's a private chef and estate manager for the rich and famous. Friend to David Burke. C.I.A. graduate. He's a real chef. Not like what I'm doing. I look up to Will.
NYSF: Is there anything else you would like to say to us or our readers?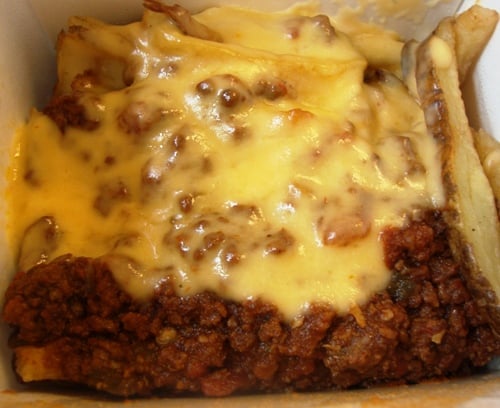 SS: Yeah, come Feed Your Hole. Try our chili – it's off the hook. Follow us on twitter.com/feedyourhole.
NYSF: We really loved the chili too, especially in the chili cheese fries.  Thanks for your time. It was great speaking with you.  Best of luck with Feed Your Hole.
SS: Thank you.
You can find the Feed Your hole website here, twitter address is just above, and the menu is below.