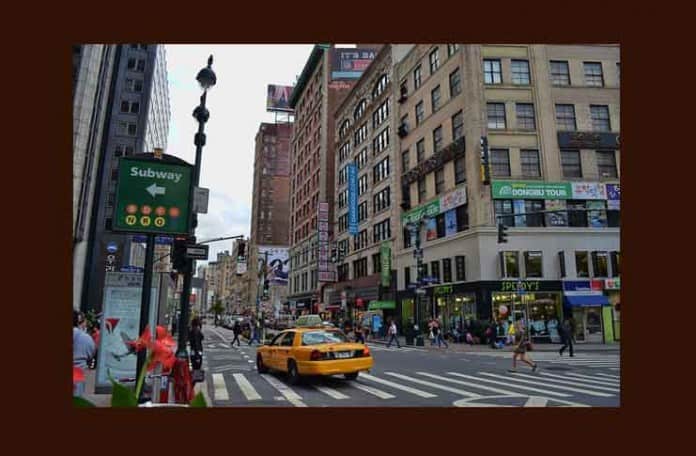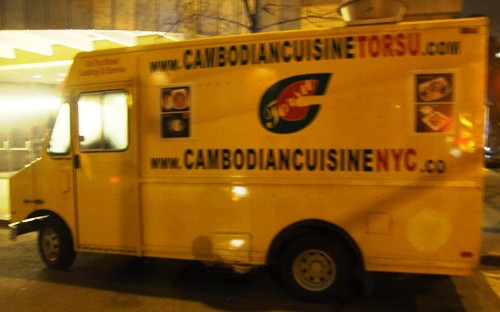 I had a chance to stop by the new Cambodian Cuisine Torsu truck Wed. night on the way home, and spent a bit of time talking to Jerry and Christine, the owners.  They have quite a tough story, but Jerry's passion is cooking Cambodian food for people, and they have persevered through it all, including coming to America 30 years ago as penniless refugees from Cambodia.
Christine said "torsu" means "don't give up" in Cambodian, and the slogan over the truck doors says "On The Street Looking To Survive".  They've had some difficult times, but have not given up, and Jerry is excited about cooking for people again.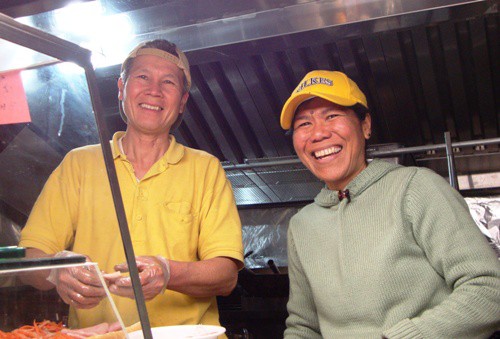 When I asked Jerry how long they have been on the street, he said it was their 15th day.  He said they generally park at LaGuardia Place and West 4th St weekdays from 6pm-11pm, and on weekends they are on 2nd Ave between 10th & 11th St, but this does change sometimes.  The best way to know is to follow their twitter account here or our Mobile Munchies twitter feed with over 50 different vendors, including Cambodian Cuisine Torsu.
As I often do on my first visit to a truck, I asked Christine what dish she recommended.  She asked if I like spicy food, and when I said yes, she suggested #15, S.E.A. Chaar Kroeurng with chicken ($5.95).  I also wanted to try an appetizer, and got a #3, mchoo soup ($3.95).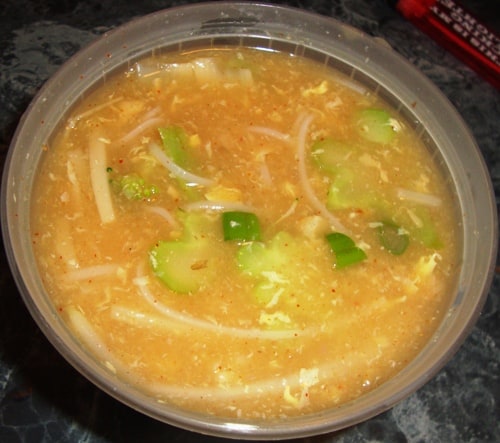 If you want to know what mchoo soup tasted like, imagine if egg drop soup and hot & sour soup got married – that's it.  It was pretty vinegary, had a bunch of egg in it, and was spicy.  The broth was thick and had a few big pieces of tofu, sliced bok choy, scallions, bamboo shoots and vermicelli noodles.
The main dish had sauteed chicken, bell peppers, onions, bok choy, galangal, lemongrass and cabbage.  It was served over brown or white rice, which you can't see because of all the food on top.  It was a generous sized portion.
The chicken was tender, the onions and peppers were large, soft and juicy, and this dish was very spicy.  Delicious!
There were a lot of other dishes on the menu, which can be viewed in two pages here and here.
While I was waiting, someone else got a #5, num pain saach, which was a big Cambodian style hero with ham, pork, turkey, lettuce, shredded carrots, cucumber and hot sauce.  It was nothing at all like a sandwich from Num Pang, but looked really good too.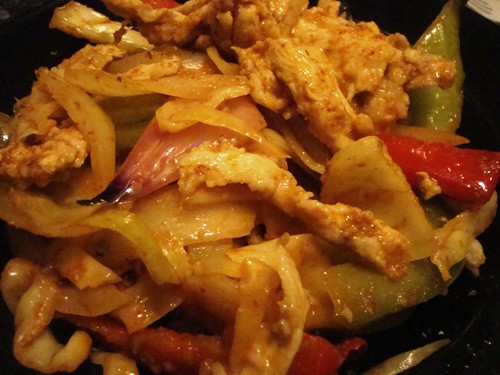 Welcome to the New York Street Food scene Jerry and Christine.  The restaurant world's loss is our gain, and we're glad to have Cambodian Cuisine Torsu on the street, and in our neighborhood no less!