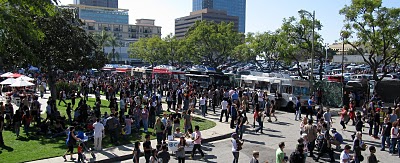 Did you hear about the multi-stage FREE concert this weekend that's part of the 4 day CBGB Festival?
We heard from Keith Album, chef and co-owner of Marky Ramone's Cruisin' Kitchen, who is busy preparing his menu for this big event.
Click through to find out more about the CBGB Festival, when and where the FREE concert will be, and what CGBG & OMFUG stands for.
Over 300 bands are playing as part of the CGBG Festival, and there are panels, film screenings, and event a Spirits Festival.  Paid passes are required for festival events, except for the free concert.  You can go here for more info.
The FREE concert takes place Saturday, July 7th in Times Square from 11am-7pm.  No word on exactly who is playing the free concert, but with over 300 bands involved, we're sure it will be hot.
You wouldn't know it from being ground zero of the US punk movement, but CBGB stands for Country, Bluegrass and Blues.  OMFUG is Other Music For Uplifting Gourmandizers.
Speaking of gourmandizers, Cruisin' Kitchen will be around the festival on Thursday and Friday night, probably hitting various venues in the East Village incl Bowery Electric. Check 
twitter here
 or our
Mobile Munchies
 twitter feed for exact locations.
Cruisin' Kitchen is also confirmed on Saturday for the Times Square FREE concert, where the truck will be on Broadway bet  49-50 St . They are planning to include "drumsticks" in a Chimichurri Sauce to tie into the show.  If it's still real hot, Keith told us they will also have a fresh watermelon lemonade slush.
Enjoy!