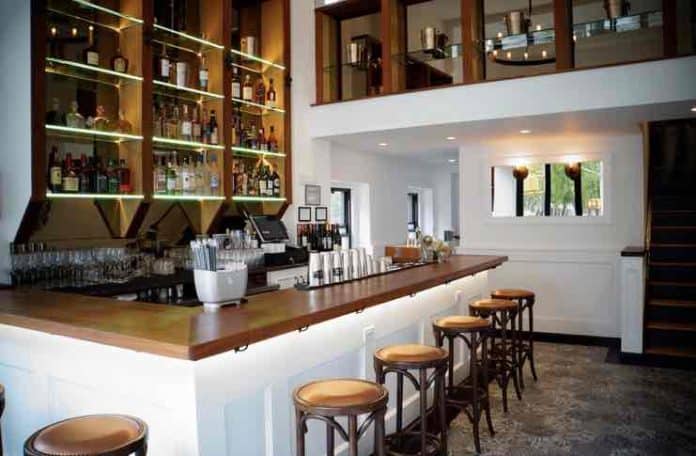 In search of good food this past Sunday evening, a friend and I found ourselves at a restaurant in Midtown, NYC called Copinette. We had heard of the place before and added it to our ever-growing list of restaurants to check out. Luckily, we were in the area and found our opportunity to try this elegant American eatery – and we were not disappointed.
The restaurant has an upscale look – simple, modern decor, chandeliers, and effeminate touches of art and style give Copinette a classy ambiance. A jazz trio was playing in the corner as well – I later learned that this is a Sunday night special at Copinette each week.
Despite the decidedly upscale look of Copinette, the atmosphere is warm and welcoming. I wasn't dressed to the nines, but I felt comfortable and well-received. The restaurant is a homage to Copain, the landmark New York restaurant formerly in the same location from 1945 to the 1970s. While Copinette and its predecessor, Copain, both serve American fare, there is a decidedly French twist to both the menu and the elegance of the space itself.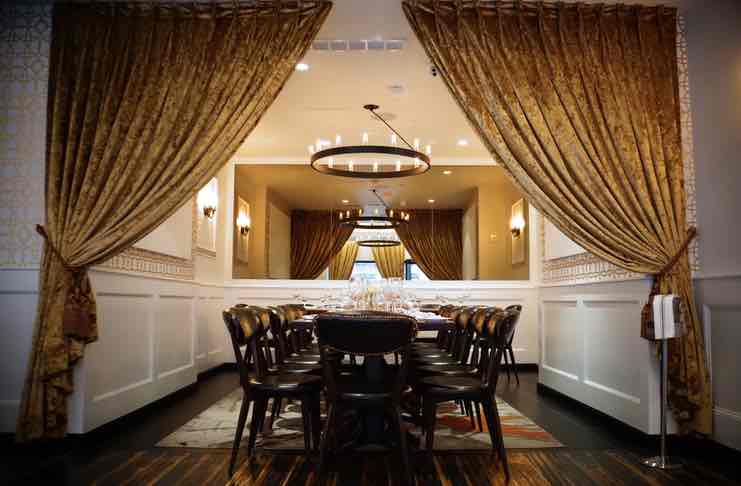 Dinner at Copinette
We started with drinks and decided to share a bottle of red. Our server recommended an Italian Chianti from their extensive wine list, which went well with the rest of our meal.
To start my dinner, I ordered the tuna tartare from their appetizer menu. It was beautifully presented – a central tower of tuna and avocado was surrounded by small pieces of toast, with ginger, shallots, and soy sauce for flavor and added texture. The tuna tartare was expertly seasoned and flavorful, and the ingredients were all clearly very fresh.
For a second appetizer, we indulged in the bacon-wrapped shrimp. It may be hard to go wrong when it comes to this decadent dish, and again our high expectations were met. The shrimp was large and fresh, and if the shrimp and bacon flavors weren't enough, a white wine sauce with lemon and shallots accented this appetizer.
After such a promising start, I ordered the herb dijon crusted rack of lamb, while my friend ordered the pan-seared branzino, as recommended by our server. The wait for our entrees was short, or at least felt short while we enjoyed the ambiance, undoubtedly improved by the subtle live jazz music.
The presentation of the dishes at Copinette adds to the elegance of the restaurant. My herb dijon crusted rack of lamb was gorgeously plated, topped with a parsnip pureé, with a side of roasted cippolini onions and fresh haricots vert. The whole plate was flavored with a lamb jus that brought each ingredient together. The lamb itself was cooked to my tastes, with the perfect amount of pink in the middle. The herb dijon crust was delicious as well and paired well with the other flavors on the plate.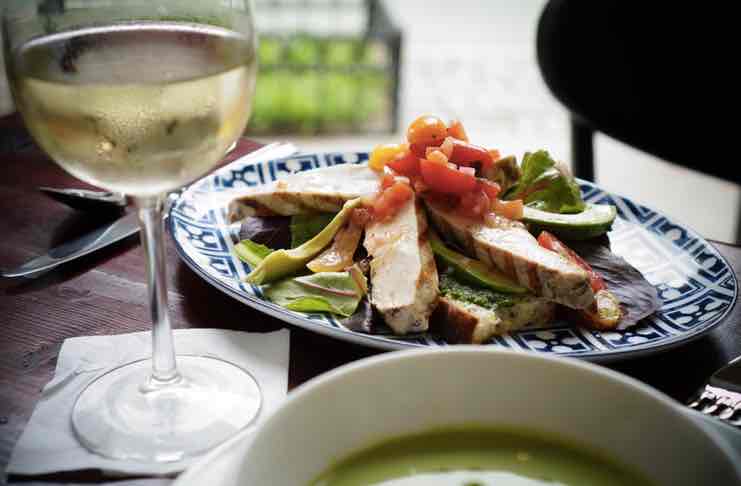 The branzino looked extremely appetizing as well, so I snuck a taste of course. This is one of Copinette's favorites according to our server, and rightly so. Two pieces of branzino were laid across garlic mashed potatoes and sautéed spinach. Atop the fish was a medley of capers, olives, and tomatoes in olive oil with hints of lemon. Again, Copinette's flavors came together seamlessly, as the garlicky potatoes and spinach complemented the branzino and accompanying vegetables.
My friend thoroughly enjoyed her entree, as did I. I was happy to have someone with me so that I could try more than one dish without shame. Naturally, we decided to stay for dessert as well.
To close an already indulgent meal, we ordered the peach melba and the warm chocolate bourbon, with plans to share each dessert. There were other enticing options, of course, so we went for one fruit-based dessert and one chocolate.
It's hard to say which dessert we enjoyed more. The peach melba consisted of perfectly caramelized peaches and vanilla bean ice cream, topped with almonds, raspberry puree, and fresh whipped cream and served in a stemless wine glass. I wasn't sure about the peaches topped with raspberry, but they complemented one another well. The warm chocolate bourbon was especially decadent, with burnt caramel cream and more vanilla ice cream.
We left Copinette full and deeply satisfied, with plans to return.