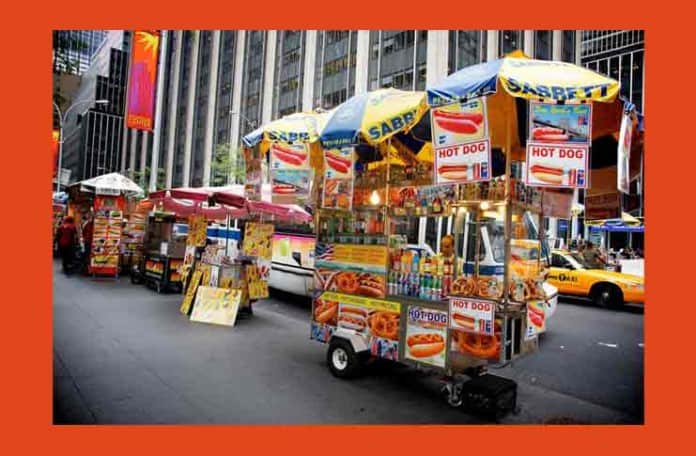 I went to the 2009 Vendy Awards on Saturday, and a great time was had by all.  There were 650 tickets and 11 Finalists were there in person competing in four categories: 2009 Vendy Award, Grey Poupon People's Taste Award, Rookie Vendor of the Year and Desserts.
The 2009 Vendy Award winner is the Country Boys/Martinez Taco Truck, which is usually at the Red Hook Ballfields in Brooklyn.  Their pork tacos were awesome, and they had the longest lines of the day.
2009 Vendy Awards Winner – Country Boys/Martinez Taco Truck
Country Boys' award winning tacos
The Grey Poupon People's Taste Award, which everyone who attended got to vote for, was the Biryani Cart, run by Meru Sikder.  He has been at the corner of 46th St and 6th Ave for the past 7 years.  While everything at Biryani Cart was excellent, people seemed to especially love the Kathi Rolls.
Biryani Cart – People's Choice Award
The Dessert winner was Wafels and Dinges, run by Thomas Degeest from Belgium.  In case you're wondering Dinges means "stuff", which refers to the toppings, such as bananas, strawberries, belgian fudge, whipped cream, ice cream, dulce de leche, walnuts, nutella, maple syrup or butter.  Thomas was a very happy man after winning the Dessert category.
Best Desserts – Wafels and Dinges – Thomas Degeest
Wafels and Dinges (and Dinges)
The Rookie of the Year award went to Schnitzel and Things, a personal favorite of mine.  I Luv Schnitzel!
Schnitzel from Schnitzel and Things
Schnitzel and Things – Rookie of the Year
All the finalists were great.  See my other post on the rest of the finalists.