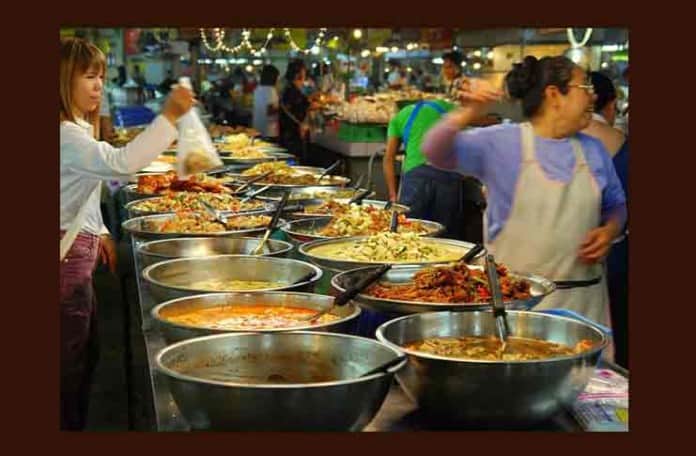 Unfortunately, not every Vendy Award Finalist can win their category, but every finalist had great food.  Here's a look at the great street food that did not win in their category, but we were all winners for having eaten their food.
Vendy Cup Finalists (excluding the winner)
The Rickshaw Dumpling Truck had great dumplings (duh!), but their plate had some nice cold noodles, too.
The King of Falafel and Shawarma, Fares Zeidaies, had a fervent following, and their matching outfits were quite colorful.  Their egg-shaped falafel was awesome, too.
Falafel from The King of Falafel and Shawarma
King of Felafel and Shawarma
I tried the jerk chicken at The Jamaican Dutchy cart, and it was very well done.  Hot, but not brutally so.  O'Neill Reid, the proprietor, takes his cooking very seriously (as they all do), and it shows in the end.  I didn't get a picture of the jerk chicken, but below is the yummy squash bread.
O'Neill Reid – Jamaican Dutchy Card (in red)
Jamaican Dutchy squash bread
Dessert Category Finalists (excluding the winner)
The Big Gay Ice Cream Truck had a perpetually long line all day.  Their menu was very creative.  The choice of toppings was staggering and unusual for ice cream: olive oil and sea salt, ground wasabi peas, toasted curried coconut, trix cereal, mixed berries and saba, banana-Scharffen Berger cocoa puree, cayenne pepper and dulce de leche with crushed Nilla wafers.  Crazy stuff!
Big Gay Ice Cream truck sandwich
Cupcake Stop had exceptional variety, as well.  Some of their flavors were Oreo crunch, candy apply, tiramisu and a few others of the same quality.
Cupcakes from Cupcake Stop
Rookie of the Year Finalists (excluding the winner)

This was the first time the Vendy Awards had a Rookie of the Year category, and it had some of my personal favorite types of food, schnitzel (who won-see my post on the winners) and BBQ.
Picknick Smoked was one of my favorites.  The pulled pork was nice and smoky, and not too drenched in sauce.  They also put cole slaw on the sandwich, which I like.  Their Arnold Palmers (half iced tea and half lemonade) were some of the best thirst quenchers of the day.
Picknick Smoked BBQ truck
nyccravings was a nice nosh, with pork and vegetable dumplings, taiwanese pork chops and crispy fried chicken.  I really liked their sweet beijing sauce, too.
I can't wait until next year.