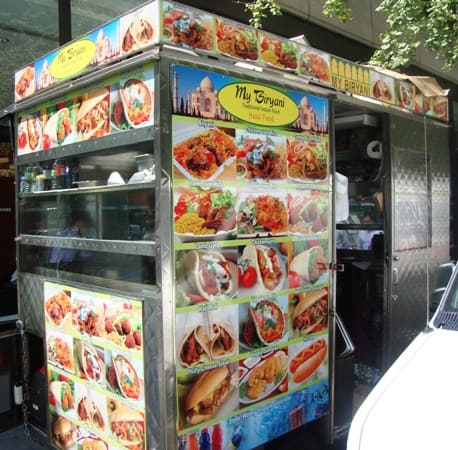 I have been to the My Biryani cart on 44th St just west of 6th Ave a few times, but never tried their kati rolls.  Time to remedy that situation.  The "gold standard" for kati rolls is Biryani Cart exactly two blocks north, but I already know how good those are.
My Biryani seemed like a ripoff of Biryani Cart when they first came out in August 2010, but seem to have come into their own recently.  In addition to kati rolls and biryani, they now have two "lunch boxes" (one meat and one veggie), which have 3 different types of Indian food in each lunch box.  The meat one looked particularly interesting with chicken tikka masala, palak chicken (a spinach base) and dal over rice for $6.
The chicken, "lamb" or veggie kati rolls, which are $3.50 each or 2 for $6.  I wasn't in the mood for gyro meat ('lamb"), so I got one each of chicken and veggie.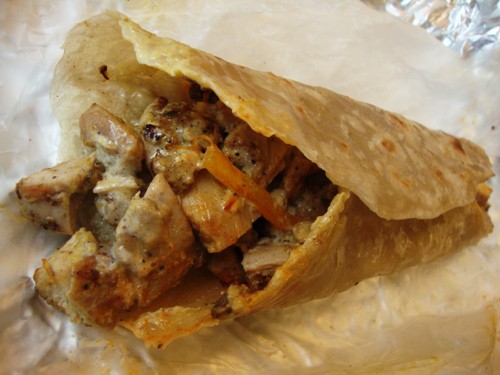 I tried the chicken kati roll first, in which chapati bread was stuffed with chopped pieces of white and dark meat chicken and a few grilled onions.  You can't tell from the picture, but it was was about 7.5″ long, a decent size.
This was more a hybrid of Indian and halal street meat than straight Indian food.  The chapati bread was Indian, but the three sauces added were white, hot and green.  The first two are the standard sauces on halal carts, and I've seen more of carts with the green sauce lately, which is herby and usually spicy.
Between the hot sauce and green sauce, this kati roll had a nice kick, and the white sauce added a little creaminess.
The veggie roll was filled with an assortment including string beans, carrots, potatoes, lettuce, onions and more.  The sauces were the same, and it was just as spicy, as the chicken kati roll.  My sinuses have been acting up lately, and the spiciness of these rolls actually helped.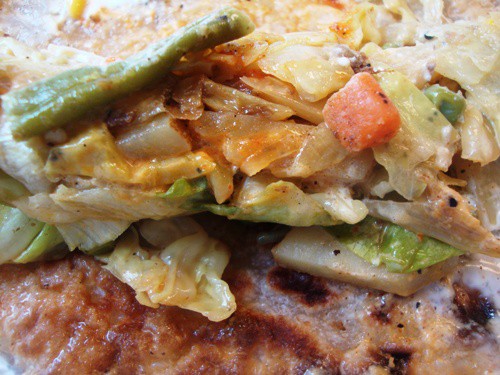 The kati rolls at My Biryani cart are good, but not great.  Two of these for $6 is still a tasty and filling lunch, but they really can't compare to the original Biryani Cart just two blocks north.
I do want to go back and try the chicken lunch box though. He made it for someone else while I was waiting, and the chicken tikka masala and paka chicken (spinach base) both looked good.
My Biryani doesn't tweet or have a website, but if you're by 44th St & 6th Ave, they are an inexpensive, safe food cart.