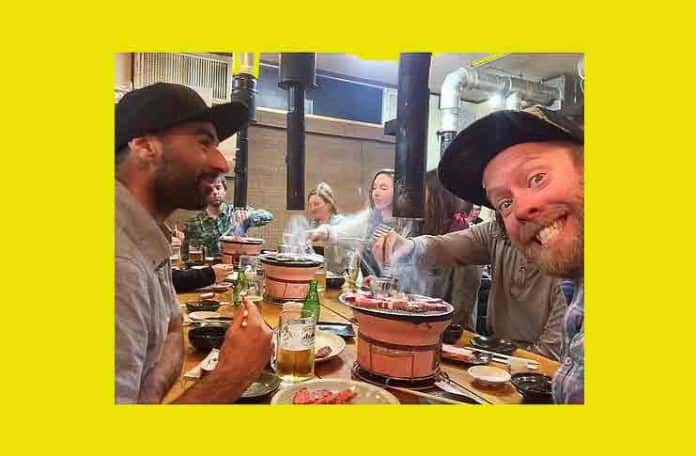 NY Times gives a nice shout-out to Schnitzel Truck, Bistro Truck, Picknick Smoked, nyccravings and (not so nice to) La Cense Beef.
Still, they are a staple of New York dining. The city's simmering scene of gastro trucks reached a boil this summer, tapping into the dual desires of New Yorkers to eat well and eat quickly.
A few might be fleeting: the cupcake bakeries of 2009. But let's hope that Schnitzel & Things, schnitzelandthings.com, locations on twitter.com/SchnitzelTruck, is in it for the long run.
The mustard-yellow truck has roamed the streets of New York since July, communicating by Twitter (sample: "Tomorrow = Friday = time to schnitzelate"). But it's as serious as any restaurant with chairs.
Schnitzel & Things does one thing and does it well — it is a master of the art of deep-frying. Thick slabs of flaky cod ($9 with two sides) are enveloped in a crisp, light batter and finished with a sprinkle of salt. The pork cutlet ($9 with two sides) arrives in a billowy pillow of breading.
Oddly, veal — the traditional ingredient of Wiener schnitzel — is rarely on the menu. And side dishes are skimpy. Austrian potato salad should be a Tyrolean mound, not a spoon-size serving. Still, Schnitzel & Things provides as satisfying a meal as you'll eat while leaning against a wall.
The Bistro Truck, bistrotruck.com, locations on twitter.com/bistrotruck, which also started up in July, takes a different approach. It offers a wide variety of Moroccan fare plus a few French classics.
The ambition is impressive, but moules frites make for difficult sidewalk eating.
Easier to handle is the merguez lamb sausage on a roll ($7), served with spicy mayo, cheese and a few fries. It's a middle-of-the-night sandwich enjoyed midday.
For those who like to sit for lunch, there is Picnick Smoked, Wall Street at South Street, mypicnick.com. Every weekday since August, the barbecue trailer has rolled up to a small park on the eastern end of Wall Street and set up tables covered with checkerboard cloths — a country cookout in the shadow of the Franklin D. Roosevelt Drive.
The food is almost up to the setting. Both the Kobe brisket ($8.50), which is actually wagyu, and the pulled pork ($6.50) are expertly smoked and served in generous portions on garlicky rolls. But the meat is bland and underseasoned. Flavorful condiments, like pickled vegetables and a relish of raisins, pine nuts and capers, help some.
The desserts save the day.
Created by Will Goldfarb, one of New York's most exacting pastry chefs, each dessert has an expert touch. The cherry pie ($4) has the flaky crust and pleasant sour bite of a county fair winner. Even the creamy cheesecake ($4) rises above the mundane, a perfect white cylinder flecked with seeds from a vanilla pod.
By the standards of the new wave of food trucks, NYC Cravings, https://sites.google.com/a/nyccravings.com/cravings/ locations on twitter.com/nyccravings, is the old guard — it appeared in May. And it quickly gained a following for its Taiwanese-style fried chicken ($7). A leg and thigh fried without batter, it's served on rice with "secret pork sauce" and pickled vegetables.
Add a squeeze of sriracha sauce and it becomes a balance of sweet and tart, spicy and salty, crispy and tender. It's gustatory harmony in a takeout container.
La Cense, lacensebeef.com/truck, locations on twitter.com/LCBBurgerTruck, first appeared in late June to breathless word of mouth and long waits for a grass-fed burger ($7).
Which is all they make. They also offer two sides, cheese (50 cents) and onions (50 cents). When I went they were out of onions.
And the cheeseburger I ordered was bagged and handed over suspiciously quickly. Was it precooked? I can't say. But the cheese was unmelted, and the beef as dry and tepid as the bun.