Searching for the most romantic date night restaurants in London? You've reached the right place. Treating your partner to a date night can be the perfect idea to keep the romance alive in your relationship. Eating out is what most dating couples do because restaurants can create the right atmosphere for romance.   
London has some of the most romantic restaurants in the world. It's an exquisite city to experience opulent dining that can inspire you to pop the question or appreciate being in your loved one's company.   
Whether you'd like a solemn and intimate affair or a lively unforgettable evening, there's a restaurant suitable for your dinner date idea.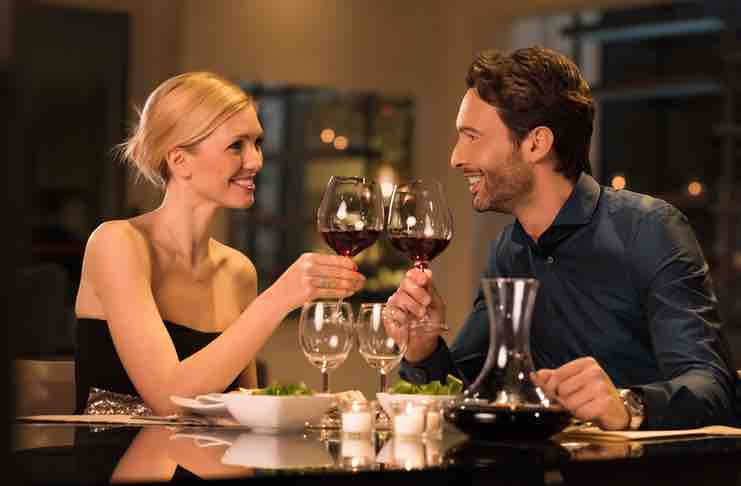 Here are our top 5 romantic date night restaurants in London.  
1. Petrus By Gordon Ramsay  
You can get a taste of contemporary French fine dining at this Michelin-starred restaurant. As the name suggests, this restaurant is owned by world-renowned British chef Gordon Ramsay. It has a wise and formal dress code, perfect for suiting stylish and extraordinary occasion wear for a date night.   
The restaurant is in the district in Belgravia that covers Westminster and the boroughs of Kensington and Chelsea. It's part of an exclusive lineup of Belgravia restaurants known for their prestigious eateries and globalized cuisine. You and your partner can fall in love with its modern French interiors, elegantly presented, and detailed menu. The circular dining room and exceptional service add to its charming and classy atmosphere.   
2. Bob Bob Ricard Soho   
British and Russian dishes join together in this stellar champagne famous restaurant. Located in the cosmopolitan district of Soho in London, the ambiance of its bustling entertainment, nightlife, and theatres are sure to put you in a romantic mood before you arrive. It's an ideal location to enjoy familiar comfort foods with your significant other.   
This restaurant is famous for having a 'press for champagne' button. It allows you to summon champagne to your table for USD$68 no matter the price of the bottle itself. You can then order food best served with champagne. The interiors mimic an extravagant oriental express train carriage with red velvet sitting booths and golden railings. You can expect a relaxed atmosphere that invites pleasant and romantic conversations during dinner.   
3. Sushisamba   
If you're looking for a dinner that takes you around the world while you're still in London, Susisamba is the place to visit. This restaurant is an eclectic mix of Japanese, Brazilian and Peruvian cuisine. This cultural coalition has created a unique menu of tempura prawns to churrasco and seviches.   
If you're in the mood for dancing after dinner, you can make use of the private room. You can then call on samba dancers to entertain you while you and your date sip on whiskey and enjoy being together. The restaurant's design looks like a tropical South American paradise with its long hanging plants overhead. Its long glass windows and ceiling span the entire Market Building piazza.  
4. 34 Mayfair   
It is one of the best thematic restaurants to fall in love with within the city of London. It's neatly nestled into a corner of the elite Grosvenor Square and is mainly a fish and grill-focused eatery. The curated seasonal menu will ensure you and your loved one get only the freshest ingredients on your plate.   
Its elaborate art-deco architecture and glittering terrace are a feast for the eyes when you walk in. You can also opt for a private dining experience in their luxury Emin Room. In this elegant dining room, you can expect walls lined with specially commissioned art and a private bar for you and your date. You should try its wide selection of grilled meat dishes. Some of the beef is flown in from Japan and Argentina.  
5. The Parlour   
Put this debonair restaurant on your visit list if you're aiming for a sexy night out dinner date. The Parlour, located in the heart of London, uses intimate elements to create a sultry atmosphere. The jazz and cabaret live entertainment bar beautifully complement the cocktails served with dinner.   
For special dinner nights, you can opt for the mouth-watering five-course dinner that includes Cep and ricotta tortellini. The interior holds a stylish suite of black wood and table lamps. It sets the scene for a romantic dining room-style aura. You and your date are sure to bask in its classic mood and high-end dishes.   
Conclusion  
London is packed with top romantic restaurants to choose from for your date night out. There's a little bit of something for every kind of couple. You can visit the quaint and neatly tucked-in eateries surrounding the heart of the city. Alternatively, you can opt for the lavish and lively diners lining its prestigious boroughs. 
Each restaurant has something uniquely cultural to offer on its menus. You can choose from classic European-style dishes to exotic tastes from around the world. Whichever restaurant you decide on, you can be sure it'll leave a lasting impression on your date partner during your special evening together.  
Charles Vallena is the founder and managing editor of Cuppabean.com, a coffee blog that helps people make better coffee by providing expert insights, recipes, and in-depth reviews on coffee makers. Follow Cuppabean on Facebook here.