There is nothing that feels more exciting than traveling to a new country and having a taste of the local meals. Korea is one of the few renowned destinations for tourists. Now and then, Seoul, South Korea's capital city, has been making it to the news headlines for its interesting foods and desserts. If you are looking forward to touring the place for a tasty meal experience, Here is a list of the best food markets and foods you should consider:
1. Myeongdong
Often, trip advisors insist that enjoying the local foods should be added to every tourist's bucket list. If you are traveling to Seoul, therefore, the first food market you must consider is Myeongdong. You may ask the reason why. Well, when it comes to accessibility, it's accessible through bus or train. If you are new there, you will find signs from the station showing you the way to the market. 
Surprisingly, during the day, the market is regarded as the beauty capital of Seoul, with beauty and makeup stores on every corner. At the end of the day, food stalls start to pop up from every other corner of the street. The vendors over there are more than willing to serve you. However, the market is known to be a bit pricey based on the fact that it's known to be a tourist trap. It would be best if you didn't let the prices intimidate you as there is much to experience. Some of the typical meals you should try while there include; shrimp, lobsters, ice cream, and Korean basics, such as sweet rice water and sweet and sour fried chicken pieces. 
2. Namdaemun Market
If you are looking for an exciting food sampling experience, Namdaemun is another food market that you should consider visiting. This market is deemed to be one of Seoul's oldest retail centers. Although this food market is small as opposed to the popular Myeongdong, there is much you can buy while there. In the market, you will find small restaurants offering the same traditional foods, such as fish, jjigae, bibimbap, and kimchi.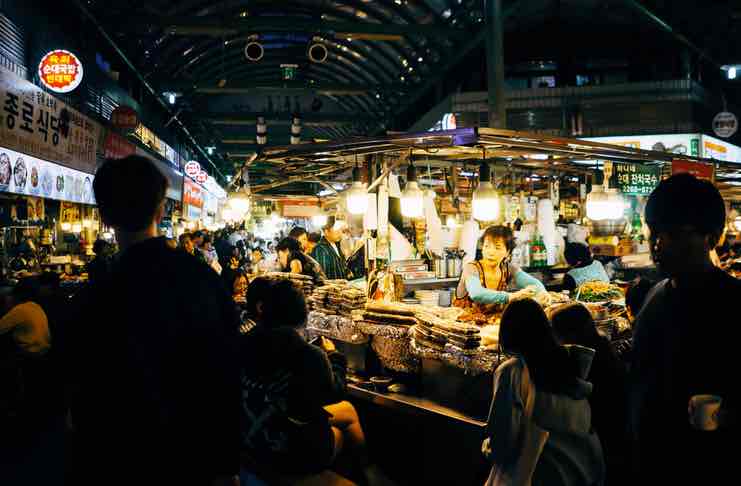 When compared to Myeongdong, this market has more of a local vibe. However, you might find it challenging to pick a restaurant to eat as there are many and all serve the same line of meals. Some of the meals you should try when there are; kimchi jjigae, kkwabaegi, and the healthy sea cucumber, which is known for its many health benefits.
3. Gwangjang Market
If you are a keen follower of Korean news, the chances are that you have come across the name Gwangjang market. This is one of the few food markets in Seoul that has often been featured on travel and food TV shows. The food market is found in the famous Dongdaemun shopping district. For individuals who have had the chance to visit this market, being there feels like being in Myeongdong and Namdaemun at the same time. 
Based on its popularity, you can expect to find many tourists there looking to sample meals like you. If you are looking to have a taste of Korea's cultural roots and foods, this market has it all despite the publicity. Some of the top meals you should sample from this market include; the famous mung bean pancake (Bindaetteok), Korean sushi (Gimbap), and blood sausage (Soondae). 
4. Seoul Bamdokkaebi Night Market
Are you planning to visit Korea for a food tasting experience or shop for groceries? If your answer is yes, then you ought to consider Seoul Bamdokkaebi Night Market. When it comes to buying in this market, it's recommended that you learn the essential foods (fruits and vegetables) that the market has to offer. Luckily, for you, this blog post has the hard digging done for you. It has a fundamental lesson for the language you need to learn before visiting this famous market. Also, you need to know example sentences that you can use while shopping at the market. 
Seoul Bamdokkaebi Night Market is known to be an ideal location for individuals looking for a whole lot of outdoor fun. Usually, the market is held on Friday and Saturday evenings from March to October. It's held at the Yeouido Hangang Park and Banpo Hangang Park along the Han River. One fantastic thing about visiting this market is that you can get the chance to shop for unique handmade accessories from the locals while enjoying meals from over 50 trucks on the premise. Some of the popular foods you should delve in during your tour include; lobster rolls, Cuban sandwiches, Koreanized tacos, and lobsters. When it comes to attending this festivity, it's recommended that you arrive there early, as the place tends to get crowded and lines can get long. 
5. Tongin Market
On the west side of Gyeongbokgung Palace is Tongin Market. The market remains a must-visit for anyone looking to visit Seoul as it's deemed as Seoul's most charming traditional market. Surprisingly, Tongin Market has a rich history as it serves as a historical landmark. It was opened in 1941 for the Japanese residents. In the recent past, the market has continued to increase its popularity, thanks to the famous Dosirak Café. When touring this food market, some of the foods you should sample include; the famous spicy rice cakes, kimchi, savory pancakes, and dumplings. 
In the modern world, Korea remains one of the essential destinations you should visit. Filled with culture, the country has much to offer for the visitors to see. If you are planning to travel to Seoul, especially, it would be best if you went ahead and sampled the tasty meals the city has to offer. Explained in this article is a list of the best food markets found in the town. Some of the markets are seasonal, while others are hourly. No matter the time of operation, you can be sure to find finger-licking meals. Read through the entire piece to understand how the markets operate and the types of meals you should try when there.