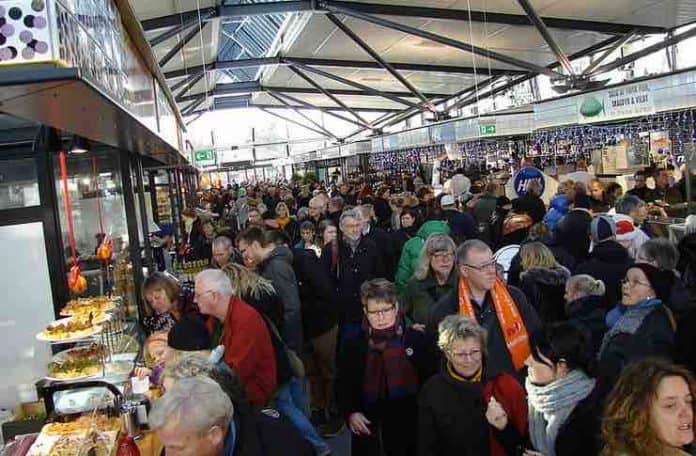 Eating out and exploring new cuisines is a modern obsession, with endless numbers of TV programs, food blogs, foodie Instagram accounts, food-related TikTok videos, and much much more. 
Not to mention the endless parade of food delivery businesses like Ubereats, Grubhub, DoorDash, Delivery.com – and of course, nutritional experts that deliver to your doors like Blue Apron or Meal Delivery Experts.
Food is also a major part of exploring a new place when traveling – the best place to find out about a culture is to go to a local food market. Here you will find everything you can think of, from fresh-picked produce to farm-raised meat to local artisan bread. Food markets have long been part of the culture in many countries, and in many towns, they are at the center of social life. Let's find out more about the top six famous food markets around the world. 
Famous Food Markets Around The World
Torvehallerne Market, Copenhagen
A short walk over the canal from the city center, Nørrebro is a multicultural home to Copenhagen's most diverse and popular food hall that is also considered one of the world's best food markets. At Torvehallerne Market, two greenhouse-like buildings host around 60 vendors selling everything from tapas to sushi, as well as local specialties like risengrød, which is a traditional Danish rice porridge. 
What to Try: If you want to try classic Danish food (it's why you're here, right?), go for a classic open-faced herring sandwich at Hallernes Smørrebrød. Herrings are one of the most popular fish in any Baltic country, and Denmark is not an exception to the rule. The Danish don't enjoy raw herring as they do in the Netherlands – instead, they prefer their herring smoke, fried or pickled, served on an open-faced sandwich. 
Nuovo Mercato di Testaccio, Rome
The capital city of Italy's historic Mercato di Testaccio got a fresh start in the 21st-century when it relocated from Piazza Testaccio to a light-filled modern building powered primarily by solar energy. Inside, the atmosphere is an energetic mix of contemporary and ancient vibes. Here, you can find around one hundred stalls specializing in fresh produce and hand-made pasta, as well as a bookseller and a home goods store. The market is far less crowded than Piazza Navona's beloved Campo de' Fiore but still fairly busy.
What to Try: At diminutive Sicilian pasticceria Dess'Art try the homemade cannoli, which are filled to order. Pair them with a bracing espresso, then continue through the stalls until you find the hand-pulled tagliatelle at Le Mani in Pasta.
Borough Market, London
It is London's oldest market that dates back more than 1,000 years and still continues to be a magnet for citizens and tourists alike. That's because more than 70 organic farmers and artisanal purveyors both local and from abroad are there on the weekends, making it a perfect mix of regional and seasonal cuisine. It's also the place to stock up on unexpected ethnic food such as spices from Ethiopia, Balkan pastries, or Spanish olive oils. It makes us remember that London is truly an international city.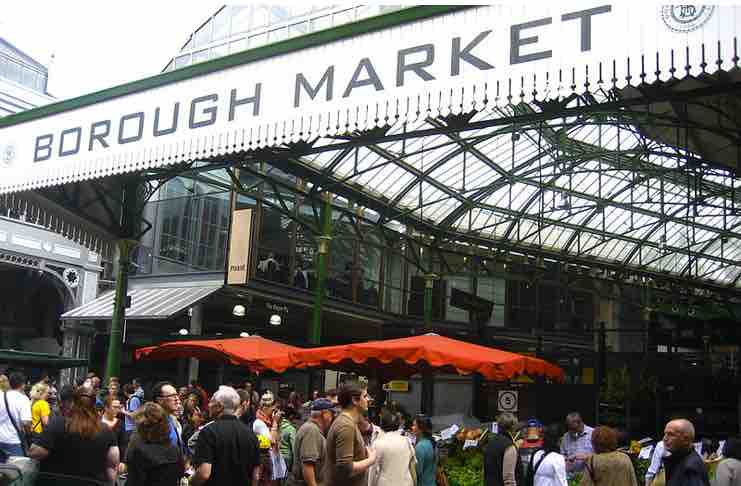 What to Try: The lines at Brindisa Spanish Foods are worth the wait. Order the chorizo and an arugula sandwich, then head over to Monmouth Coffee for a cuppa you won't ever forget.
Or Tor Kor Market, Bangkok
A short walk from the famed bric-a-brac stalls of Bangkok's Chatuchak market Or Tor Kor is a feast for all of the senses. One of Bangkok's oldest food markets Or Tor Kor features beautiful fruits and vegetables in every color of the rainbow. You can expect rows of picture-perfect mangoes, and durians artfully arranged alongside freshly prepared curries, sun-dried fish, and stir-fried noodles.
What to Try: Sample your way through a selection of Thai nam prik chilli sauces. Don't forget about the green-papaya salad with fermented fish sauce, just be cautious of the spice.
Jemaa el Fna, Marrakech
The Red City is a  wonderland of Moorish architecture ready for exploring. Make your way through Marrakech's narrow alleys and you'll be rewarded in the Jemaa el Fna, the crowded heart of the medina, where snake charmers and ostrich-egg-hawking herbalists mix with spice vendors in search of their next meal. Plan to visit at sunset, when Berber musicians provide a soundtrack to your visit.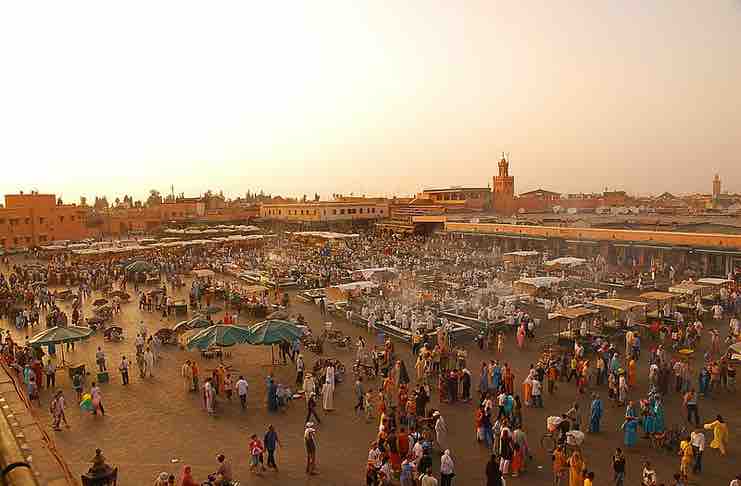 What to Try: Don't leave without trying a generous portion of méchoui, pit-roasted lamb topped with salt and cumin, or the world-famous fresh-brewed mint tea.
La Boqueria, Barcelona
Praised by many as the best market in the world, La Boqueria is a must-visit for any true food connoisseur. To get there, avoid the grand iron entrance on Las Ramblas and navigate the narrow side streets of the atmospheric Barri Gòtic. Visit in the morning to beat the crowds for the fresh delivery of colorful fruits and vegetables, as well as fresh-caught fish and cured meats including highly prized sliced Jamon ibérico. The 1840 building is home to a number of casual restaurants with bar seating.
What to Try: No trip to La Boqueria would be complete without a stop at Bar Pinotxo, where marinated chickpeas with botifarra sausage are considered the best dish alongside the restaurant's signature sparkling wine. If you can't take one of the stall's 14 seats, the fried eggs with baby squid at El Quim are a worthy alternative.
Bon Appetit 
When traveling, you have to devote time to eating – even if you're not a foodie. Remember that this is the perfect opportunity to sit back and taste your way through local culture. This is the part of your trip that your senses will always remember. 
There are certain tastes that can only be associated with a very specific part of the world, and you will never again feel like you have felt when lifting a perfect handmade corn tortilla to your mouth – the taste, textures, and flavors belong to that specific time and place, just like poetry or music.