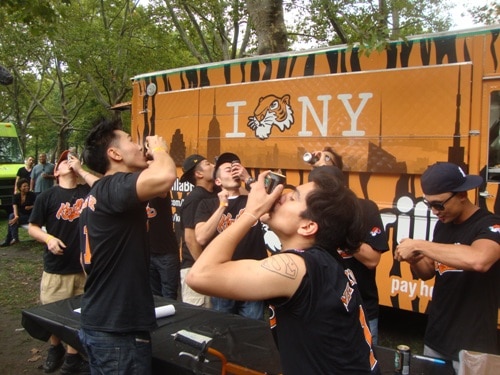 Love comics and great street food? Then don't miss this coming Festival…
Five Points Festival is a designer toy and comic convention presented by Clutter Magazine and Midtown Comics and sponsored by Playcrafting. It will happen on May 20-21, as NYC's most outstanding food trucks and breweries from around the US will gather at Pier 36 (299 South St), giving festival goers full access to some of the city's most raved about trucks, curated by the Live Fast Group. They'll be able to wash it all down at the neighboring beer garden fueled by Lagunitas Brewing Company which will feature a selection of brews from local favorites and nationally renowned producers as well as the exclusive debut of a new India Pale Ale brewed by Brooklyn's Sixpoint Brewery. Food trucks and the beer garden will be open during Festival hours for guests to reenergize before diving back into two full days of programming. For up-to-date details about the culinary offerings, visit www.FivePointsFest.com/food-trucks.
The new Festival is a mix of comic artists and writers, toy designers and customizers (with an extensive Neo-Kaiju and Sofubi section), and original street artists, all punctuated with an impressive lineup of craft food and beer. Enthusiasts familiar with art toys will have the chance to meet some of the world's most iconic misfit artists and brands shaking up the industry like Huck Gee, Kidrobot, James Groman, Ron English of Popaganda, Simone Legno of Tokidoki, Super7, Tara McPherson, and Mighty Jaxx on the show floor.
Art and beer combine in perfect harmony with Sixpoint Brewing's Mad Scientist, an exclusive double IPA, their signature style, brewed specially to commemorate the first year of the Five Points Festival. Sixpoint's commitment to quality and creativity echoes the high-level craftsmanship on display at Five Points, with great care taken to create the perfect companion beer. Both beer aficionados and Festival enthusiasts will appreciate the juicy cherry flavor profile and thematic hop aroma featuring Mosaic and Galaxy hops further bridging the art and beverage worlds. The beer debuts at Five Points on draft, and after resting in Sixpoint's lambic barrels, will be available in local bars all over New York City. 
Head brewer Marcus Lutter said of the process, "We worked really hard to create a beer that personified the artistry represented at Five Points Festival. Using a barrel to age the beer added complexity while tart cherries offered balance and we think a variety of beer drinkers will enjoy our latest roll out."
Food Truck Participants
·         Big D's Grub – With two trucks serving New York City, Big D's has become an Asian-Fusion institution with mouthwatering dishes like bulgogi tacos with pickled vegetables and fragrant green and red curries. (Saturday only).
·         Korilla BBQ  – a Veteran of Food Network's "The Great Food Truck Race," they focus on Korean BBQ with creative pairings like bacon-kimchi fried rice. (Sunday only).
·         Mac Truck – Helmed by celebrity chef Dom Tesoriero, New York City's first and only mac n' cheese food truck is known for cheesy creations like the cheeseburger mac n' cheese and friend Mac Bites.
·         Nuchas Empanadas – With a variety of unique flavor combinations catered to meat-lovers and vegans alike in their baked (not fried) empanadas, Nuchas has something for everyone. 
·         Phil's Steaks – Bringing the flavor of Philly to New York City, Phil's Steaks has quickly generated a cult following for their authentic cheesesteaks using high quality beef ribeye and freshly baked rolls shipped directly from the City of Brotherly Love.
·         Toum – Toum has been serving up delicious Lebanese food for over four years using traditional methods and rustic ingredients to elevate customer-favorites like crisp falafel, beef shawarma, and their signature Toum garlic whip.
Craft Brewery Participants
·         Coney Island Brewing Company – Located in the heart of Coney Island, Coney Island Brewing Company offers eight house-brewed beers on tap that rotate regularly including their Mermaid Pilsner, Siren's Cry, and Vagabond Wit.
·         Bronx Brewery – The team behind Bronx Brewery lives by the philosophy to "do one thing and do it right," which shows with their impressive lineup of approachable and well-balanced ales.
·         Brooklyn Brewery – Since its founding in 1988, Brooklyn Brewery has grown to include a wide-ranging collection of beers including a smooth Brooklyn Lager, hoppy East IPA or roasty Brown Ale.
·         Lagunitas Brewing Company – Lagunitas began on a kitchen stove in Northern California in 1993 and has always looked to the future…Whether supporting local communities by turning beer into money for the cause, or simply fueling stories, art, and songs with IPA and other fine ales.
·         Sixpoint Brewery – Paying homage to the Sixpoint Brewers' star, a code followed by brewers for centuries, the Brooklyn-based brewery offers a selection of core beers year-round in addition to seasonal varieties and one-time unique beer series.
·         Stella Artois – Steeped in 600 years of history, Stella Artois has become a household name for their Belgian beer and Cidre.