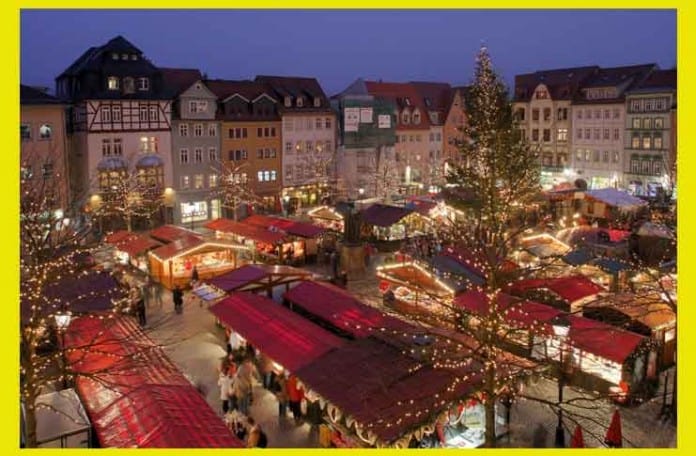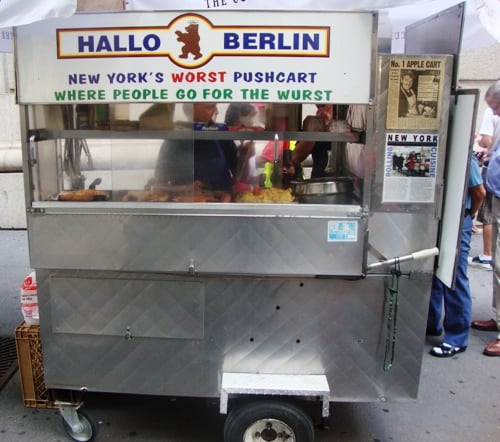 If you love street food, one of the biggest stories of the year just happened last week – the return of the Hallo Berlin cart to 54th St just west of 5th Ave.
Hallo Berlin was founded by Rolf Babiel, who emigrated from Germany and opened the cart here in the early 1980's.  Hallo Berlin always had a reputation for serving excellent wurst, and Rolf was the very first Vendy Award Winner back in 2005!
Although Rolf passed away in 2009, the cart was resurrected by Rolf's son Peter and brother Wolfgang.  In fact, Wolfgang told me he was there at the 1st Vendy Awards, assisting his brother in serving that historic day.
There are two Hallo Berlin restaurants, but the cart is where it all started, and it's great to have it back.  You can find more on the history of Hallo Berlin here.
They have 10 different sandwiches at the cart, which includes 9 different types of wurst (!) plus a Bavarian meatball sandwich.  You can get platters too.  Check out their full menu here.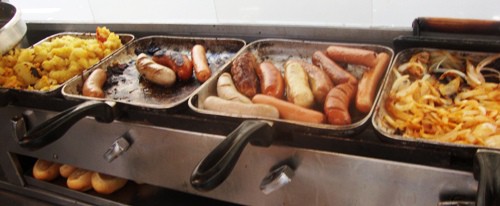 I decided to get bratwurst and weisswurst sandwiches, which were $5.50 each.  The sandwiches run from $3-$6, but most are in the $5-$5.50 range.
The are some choices for condiments, so I asked Wolfgang what he recommended. He said mustard, sauerkraut and red cabbage, to which I readily agreed.
These are substantial sausages, and a hot dog roll just won't cut the mustard (ouch!).  They use crusty rolls that hold everything without falling apart, especially since Wolfgang piles sauerkraut, red cabbage and grilled onions on top. You can barely see the wurst under all the toppings.
I have a large mouth (no comments, please), and I couldn't get my mouth around the whole thing for a bite.  This made it a little tricky to eat…but I managed.
The pork bratwurst was first, and it was really good.  The spiciness of the mustard immediately came through, but combined with the cabbage, onions, and wurst, it was not too overpowering.  The mustard was definitely spicier than most of the mustards we are used to eating, but the red cabbage added a little sweetness, the onions added a little more bite, and the wurst had a nice earthy meatiness that stood up to it all.
The weisswurst is made with veal and is lighter, both in taste and color (weisswurst means white sausage).  I'm not sure how this was possible, but the weisswurst was even better than the bratwurst.  The toppings were the same, but the weisswurst had more herbs and spices, and an even more distinctive flavor.  I was in heaven!
The wurst are grilled so the skin gets crispy, but the inside is still soft and moist. The picture below of the weisswurst really shows off the crispy outside and soft inside of the grilled wurst.  This is real, authentic German wurst!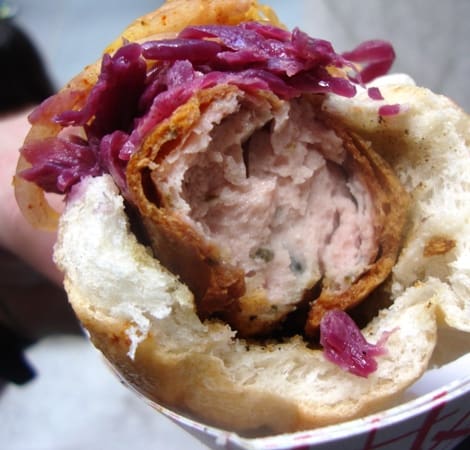 Two wurst sandwiches are a lot of food.  One wurst sandwich with all the toppings is probably enough for people with normal appetites, but you can also get a side order of potato salad or fries ($2.50 each) or just a pickle ($1).  Platters are another way to go if you want to try more than 1 type of wurst.
The Hallo Berlin cart is open from 11am-3pm, but I need to find out if they are open on Saturday.  Expect long lines, so either get there early or late…or wait.  It's worth it – Hallo Berlin is one of the best street carts in New York City, if not the country.