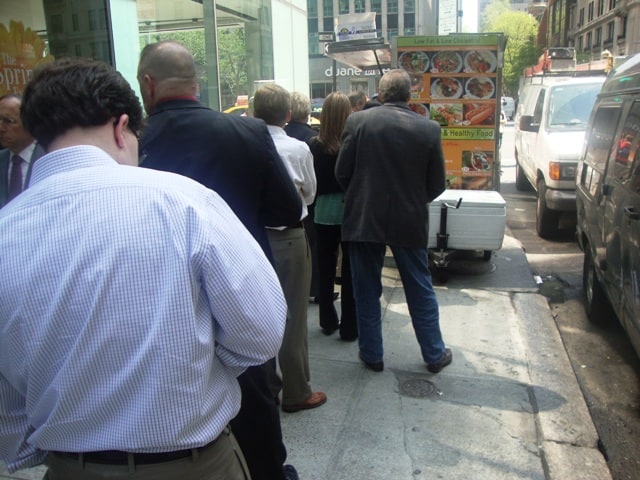 Today's Lunch was based on a recommendation from Eric B. a NYSF reader who strongly suggested that I try the 100% Halal & Healthy Food cart on the NW corner of Park Ave & 55th St.  I'm always looking for recommendations of street food vendors that stand out from the usual halal carts on almost every corner of midtown.  Based on the line of people for this cart, it looked like Eric was on to something.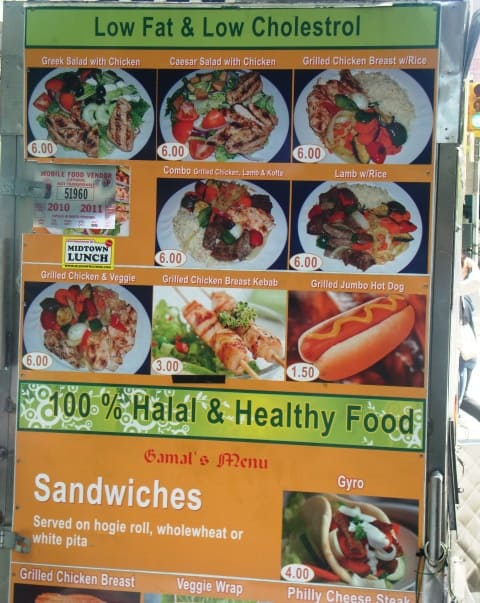 Eric suggested the combo grilled platter with white sauce and hot sauce over brown rice for Today's Lunch, which had chicken, lamb and kofta.  He also tipped me off to the existence of a 2nd bottle of hot sauce they have that's even hotter than their regular hot sauce.  Sounds good!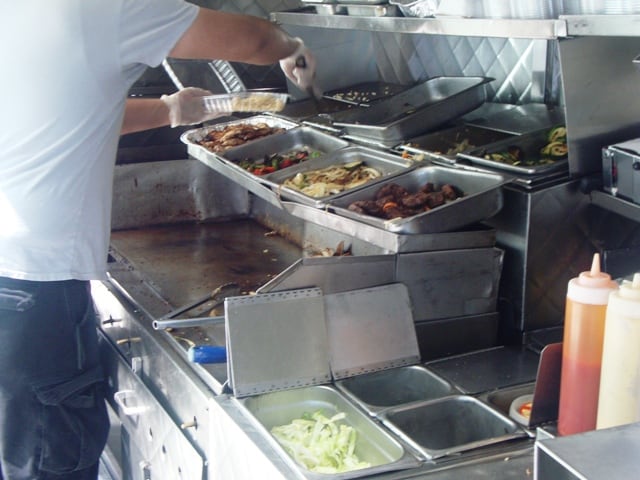 When I got to the front of the line less than 10 minutes later, one reason became apparent why this cart has a decent line most days – each element of the meal is grilled and put into a separate metal container.  The chicken, lamb, kofta, onions and vegetables were each grilled and kept in separate metal containers just above the grill.  No cart is perfect, but this was one of the cleanest carts I've seen.
I ordered the combo grilled platter ($6) with white sauce and asked about the vendor about the extra spicy hot sauce.  He smiled and said there was a big difference between the extra spicy and the "mild" hot sauce, and joked that I couldn't have it because I wouldn't come back again after eating it.  I assured him that I would be back, and asked what made it different from the "mild" hot sauce.  He said it all had to do with the number of hot peppers he uses when making it – there are a lot more peppers in the extra spicy than the regular.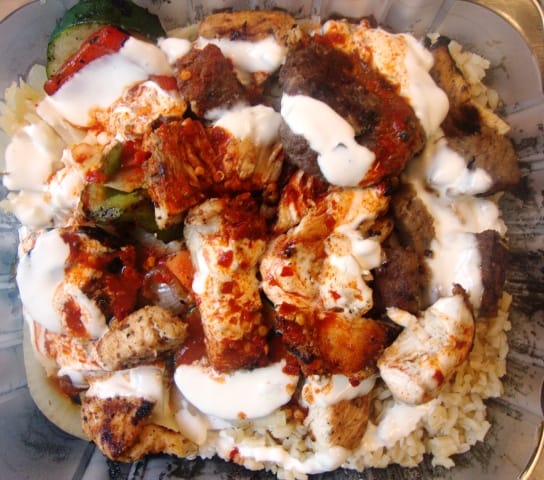 When I got back to the office and opened the container, I saw a very visually appealing lunch.  The red pepper from the hot sauce was quite apparent on the chicken, and I couldn't wait to dig in.
The first bite of grilled chicken was a little dry, but with the white and hot sauces, it was nice.  The hot sauce was as hot as advertised, which made me a happy man.  The lamb was gyro meat cut into cubes made to look like lamb, but it wasn't as salty as some of the gyro meat I've had from other places.  Perhaps it was the white sauce that reduced the saltiness of the lamb (or the hot sauce, which redirected my taste buds).  The kofta was a patty a little smaller than a hockey puck, but much better tasting.  It was nicely spiced ground beef, and quite good.
The other thing that set this cart apart from most other carts was the grilled zucchini and sweet red and green peppers.  I don't usually like zucchini, but this was grilled with white and hot sauce, and it was very good.  There were 3 slices of grilled zucchini, and I ate every one.  The grilled red and green peppers were even better.  The grilling brought out a sweetness in the peppers that was excellent.  The brown rice was also perfectly cooked – plump and a great bed for the meat, vegetables and sauces.
Thank you Eric for suggesting 100% Halal & Healthy Food.  Today's Lunch is a 9 out of 10.  The chicken could have been cooked a little less, and the lamb was gyro meat, which I'm not crazy about.  I really liked the kofta, rice, grilled veggies and both sauces.  The extra spicy hot sauce was very hot and wonderful.  I'm definitely adding 100% Halal & Healthy Food to the NYSF directory and map over the weekend.
There are so many food carts in New York, we're always happy to try out carts recommended by readers.  Please contact newyorkstreetfood@gmail.com with your suggestions.