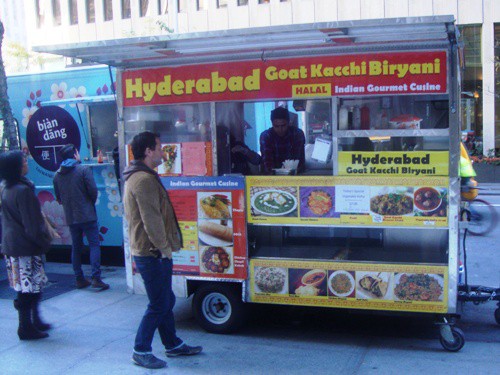 We were on West 50th St looking for lunch, and saw that Hyderabad had a Chili Chicken Special for $8. That sounded like something we wanted to try.
Service was quick, and we were on our way a few minutes after ordering.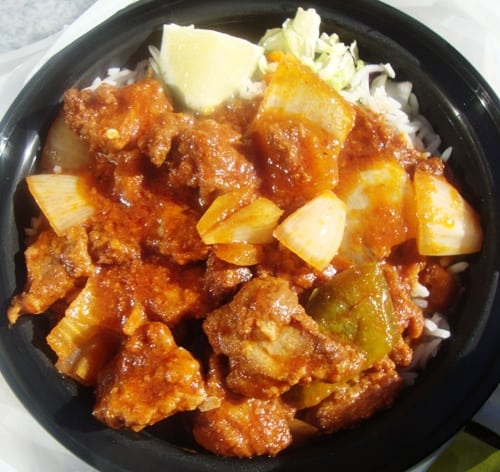 We've been to Hyderabad a few times, and were generally pleased with lunches there. While they are not at the level of Biryani Cart, Hyderabad does offer decent, reasonably-priced lunches, with a large menu to choose from.
Opening the container, there were chunks of chicken in a reddish-brown sauce, with onions and bell peppers. It was served over basmati rice, with a small salad on the side.
The first bite didn't do much for us, so we squeezed on fresh lime juice from the wedge included with lunch.
Fresh lime juice had a noticeable effect in perking up the dish – or maybe we just needed a few bites to start getting the heat – because this was getting hot quick!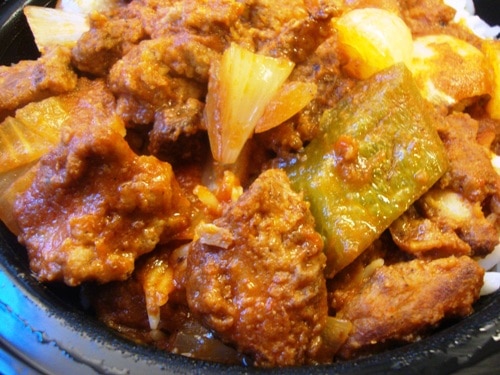 The sauce was more tomato-based than expected. In our experience, chili chicken was usually sweet, sticky and hot, but this was neither sweet nor sticky. Putting it into Indian cuisine terms, it was more like a vindaloo, although we're not Indian food experts by any stretch of the imagination.
We were a little disappointed with the rice, which was on the watery side. It wasn't overcooked, but it was too watery.
Hyderabad (named after the city in India) parks on 50th St between 6th & 7th Ave several days a week. We cannot find any social media for them, but they are not difficult to find.
The nice thing about Hyderabad is you can get dosas, biryani, kati rolls and more. They have a larger menu than most carts, so there's something for everyone.