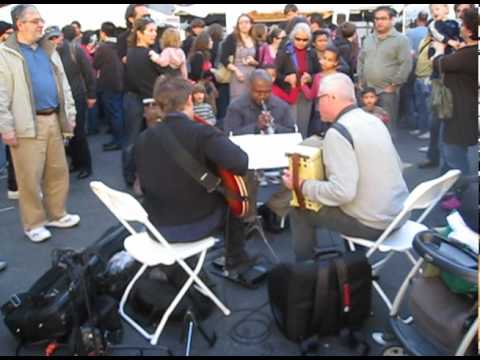 Even though food trucks get all the press these days, there are some great food carts in NYC too like Biryani Cart, Bapcha and lots of other ones.  I'm always on the lookout for a food cart that stands out from the pack, and today as I was walking by the NE corner of 7th Ave & 49th St, I saw the Fouda Food cart.
The grill looked pretty much like most of the other halal carts, but there were 3 types of rice, and above that, 3 containers of fresh, brightly colored veggies.  I didn't care so much about the sausages on the left, but next to that were broccoli, carrots & falafel balls, red & green bell peppers and sliced onions.  You can see the colors are much more pronounced than at most halal carts, which usually means freshness.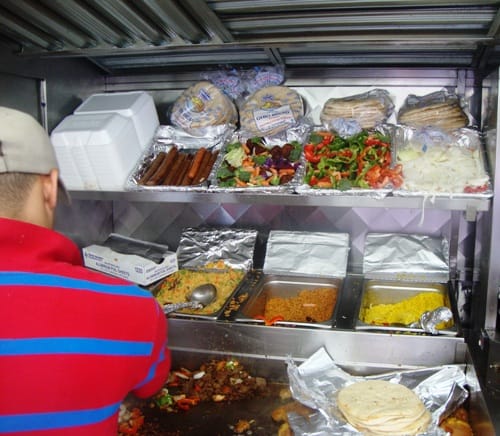 I ordered chicken over rice with white sauce and hot sauce ($5), and he threw in a falafel ball for me to taste as well.
When I opened the container back at my office, it looked pretty messy, but in that "tastes great but you can't eat it everyday" sort of way.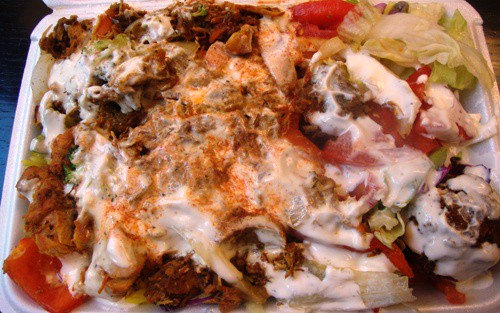 The first bite had some chicken and a carrot with plenty of sauce.  The carrot was crisp and crunched nicely. The chicken was ok, but nothing special.  Subsequent bites were pretty similar – the bell peppers, onions and carrots were all pretty crisp and fresh, but the chicken and sauces were standard halal cart fare.
I tried the falafel ball to see if that was any better, but it fell apart from being too dry.  It had a nice herbiness, but was way too dry.
The yellow rice was good, and they also had veggie rice and spicy rice, which looked good too.
Today's Lunch at Fouda Food was ok, but not at the level where it will be included in the NYSF directory or map.  If you just get veggies over rice, it would be a better option than chicken or gyro meat over rice.  The crisp, fresh veggies are what initially caught my eye, and they were the best part of the lunch.
It's a clean, safe place to get lunch, and at $5, it's inexpensive.  But Fouda Food didn't stand out enough to warrant our recommendation.