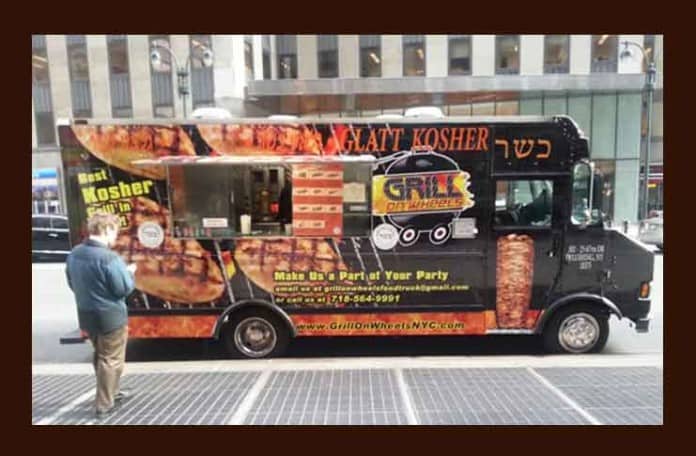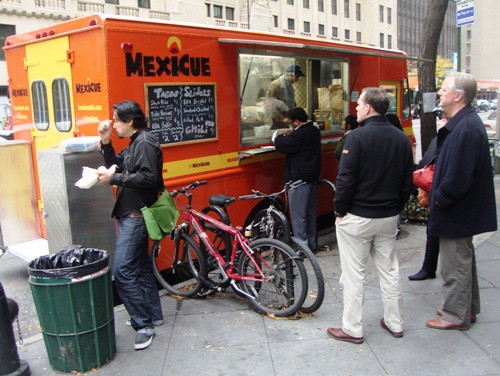 It's a gorgeous day outside today. Perfect for enjoying great New York Street Food from the vendors on the right and the trucks below.
Congratulations to Mexicue on the Grand Opening of their new store at 345 7th Ave (29-30).  We're sure it will be a great success!  The truck will be at the store's location today too.
cupcakecrewnyc we are PARKED ON 52ND STREET & PARK AVENUE! AWESOME DAY FOR CUPCAKES FROM FRANKIE CUPCAKES at CUPCAKE CREW! FLAVORS: Red Velvet, VanChoc, Key Lime, Funfetti, Blbry Cheesecake, VanRaz
UncleGussys Goodmorning U know thursdays means pork chops
CupcakeStop Morning! Truck 1 is on 5th and 23rd! Truck 2 is on Park Avenue South.
KimchiTruck Good morning all! Lunch today at Hudson & Charlton 11:30-3pm.
TaimMobile It's thursday !!!!! And we have sabich
waffletruck Thankgoodnessits Thursday! Le Truck is on 46 btwn 5 & 6 til 4:27pm. Le CARTS! Le Goesting is on 40 & 8 Le Bierbeek is at Columbus Circle Le Vedette is on 60 & 5 Le Kotmadam is at le Great Lawn Viva le dinges! Storm the Bastille! for #1freedinges
New Jersey
TwoPitasInAPod Newark. PSE&G Plaza Farmer's Market. Skinny Tuna. Mediterranean Banh-Mi. Also traditionally on Bastille day the french eat falafel.
VeganLunchTruck The Cinnamon Snail Parked on Sinatra & 1st until 3:00. We have white wine tempeh baguettes, fresh fig pancakes with pine nut butter… http://fb.me/18iF2XMoS
TheKrave Thursday schedule – 12:00-2:00 Hudson and Harborside Pl. 5:30-9:00 Columbus and Marin http://tumblr.com/xl13hwlyg3
qbacubankitchen heading to JC today for lunch!